Will Haaland improve Guardiola's Premier League champions?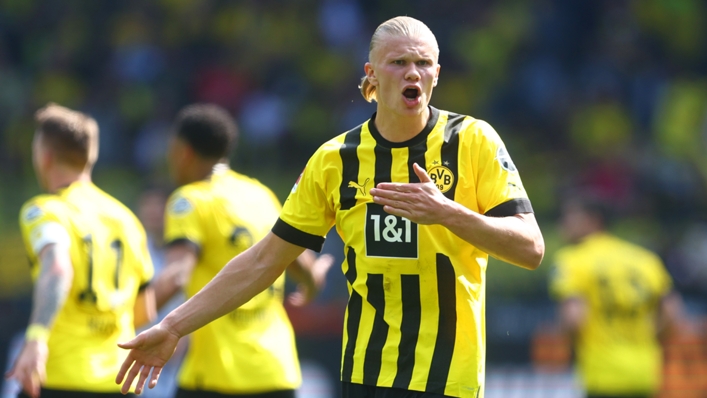 Manchester City have been crowned Premier League champions for the fourth time in five seasons, seeing off a spirited challenge from Liverpool.
Pep Guardiola's men may not have won as many trophies as they would have liked this season, but they have been exceptional in defence of their league title in the face of stiff competition.
If City were not already intimidating enough, they will be adding one of the best strikers in world football to their ranks next season in the shape of Erling Haaland.
The lethal Norwegian will surely come in and plunder plenty of goals, just as he has in the Bundesliga at Borussia Dortmund before his £51million (€60m) move to the Etihad Stadium.
However, will his arrival realistically improve them all that much, or more to the point, can it?
That may sound like a ridiculous question, but looking at City's output this season, they have left themselves with very little room for improvement such are the levels they have consistently reached.
We have broken down the numbers to try to predict just what kind of impact the impressive 21-year-old is likely to make in Manchester next season.
It has been a popular opinion that City have achieved what they have in the league in spite of not having a traditional striker.
Since Sergio Aguero left at the end of last season, Guardiola has mostly gone with any three of Jack Grealish, Raheem Sterling, Phil Foden, Riyad Mahrez and Gabriel Jesus in attack.
They did spend a lot of time ahead of this season trying to lure Harry Kane from Tottenham, but failing to do so has arguably allowed them to find another way to break down opposition teams.
Playing without a striker, City have still clinched the league title while collecting 93 points, the third-biggest total they have ever achieved, and scored 99 goals.
By not having an obvious focal point, it has been tricky for the opposition to know who is supposed to be on the end of attacks, and given none of those mentioned has scored more than 11 non-penalty goals in the league, that seems to have been the plan all along.
The perception might be that Guardiola's team have become less direct without a striker, and while that was true last season when Aguero played just 12 league games (seven starts) and they averaged a shot every 42.82 passes, and a goal every 309.05 passes, that came down to a shot every 36.63 passes this season, and a goal every 263.85.
Given Aguero's injury issues in his final campaign at City, you could argue the last time they regularly played with a striker was the 2019-20 season, which was the last time they did not win the league and collected only 81 points.
Since Guardiola arrived at the Etihad until the end of that season, his team averaged a shot every 38.10 passes, and a goal every 271.16, so they have possibly become more direct this term than they were with Aguero in the team.
By comparison, you may assume Haaland has been playing for a more direct team in Marco Rose's Dortmund, and this season in the Bundesliga, BVB scored once every 230.95 passes.
However, they actually only took a shot at goal once every 43.34 passes, so if anything it seems City are more direct than Dortmund, or maybe German teams are simply better organised defensively to stop shots.
When you think of Haaland, you think of those direct and explosive runs into the penalty area, usually followed by emphatic finishes. When you think of City, you, erm, don't.
His addition could mean a change in style for the English champions, and the thought of Haaland getting on the end of the ridiculous range of passing from Kevin De Bruyne does indeed make the mouth water.
Do City as a team generally produce more with an orthodox striker, though?
Their record with and without Aguero makes for interesting reading. In the Premier League, the Argentine made 125 appearances under Guardiola, while City played 65 games without him.
In that time, they actually had a win percentage of 72.0 with him and 76.9 without, and even had a slightly better goal average (2.4 goals per game with, 2.5 without).
It is almost just as interesting to see Dortmund's record with and without Haaland. Since signing for the German club in January 2020, he has played 67 games, with Dortmund winning 65.7 per cent and averaging 2.4 goals for. Without him, they won just 61.1 per cent, though averaging only a slightly fewer 2.2 goals for.
It is questionable therefore whether the addition of Haaland will actually generate many if any more wins than they currently enjoy, but will he suit the way City play and can he add to their already impressive haul of goals?
Despite scoring more than any other team in the Premier League this season, no side missed more big chances (a chance from which a goal would normally be expected) than City's 65, though only Liverpool (97) created more than their 87.
City finished fifth in the league for big chance conversion (46.72), and so they will be hoping that part of what Haaland will bring them is putting more of those opportunities away.
In terms of finishing off big chances in the Bundesliga, nobody who scored at least five goals could match Haaland's incredible rate of 78.26 per cent, with even Bayern Munich great Robert Lewandowski only managing 46.67 per cent.
It must be noted though that Haaland's big chance conversion went down to 42.86 per cent in the Champions League, which is probably where City will hope he can make the biggest difference.
The league has not been their issue this season, though, rather the big games in cup competitions.
Their defeat to Liverpool in the FA Cup semi-final at Wembley was relatively convincing, despite the 3-2 scoreline. With an xG (expected goals) of 1.75, it was more their leakiness at the other end that was their undoing, going in 3-0 down at half-time.
However, it is the Champions League where their biggest letdown occurred, despite what City fans will tell you about their apparent disdain for the competition.
Heading into injury time at the Santiago Bernabeu, City were 5-3 up on aggregate, only to somehow concede twice in two minutes, before a Karim Benzema penalty put them out at the semi-final stage.
Perhaps Haaland could have made a difference, particularly in that second leg where City slightly underperformed their xG of 1.37, though they did score four in the first leg off an xG of 2.70.
Again, you could argue it was more the defence that let them down, somehow conceding six goals despite largely dominating both legs, but in those key moments where City missed golden opportunities, you would think Haaland would have had more ice in his veins.
How could one of the deadliest strikers in Europe not be a good signing? Haaland will almost certainly be a fan favourite and score plenty of goals in the sky blue of his father's former team.
In the league, it seems likelier he will more or less replace the goals of others rather than add to what they are already producing. It would be surprising to see the likes of Sterling, Mahrez, Foden and even De Bruyne score as many as they have this season if Haaland is already banging them in.
However, those fine margins in the cups could well be where he comes into his own, with Haaland either scoring important goals himself, or distracting defenders so that others can do the honours.
It will be interesting to see how City play with a striker, as it of course will mean they line up with one fewer attacking midfielder and will they therefore be able to dominate quite as much as they currently do?
Either way, it is difficult to see how they can do anything other than continue to be dominant with the big Norwegian around as Premier League defenders await what promises to be a busy season from August onwards.
Tags