What do the numbers tell us about Ten Hag's first signing?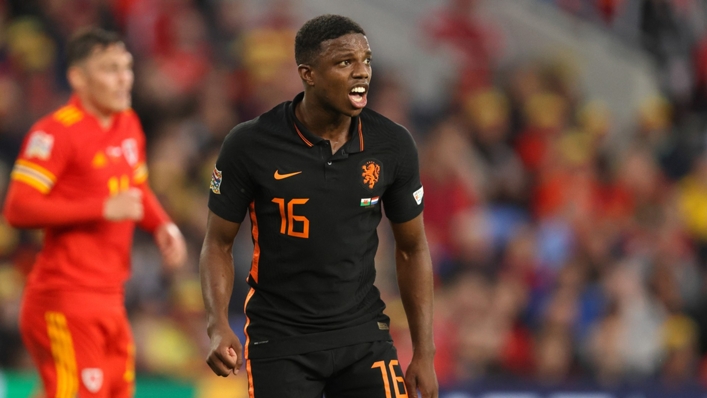 Manchester United certainly cannot be accused of not supporting their new boss Erik ten Hag when you consider the names being linked with the club.
Granted, that is more about how United are primarily being connected to players Ten Hag knows or has previously coached rather than them targeting a host of renowned superstars.
Whether that suggests a certain trust in Ten Hag or if it comes down to a lack of belief in the club's own scouting department is a discussion for another time.
But Ten Hag is clearly being allowed to build a team in his image and that is what many fans will have hoped for.
The first one in through the door is Tyrell Malacia, who joins from Eredivisie side Feyenoord on a four-year contract with an option for a further season.
Netherlands international Malacia had apparently been close to joining Lyon until United came in at the last minute.
But once the Red Devils' interest became apparent, there was only likely to be one destination: Old Trafford.
But what sort of player are United getting?
When considering the areas United needed to strengthen ahead of the new season, left-back might not have been highlighted as a major cause for concern, therefore some are likely to feel Malacia's signing is not necessary.
But most would agree Luke Shaw endured a generally poor season, and his deputy – Alex Telles – seemingly was not good enough to fully dislodge the England international.
Then you have Brandon Williams, who has returned from a loan spell at Norwich but will in all likelihood be sold.
One would assume Malacia's arrival will lead to another sale at left-back as well. And that will presumably be Telles rather than Shaw, who will be expected to get back to the level he showed in the 2020-21 season.
Shaw has responded well to competition before. In fact, his excellent 2020-21 campaign coincided with United's signing of Telles.
But perhaps he took his foot off the pedal once he realised the Brazilian was not likely to be a long-term threat to his place.
At 22, Malacia is youthful and boasts a skill set that may make him a greater understudy – and challenger – to Shaw than Telles.
Already a Netherlands international, Malacia is quick, comfortable on the ball and had an impressive output in attack last season.
Telles, on the other hand, isn't especially fast and his final-third threat relies on crosses from deep.
Full-backs performed an important function for Ten Hag's Ajax.
Their underlapping runs make them potential threats in the box, while those at his disposal in Amsterdam possessed excellent technical abilities, helping the team to maintain control of possession even out wide, a little like at Manchester City.
Such a role certainly should not faze Malacia considering his pace and technique.
Malacia's technical ability and speed are probably his two most obvious attributes, though neither are especially easy to prove with numbers.
Of course, it is difficult to accurately – and fairly – compare players across two hugely different competitions just using stats, but you can at least get an idea of what a player offers.
Malacia's 1.1 open-play chances created every 90 minutes in the Eredivisie last season was the 10th highest among defenders (minimum of 1,000 minutes played).
That was the same as Shaw's, though the latter was obviously playing in a league generally regarded to be a higher level.
Despite that frequency not being especially remarkable, Malacia did lay on four assists and his 6.0 expected assists (xA) was bettered by only four Eredivisie defenders.
So although he was not necessarily creating a huge amount of opportunities, those he did craft had an average xA value of 0.16 – of the defenders with at least 18 key passes, only Daley Blind (0.27), Noussair Mazraoui (0.19) and Yukinari Sugawara (0.17) created better chances on average.
Similarly, Malacia's xA output on a per-90-minute basis of 0.19 was higher than that of Shaw (0.14) and Telles (0.11).
Both of the xA averages mentioned for Malacia highlight – and can be partly explained by – how he attacks.
He recorded 2.7 touches in the opposition's box every 90 minutes last term (fifth among Eredivisie defenders), whereas Shaw (1.1) and Telles (1.0) were far less willing to get into that area.
As such, of his 5.0 passes into the box each game, only 3.0 were crosses. Those respective figures for Shaw (5.9/5.7) and Telles (7.6/7.3) show a far greater reliance on hopeful crosses.
Again, specific coaching instructions may explain the figures of Shaw and Telles, so the data is not suggesting any one is better than the others, but it's still easy to see why Ten Hag might feel Malacia is a good fit as one of his underlapping full-backs.
Malacia also tallied more tackle attempts (2.7), tackles won (1.8) and duels (11.0) compared to Shaw (1.1, 0.7 and 8.2) and Telles (2.4, 1.3 and 9.8).
As before, these do not necessarily mean he's a better defender because the context of the two leagues and the respective teams' playing styles make it difficult to draw such conclusions, but Malacia's figures do at least point to a certain level of tenacity off the ball.
Regardless of the numbers, it seems clear United are taking a bit of a gamble with Malacia. Although obviously talented, he is young, inexperienced and joining a team that cannot claim to have much stability.
Nothing about United over the past decade has suggested it is a club that successfully nurtures young players anymore. Even when you look at the success stories such as Marcus Rashford, he's not appeared happy for a while.
The fact Malacia has seemingly been signed upon the request of his manager – rather than a glorified accountant on the board – is undoubtedly a tick in the pros column, but only time will tell if that trust in Ten Hag is well placed.
Tags