Southgate: Maguire in contention to start for England against Scotland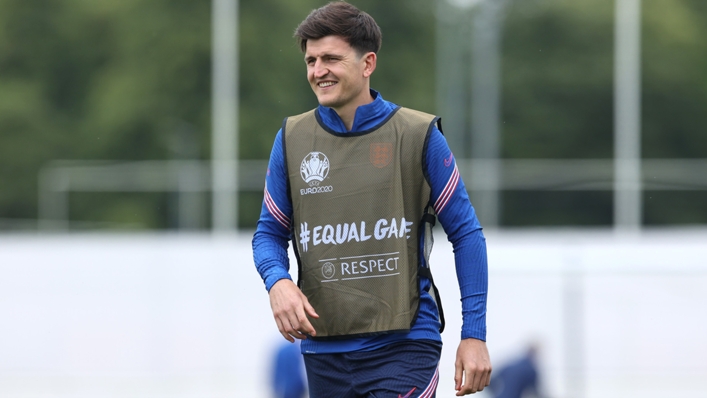 Harry Maguire is fit enough to be involved in England's Euro 2020 clash with Scotland on Friday, Gareth Southgate has confirmed.
But the Three Lions boss also revealed he has yet to make a decision over whether the defender is ready to feature from the start at Wembley.
Maguire has been out of action since sustaining an ankle injury during a Manchester United win over Aston Villa in early May.
However, he was included in England's squad this summer regardless and, according to his manager, is now nearing a return to the pitch.
Southgate said: "Harry will be involved tomorrow. The decision we have got to make is whether he's ready to start but we're really pleased with his progress.
"He's trained with the team for four or five days now and had no reaction and each session that he's involved in he gets more confident.
"I think he's on a really good path. Of course, we want everybody available, it causes difficult decisions but this morning we had 26 players training and that's a great situation for us to be in."
Maguire was not the only injured player somewhat controversially named in England's squad, with Jordan Henderson also among the final 26 despite missing the end of the season.
But, when asked about the recent debate over the Liverpool captain's inclusion, Southgate explained that his off-the-field influence was a major factor in his involvement.
He continued: "I think with the 26-man squad we were able to take a little bit more of a risk with Hendo.
"What he brings to the group on the training pitch, around the camp, his experience, the way he can speak to some of the other players in those quiet moments around the hotel, the way he trains the way he approaches his work, it's a great advantage for us to have him with the team.
"He's training consistently now and he's getting closer to the level that we need him to be at. Also, I think we've got some decent cover in that area of the pitch.
"But I think that the drop-off from not taking Hendo was such that we preferred to give him the opportunity to make it.
"You've got to have the physical part, there's no doubt about that, even if it's for 15-20 minutes in the game. you've got to be able to press well, you've got to be able to get around the pitch well, but there are other factors when you're building your squad and when you're building a team.
"All of those parts are key to producing a winning environment."
England's win over Croatia in their first group game means they can qualify for the knockout stages of the European Championship by beating their old rivals Scotland.
Southgate is confident that his players will be able to keep their cool in an undeniably high-stakes fixture.
He added: "We know that you've got to compete because otherwise you can get overrun in any game, but our focus has been on solving the tactical problems that Scotland pose with the way that they play, the way they defend, the way they attack.
"Our focus has got to be on getting better with every game that we play. For the fans and for us it's a big occasion but it's another opportunity for three points and our objective is qualification so that's what we've got to focus on.
"In the past we've done that well, I thought we did that well on Sunday. [It] was a big occasion for everybody and – with the heat as well – I thought we dealt with that really, really well."
Tags