Machado not worried despite new-look Padres' struggles against Dodgers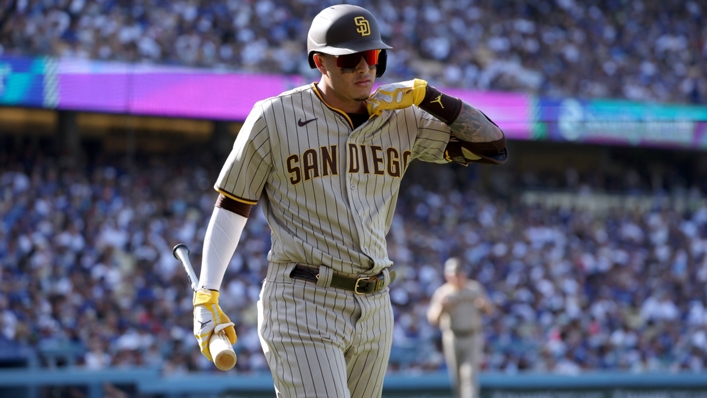 Manny Machado feels the San Diego Padres have no reason to be concerned despite falling to a weekend sweep at the hands of the Los Angeles Dodgers.
The Padres were beaten 4-0 at Dodger Stadium on Sunday, following their previous two heavy 8-1 and 8-3 losses to the same opponents.
But three convincing defeats to the Padres' star opponents have not overly concerned Machado.
The 30-year-old faced questions on how big the gap was to their division rivals despite the high-profile trade for Juan Soto earlier in the week, which came along with moves to sign Josh Bell, Brandon Drury and Josh Hader.
Tyler Anderson gave the Padres little chance on Sunday, and they have now dropped to 2-8 against the Dodgers this season, with a huge 15.5-game gap to Los Angeles in the National League West.
Machado was asked how concerned he was about the prospect of facing the Dodgers in the postseason based on the way these latest matchups had gone.
"Concerned? Why would I be concerned? Not at all," he said, per ESPN. "We know what we have and that's it.
"We have no pressure in here. We're going out there and playing baseball every single day. Whatever that day brings us, we're going to go out there and give it all we have.
"We keep playing baseball. It's plain and simple. Nothing else to it."
San Diego have the chance to bounce back with a three-game home series against the San Francisco Giants, which begins on Monday.