Tuchel: Lukaku-Haaland partnership talk a 'joke'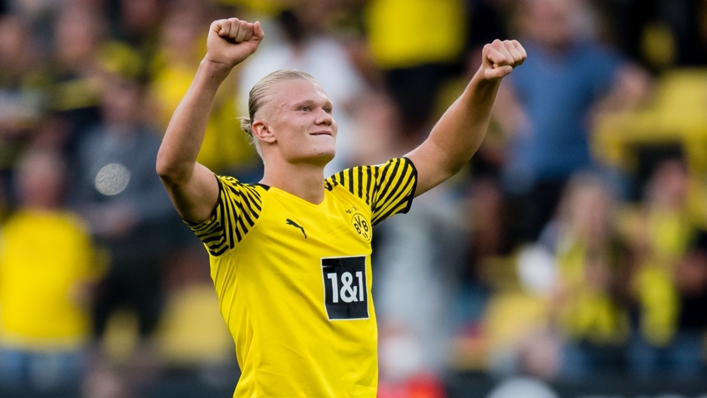 Chelsea head coach Thomas Tuchel insisted his comments about a possible Romelu Lukaku-Erling Haaland partnership were a "joke" as he tried to play down speculation linking the European champions with the Borussia Dortmund star.
Tuchel this week said Chelsea had discussed a move for Haaland and did not rule out partnering the in-demand Norwegian forward with Lukaku at Stamford Bridge.
However, Tuchel backtracked on those comments as Chelsea prepare to host Norwich City in the Premier League on Saturday.
"I fell into a trap," Tuchel told reporters, referencing his Bild interview. "I got an award in Germany. I got an award from a newspaper and they asked me about a player.
"Normally I never, never speak about other players because simply I never, ever do.
"Then we were making more or less fun about it. I should have known better because [I was] making fun about it and being a nice guy and answering a question instead of 'no, I don't want to answer a question'.
"Getting this award and I joke about a double striker with Romelu in October and then it gets like we put in an offer. That was the context but OK, I should have known better."
Haaland has 70 goals in 69 games for Dortmund since his arrival in January last year, only Bayern Munich's Robert Lewandowski (89 goals in 74 games) has a better return among players from Europe's top-five leagues.
In this season's Bundesliga, Haaland surpassed his expected goal (xG)-value by 2.9 (nine goals, 6.1 xG) – only Bayer Leverkusen sensation Florian Wirtz eclipsed his value (3.0), per Opta.
Since Haaland joined Dortmund, he exceeded his xG-value (38.7) in the Bundesliga by 10.3. It is the highest value of a player in Europe's top-five leagues in this time.
Since Haaland's arrival in Dortmund, he has scored 13 Bundesliga goals after carries – in Europe's top-five leagues, it is only bettered by six-time Ballon d'Or winner Lionel Messi (15).
In the 2021-22 league campaign, Haaland is one of four players who has been involved on 10 open-play sequences which ended in a goal – together with Hoffenheim's Andrej Kramaric, Bayern veteran Thomas Muller and Wirtz.
"It is interesting that we as German staff, we become very humble when we see the difference in performance in the Bundesliga and obviously how much harder it is to produce the same numbers in the Premier League," Tuchel added.
"It is, by the way, the big question in every transfer you do. This player performs in Germany, Spain, Italy or the other way around in England, can he also perform in the other country, the other culture, in the other team, in the other style of football? That is for me one of the big questions because you can scout them on any physical, mental level, do tests with them and observe them, how they behave.
"On social media, they let you observe their lives so you know pretty much everything except for the fact what does it mean if you perform in club A in country B, what does it mean for your club C in country D? This will be the question.
"Every player is different so to make it a general rule, it is maybe not possible but it seems it is the toughest league here and to produce outstanding stats. This cannot be a surprise. You are proud to have this league in England and you should be. It is big fun to watch and maybe bigger fun to work in it. That's the way it is."
Tags