Curry pays respect to unguardable Doncic
Liam Phillips
Stats Perform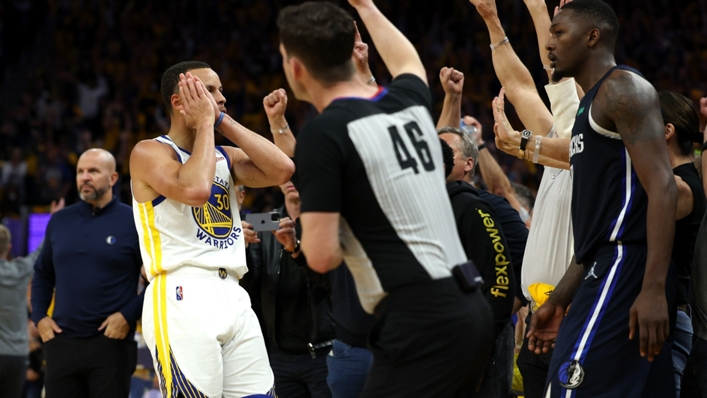 Golden State Warriors superstar Stephen Curry feels his side has become a well-oiled machine over the course of the season, but admitted sometimes there is nothing you can do about Luka Doncic's brilliance.
The Warriors came back from 53-34 down with seven minutes remaining in the second quarter, holding the Dallas Mavericks to 13 points in the third period, before winning the last frame 43-32 to run over the top late.
Curry top-scored for the Warriors with 32 points on 11-of-21 shooting, while Jordan Poole was terrific off the bench with 23 on seven-of-10 shooting, including 12 in the fourth quarter.
Despite the loss, Doncic scored a game-high 42 points on 12-of-23 shooting, while also dishing a game-high eight assists.
During Curry's post-game media appearance, he said he feels like the Warriors have figured a lot out defensively over the course of the season, but players like Doncic are simply "nice like that".
"[Chemistry] is something that's been slowly building over the course of the regular season," he said.
"It didn't always show on the court, but the roles, and how we play on both ends of the floor, everybody is comfortable with what they're being asked to do.
"Even [Wiggins] – he has a tough challenge of chasing Luka pretty much everywhere, every time he's out there on the floor.
"He understands he's going to get scored on – because Luka is nice like that – but over the course of 48 minutes you figure out how to wear him down a little bit, and go back at him on the offensive end."
He went on to say he does not think about the Mavericks' lack of playoff experience, with the Warriors instead focusing on imposing their will.
"It's not [Dallas' lack of experience] – it's just the supreme confidence in what we do," he said.
"You don't really know what they're talking about in the huddle, you don't feel what's going through their mind, it's just you imposing your will.
"For us, the experience, and the chemistry – obviously this group is a bit different – but we have that attitude and spirit that we feel we're never out of it. I think only one game in this playoff run we've been severely outmatched from start-to-finish.
"That belief then turns into execution in the game, and you can feel the momentum. It's more focused on what we do, and when you have the opportunity to stick in the dagger, or come up with three stops in a row, those are the times when you feel that good energy."
Curry also touched on the Mavs' hot start, which saw them put up 72 points in the first half, and how the Warriors can make large deficits disappear in a hurry.
"We knew they were going to come out aggressive, and making shots," he said.
"We didn't think they were going to be that hot – it seemed like no matter what we did they always found the right guy, and they had no hesitation to shoot it.
"They had 15 threes in the first half – it felt like a lot – but all of a sudden you look at the scoreboard and we got it down to two at one point, and then it ballooned out to 14.
"14, for us, is more than manageable if we come out and influence the game, starting on the defensive end.
"When you can limit a team like that to 13 points [in a quarter] – it wasn't like a flurry, but it seemed like we regained the momentum, and slowly, and methodically walked them down.
"The first six minutes of the fourth quarter was kind of the real momentum shift – it gave the crowd some life, and gave us some life, and allowed us to run away with the win."
Game 3 and Game 4 will head to Dallas, and if the Warriors can win just one, they will head back to Golden State for Game 5 with a 3-1 lead.