Luis Enrique refuses to focus on the negatives ahead of Morocco meeting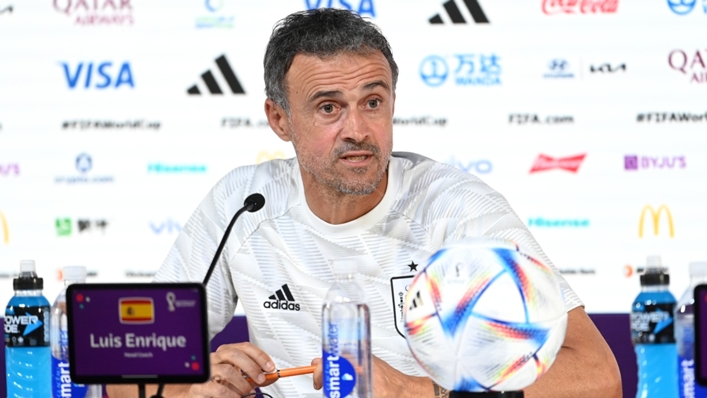 Spain coach Luis Enrique is refusing to look at the negatives from his side's loss to Japan, instead pointing to how well La Roja played across their World Cup group stage games.
Japan beat Spain 2-1 on Thursday to secure top spot in Group E, setting up a last-16 tie with Croatia while also condemning Germany to an early exit.
Spain had 82.3 per cent of the possession and attempted 1,058 passes to Japan's 228, and had 12 shots, with five hitting the target.
However, Spain's efforts only accumulated to 1.04 expected goals (xG), whereas Japan's six attempts added up to a combined xG of 1.45, with Ritsu Doan and Junya Ito scoring in the space of three second-half minutes.
If reports in the Spanish media are to be believed, former Barcelona coach Luis Enrique might be replaced as Spain boss after the World Cup, but ahead of Tuesday's last-16 tie with Morocco, he has full conviction in his approach.
"We are talking about 270 minutes if I'm not wrong, plus added time [in the group stage]," Luis Enrique said in a press conference when he was asked if his team failed to recover from setbacks during matches.
"Out of 300 minutes in total, you focus on 10 minutes that you didn't like. As far as we progress, you will see more of these minutes.
"We are footballers and the opponents also play. There are things to be improved, and I'm sure we will be bitten by Morocco in some moments of the game.
"We can't take blows? What about them? Did Germany take it well when we scored? We are in a competition where the score dictates the risk you are willing to take.
"Other teams pull back but we keep attacking and of course we need to improve that."
Asked if his team lacked the experience required to see out spells of pressure, Luis Enrique replied: "It's such a cliche, we have to try and get rid of this idea.
"I don't believe they lacked experience. Experience in what? Being builders, carpenters? When you lose, people talk about issues and if you win, they don't.
"I don't share this analysis. This team will be recognised by the way we play, analyse our matches, our philosophy but not these sorts of issues.
"Mistakes happen, we are talking about a very complex, unfair sport, 11 players on a huge field, it's impossible to control all the aspects.
"At the end of the day the ones making the decisions are the players, I want them to implement my idea and I want them to buy the whole package when they lose, it's not fair to only buy it when we win."
Spain have only made it beyond the round of 16 once at the last four World Cups, when they went on to win the trophy in South Africa in 2010. This record, though, is of no concern to Luis Enrique.
"This is not our usual trend, to look at everything from a negative perspective," he said.
"I am not concerned about those results. I want to control the things I can control as a coach. I want my team to play in a certain way, I want my players to forget about the result.
"Football is not fair but if you have more merit you usually win the game. I am convinced we will have more merit than Morocco. Our objective was to play seven games, so we want to play seven games."
Tags