Lightning hail Vasilevskiy after Game 1 win over Panthers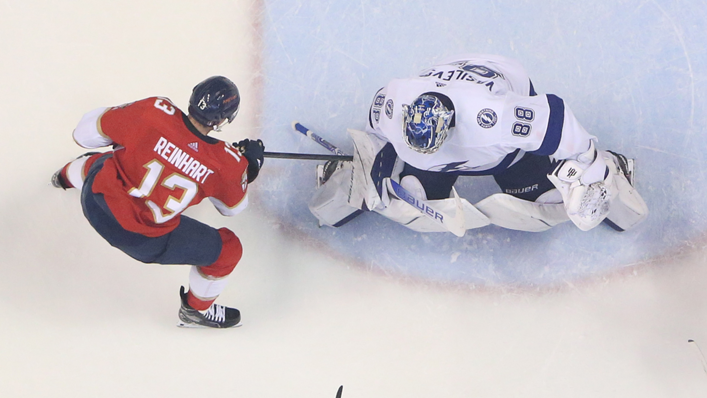 Goaltender Andrei Vasilevskiy was the hero as the Tampa Bay Lightning boosted their three-peat bid by winning 4-1 over the Florida Panthers in Game 1 in second round of the Stanley Cup playoffs.
The Lightning beat the Panthers in the first round of last year's playoffs 4-2 after going 2-0 up in the series and Tuesday's win got them halfway there in this year's Eastern Conference semi-finals.
Tampa Bay coach Jon Cooper was full of praise for 27-year-old Vasilevskiy, who made 34 saves as the Lightning fired in three third-period goals to get the win.
Vasilevskiy's 34 saves are the most he has had in a game this postseason, while he has stopped 94 of 99 shots over the past three games.
"Look at the saves he makes at the times we need them," said Cooper in his 124th playoff game with the Lightning.
"To me, that's what great goaltenders do and they give you a chance to win a hockey game and that's what our guy did again tonight."
Nikita Kucherov, who scored a goal and had an assist, also hailed the Russian goaltender.
"He brings 100 per cent effort every single game and everybody's just trying to take his energy and bring it to your game," Kucherov said.
"He's a leader ... he's our best player."
Florida had taken the lead through Anthony Duclair in the first period but the Lightning hit back with four unanswered goals from Corey Perry, Pierre-Edouard Bellemare, Kucherov and Ross Colton to take the win.
"We're still learning and unfortunately we had to learn again tonight. We will be better next game," Florida interim coach Andrew Brunette said.
"They are too good of a team, a veteran team, and they're not going to open the door for you. We had our opportunities. On to the next game."