Ball to undergo second knee surgery this year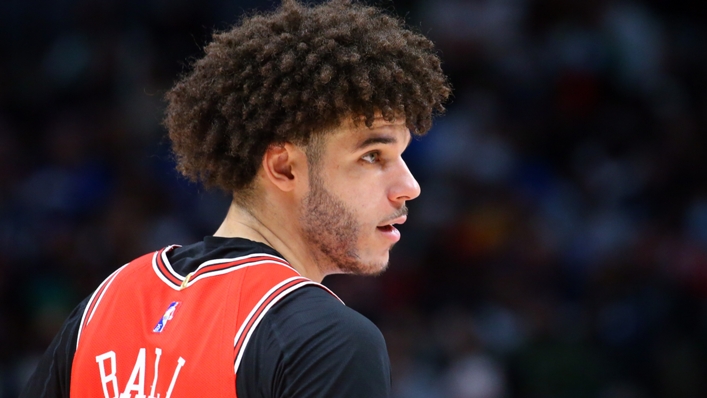 Chicago Bulls guard Lonzo Ball is still unable to run or jump without pain in his surgically repaired left knee and will undergo a second arthroscopic surgery, ESPN reported Tuesday.
His discomfort remains nearly 10 months on from his initial injury back in January, with Ball telling the media it is nothing like he has ever experienced before. The operation is scheduled for Wednesday.
"There was a point where we would warm up and stuff, and I would go through certain days and it would be fine," Ball told reporters Tuesday. "Then whenever I got to real basketball activities, I just couldn't do it.
"Unfortunately, this is what's at hand and has to be dealt with. We feel like surgery, again, is the best option."
The Bulls said that they will reevaluate Ball in four to six weeks, but neither the team nor Ball himself was willing to put a timeline on the point guard's return from a third career surgery on his left knee.
"For me, this will be my third surgery, so this time around I really don't want to rush anything," Ball said.
Ball's continued pain and stunted recovery have been both a surprise and a mystery to his medical team as he continues to struggle with some day-to-day activities, including walking up stairs.
"From my understanding they're going in there to see what it is, because it's not necessarily showing up on the MRI," Ball said. "It's clear that there's something there that's not right, so they're going to go in, look at it, and whatever needs to be done is going to be done.
"I've never felt pain like this or was able to ramp up a little bit but never fully, so definitely a unique situation. The doctors and the Bulls, we're all trying to figure out what it is."
Despite the considerable setback, Ball does not believe the injury will sideline him for the entire season.
"That's not in my mind right now, but that would be the worst-case scenario," Ball said. "I'm at a point now where I know I can't get back out there until I'm comfortable playing and can actually play. So whenever that day comes, that's when I'll have the jersey back on."
The news comes as the Bulls practiced for the first time in preparation for the 2022-23 season. Chicago hopes to improve on last season when they started hot but ended up as the Eastern Conference's No. 6 seed and losing their first-round playoff series against the Milwaukee Bucks in five games.
Tags