LiveScore Daily: The latest football news in bite-sized chunks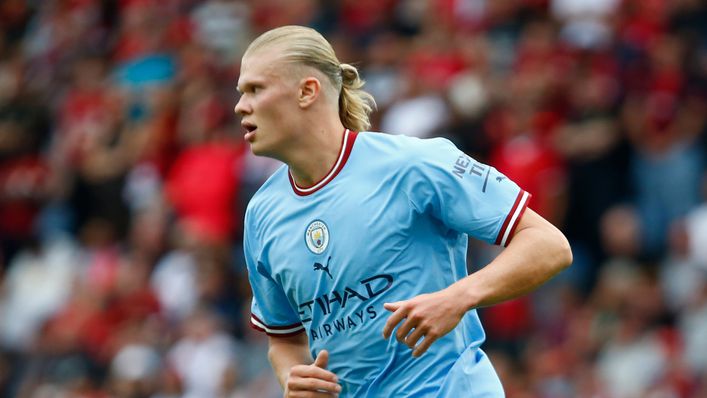 LiveScore Daily is here to deliver all the big talking points from the world of football throughout the day. Keep refreshing this page for the latest stories in bite-sized chunks.
Slow start will not worry Haaland
Erling Haaland knows it may take time for him to settle on the pitch at Manchester City — not that he is letting that fluster him.
All eyes will be on the Norwegian, 22, when he makes his Premier League debut for City at West Ham on Sunday.
Haaland played the full 90 minutes in the 3-1 Community Shield defeat to Liverpool last Saturday, missing one huge chance at the King Power Stadium.
But in an interview with Sky Sports, the summer signing revealed he is relaxed about the pressure on him.
He said: "We will see about settling in. People can take time, people can come directly into it. We have to see, but I'm not concerned.
"That's life as a footballer — you have to live with it. You are a kind of entertainer. You get judged every single week for what you do on the pitch and you have to deliver and do your best.
"For me as a striker, this is something I cannot stress about because if you think too much, you might end up doing things you don't want to do."
He added: "The chemistry on the pitch with the other players is something that will come — I don't know if it will take weeks, months, but this is something we have to build on every single day in training.
"At this high level, you also understand the people around you — he is good at this, he is good at that, he loves to play the ball there."
Van de Beek excited by new era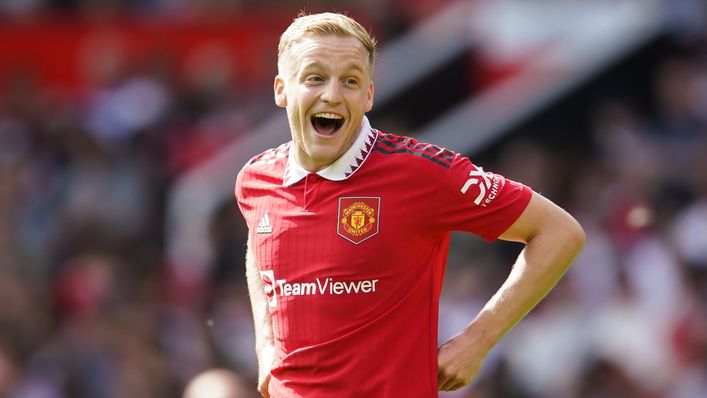 After two difficult seasons since signing for Manchester United, Donny van de Beek is excited for the new campaign to start.
Buoyed by the arrival of his former Ajax boss Erik ten Hag, the midfielder, 25, is expected to be given a chance to impress in the Premier League.
And after spending the second half of last season on loan at Everton, Van de Beek is enjoying being back with the Red Devils ahead of their opening game against Brighton this Sunday.
The Dutchman said: "We can't wait. We had a tough pre-season and trained so hard and worked so hard.
"We are ready now for the league and everyone is excited about it.
"I think we've managed to get some great work in and, for me, just being back with the team is great.
"Last season and the last few months were difficult because I was injured and I couldn't train and play a lot. So it's really nice to be back and training hard."
And the midfielder has called on the Old Trafford faithful to get behind the new era as they bid to break back into the top four.
"If you feel the power from the fans, it gives you a lot more energy and confidence as well," he added.
"The fans mean a lot to us as a group. It's really important to make a good start on Sunday. We need the points and that will give us a lot of energy and help us grow as a team."
Neville writes off Gunners' top four aim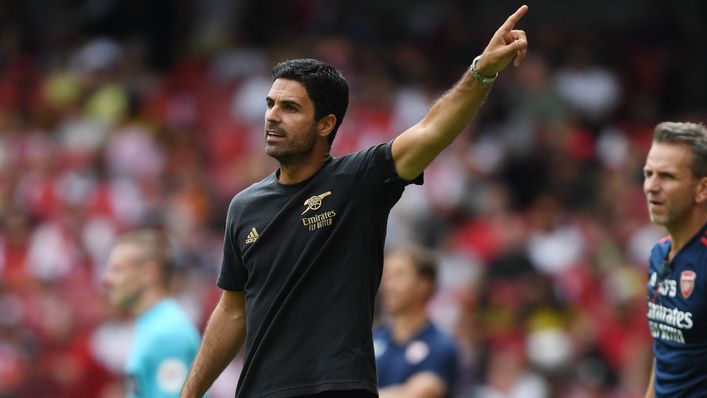 Despite summer investment, Gary Neville does not expect Arsenal to break into the top four this season.
Mikel Arteta has overseen a busy window in North London, with their new signings including former Manchester City duo Gabriel Jesus and Oleksandr Zinchenko.
But Neville is still unconvinced that 40-year-old Arteta, in his first managerial role, has the nous to secure Champions League qualification.
The ex-Manchester United defender reckons both his former club and Chelsea will have to "blow up" to give Arsenal a sniff.
Neville said: "I just worry about the experience in terms of a young manager.
"To be fair, it's not unfounded, the evidence is there! Last season, Arsenal should have finished in the top four. But, in the end the experience of Antonio Conte, the experience of the Tottenham Hotspur players [meant they did not].
"In that game, it was alarming how naive Arsenal were and how short they were. My concern is just purely around [that].
"I know Chelsea and Manchester United are struggling a bit in terms of where they are and they might both blow up, but I think both will have to happen in order for Arsenal to land in the top four."
The Gunners kick off their season with a trip to Crystal Palace tomorrow night.
Worrall named Forest skipper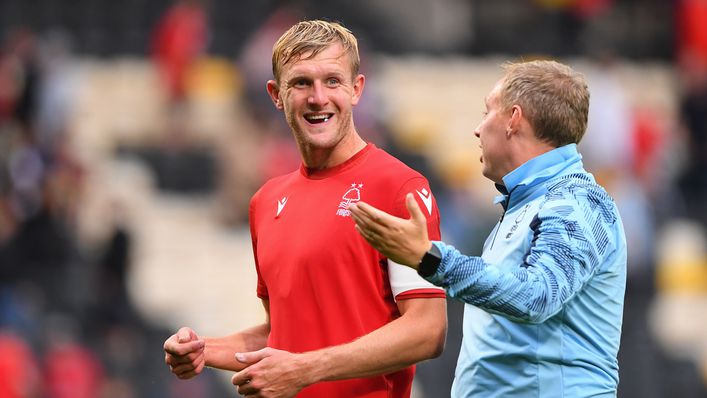 Steve Cooper has hailed new Nottingham Forest club captain Joe Worrall after confirming he has been given the job permanently.
Worrall, 25, wore the armband when previous skipper Lewis Grabban, who has departed on a free transfer, was not in the side in his role as vice-captain.
And Cooper was full of praise for the Forest academy product, who he said has been a real leader since the minute he took over last September.
"Joe is a tremendous lad and really embodies everything we're looking to create here at the club," he said.
"Since the day I walked into the building it was clear Joe has the respect of the dressing room and his performances on the pitch are full of drive, leadership and quality which is something that inspires those around him."
Worrall was beaming with pride after being handed the role ahead of Forest's first top-flight campaign since 1998-99.
"To be given the chance to captain my hometown club means so much to me and it's an absolute honour, and I say that with all my heart," he said.
"All I've ever wanted to do since I was a kid was to play for Forest, so to captain them too is a dream come true. I've been here seven, eight years and worked under some great captains, and I know what's demanded of us."
Calvert-Lewin out for six weeks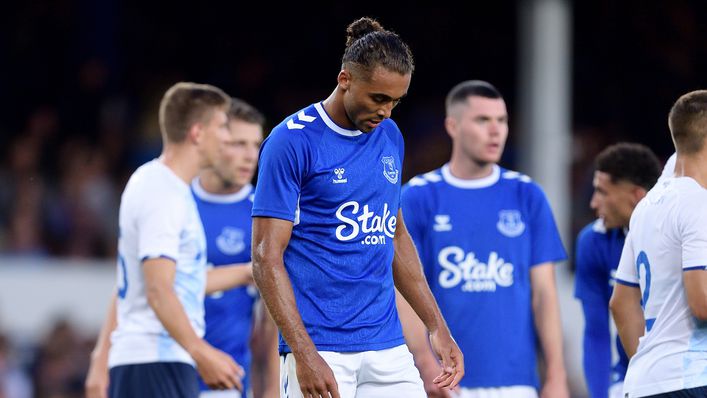 Everton boss Frank Lampard has confirmed that Dominic Calvert-Lewin will miss the first six weeks of the season with injury.
The England forward has picked up a "freak" knee injury in training, leaving the Toffees in a sticky situation without a recognised striker for their opening game against Chelsea.
Richarlison was sold to Tottenham for £60million last month, while Salomon Rondon is suspended after a red card in May.
It is a blow to Calvert-Lewin's World Cup chances too, after he only played 18 times last term due to injury problems.
"Losing a player like Dominic going into the first week is obviously going to affect you. I think we're probably looking at six weeks for the injury," Lampard said.
"It was a freak injury in training, which does happen. It's a shame but we have to find the solutions to keep ourselves strong without Dominic before he returns.
"It comes with the territory of having a squad and training at this level. We'll have to work around it and other players will have to set up and do the job and hopefully six weeks passes relatively quickly and we get Dominic back."
Conte aiming big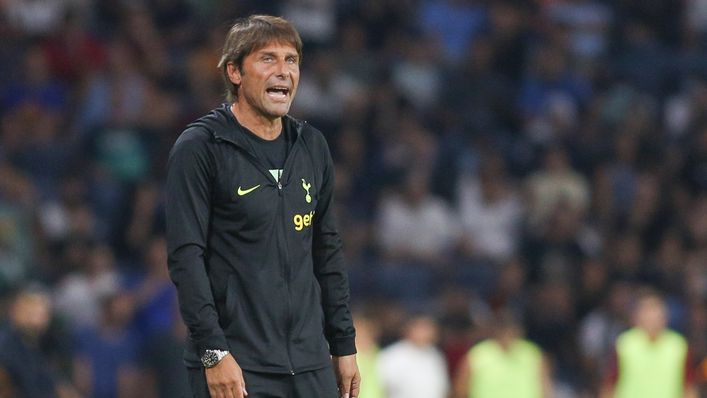 With a mischievous smile on his face, Antonio Conte asked why Tottenham cannot win the Premier League and Champions League this term.
The Italian may have been joking, but ahead of his first full season in charge of Spurs kicking off on Saturday against Southampton, there is plenty of optimism in North London.
A summer of smart recruitment means they look well placed for another top four finish, yet Conte, 53, was keen to reiterate the need for hard work ahead of the first game.
"Why not Premier League and the Champions League?," Conte said.
"My target and the club's target is to improve. It's the process we started seven months ago. If you get a place in the Champions League it doesn't mean you've achieved your target.
"My experience brings me to say we're going in the right direction. At the same time I know the club needed another step to be competitive with the top teams in Europe.
"For this reason we have to not be presumptuous or arrogant. We have to work, work, work to improve on the pitch and outside of the pitch to become a top club."
Tags