All you need to know about the Champions League in Opta stats
Liam Phillips
Stats Perform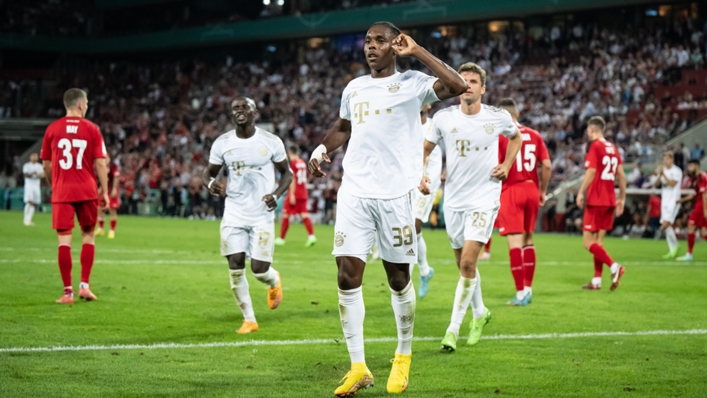 The most decorated club competition in the world is back underway, and Wednesday's Champions League action promises some fireworks.
Winners in 2019-20, Bayern Munich will travel to the San Siro to take on Inter, while last year's runners-up Liverpool head to Napoli for a game they are favoured in.
Reigning Europa League champions Eintracht Frankfurt will look to keep up Germany's strong record against Portuguese teams when they host Sporting CP, and Harry Kane will be aiming to build on his superb European record as Tottenham host Marseille.
We take a closer look some interesting facts and nuggets about each match-up on Wednesday to give a clearer picture about how these clashes of champions may play out.
After their last Champions League run ended in a quarter-final loss to Villarreal, Bayern Munich will be desperate for a much improved result as they seek their seventh title, beginning their campaign away from home against Inter.
The sides have evenly split their seven previous European meetings, with three wins each and one draw, although it has been over a decade since their last Champions League fixture back in 2011.
While they do not have much recent history against Bayern in this competition, Inter's games against German opponents have turned into goal-fests, with 39 total goals (19 for, 20 against) in their past 10 matches.
Bayern have had much more success against Italian sides, going unbeaten in their past 10 (8W, 2D) – with their last loss coming in that 2011 battle with Inter, and the Nerazzurri were also the last side to keep a clean sheet against them in the 2010 final.
Romelu Lukaku will be a hard man to replace for the Italians as he will be absent after suffering a thigh injury. In his 16 European contests for Inter, he has 17 goal involvements (13 goals and four assists).
This will be the third time in the past five seasons that Napoli and Liverpool have landed in the same Champions League group after back-to-back years in 2018-19 and 2019-20, with the Italian side winning all three of their home games.
Napoli have not featured in the last two editions of Europe's top competition, but they were a force in the group stage before their drought, with only one loss from their previous 12 matches (5W, 6D).
Mohamed Salah's seven goals in last season's group stage was the second-most ever in a group stage from a player on an English team, trailing only Ruud van Nistelrooy's eight during Manchester United's 2004-05 campaign. Salah is also one assist away from tying James Milner and Steven Gerrard for Liverpool's record number of assists in the Champions League (12).
In the first ever competitive meeting between these two sides, Tottenham will likely be confident in their ability to get the job done at home against a Marseille side long removed from any Champions League success.
From their past 15 Champions League games, Marseille have only one win, against Olympiakos in 2020. English sides have given them particular trouble as well, as they have 12 losses against Premier League sides in their history in the competition – twice as many as against any other nation (six losses against Italian teams).
Harry Kane will be looking to add to his stellar European record, with 23 goal involvements (20 goals, three assists) in 24 career fixtures. Of all players with at least 20 Champions League goals, only Erling Haaland (64), Mario Gomez (102) and Lionel Messi (103.7) have a better minutes-per-goal figure than Kane's 104.4
Eintracht Frankfurt v Sporting CP
The reigning Europa League champions, Eintracht Frankfurt are making history with their first-ever Champions League berth, becoming the 14th German side to ever qualify – breaking the tie with Spain (13) for the most by any nation.
German sides have given Sporting trouble over the years, with 13 losses and one draw from 14 tries in European competition, with that emerging as a theme between the two nations.
Against all Portuguese sides, German teams are undefeated in their past 15 Champions League matches (13W, 2L) dating back to 2006.
After netting five times in last season's Europa League triumph to take his tally up to 11, Eintracht's Daichi Kamada can enter the club's record books as one of their top-three goalscorers in European competition with one more.
20 - Ajax scored 20 goals in their six matches in last year's Champions League group stage, winning all six. It is the most goals they have ever scored in a Champions League group stage, before being eliminated by Benfica in the first knockout round.
19 - This will be Rangers' first Champions League appearance since 2010-11, and in their history, only Anderlecht (17 per cent) have a worse winning percentage in the competition than Rangers' 19 per cent. They have lost all four of their previous European meetings against Ajax.
13 - This will be Atletico Madrid's 13th Champions League campaign, moving them past Valencia into the third-most for a Spanish side, trailing only Barcelona and Real Madrid (both 27). This is Atletico's 10th berth in a row, all under Diego Simeone.
26 - This is Porto's 26th Champions League, trailing only Barcelona and Real Madrid. If they were to be eliminated in the group stage this season, it would be the first time they failed to make it through the group stage in back-to-back campaigns since 1998.
Club Brugge v Bayer Leverkusen
1 - There has been only one win from a Belgian side against a German team in 24 Champions League meetings (18L, 5D) – and it was Brugge just last season, defeating RB Leipzig 2-1.
9 - Leverkusen have failed to win the opening match of their Champions League run the past nine times they have qualified (8L, 1D), with their last opening win coming in 2001.
Barcelona v Viktoria Plzen
33 - Barcelona striker Robert Lewandwoski is the top overall Champions League goal-scorer from the past three seasons, with 33 goals in 26 games. Last season, he netted nine goals in five home games,
24 - In their only two previous Champions League fixtures against Barcelona, Viktoria Plzen have averaged 24 per cent of the possession, and have lost the shot-count by a combined margin of 36-4.
Tags