The biggest wins in Europe's greatest rivalries
Patric Ridge
Stats Perform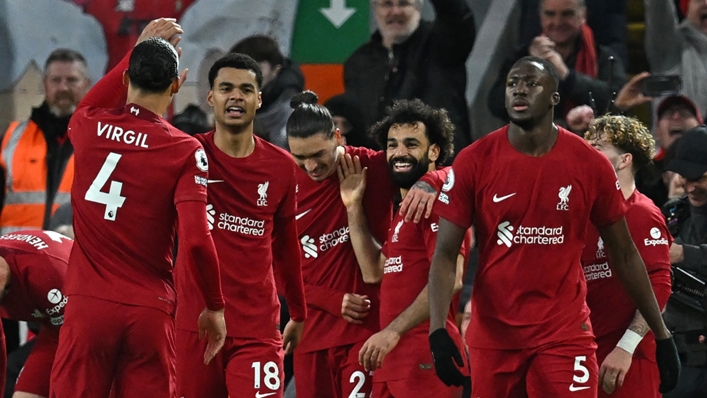 Liverpool v Manchester United is one of European football's great rivalries.
But it was as one-sided as they come on Sunday as Jurgen Klopp's side ran out 7-0 victors over United in a rout for the ages at Anfield.
United capitulated in the second half as goals from Darwin Nunez, Cody Gakpo, Mohamed Salah and Roberto Firmino sealed one of Liverpool's greatest wins over their rivals. Indeed, it was the greatest margin of victory for either side in the long history of the fixture.
Yet how does that result compare to the biggest wins in some of Europe's other great rivalry games?
The biggest margin of victory in Clasico history came way back in 1943, in the second leg of the Copa del Rey (then known as the Copa del Generalisimo) semi-finals. Holders Barcelona won 3-0 at Les Corts in the first leg and seemed to have one foot in the final, yet Real Madrid claimed an extraordinary 11-1 win in the second leg.
Los Blancos turned the tie on its head inside 45 minutes of the return fixture at Estadio Chamartin, leading 8-0 by half-time. This match is often cited as one of the key contributors to the Clasico rivalry and led to the dismissal of Barca's president.
Sabino Barinaga scored four, Pruden netted a hat-trick and Chus Alonso got a double, while Antonio Alsua and Pascual Botella chipped in with a goal apiece for Madrid, with Mariano Martin grabbing the very definition of a consolation goal in the 89th minute. Madrid went on to lose 1-0 to Athletic Bilbao in the Copa final.
Milan's greatest day against rivals Inter came in May 2001, with a 6-0 victory at San Siro in Serie A. While the Rossoneri were technically the away team, they emphatically secured the bragging rights at their shared stadium late in what was a disappointing season.
Gianni Comandini volleyed home after just two minutes to put Milan ahead, and they didn't look back, with Comandini grabbing his second before the 20-minute mark. Those were two of only three goals he scored for the Rossoneri.
Federico Giunti, Andriy Shevchenko, with his own double, and Serginho got in on the act to give caretaker Milan coach Cesare Maldini a famous win. "Mamma mia," Inter boss Marco Tardelli was seen mouthing on the bench. How very apt.
The Milan derby is not the only huge clash Inter are involved in. Their meetings with Juventus are always fiery, too. Juve hold the biggest margin of victory in Derby d'Italia history, with the Bianconeri cruising to a 9-1 rout in Serie A in June 1961, altbeit there's more to this game than meets the eye.
Inter had been awarded a 2-0 victory after their meeting with Juve in April 1961 had been suspended due to Juve fans storming the pitch. Juve appealed, and that appeal was upheld on the final day of the season, with their club president Umberto Agnelli – also the head of the FICG – deciding the match needed to be replayed.
In protest of the decision, Inter elected to field the youth team. Juve ran riot, with Omar Sivori scoring six goals. Much like Madrid's humiliation of Barca, this match is seen as the true birth of the Juve-Inter rivalry.
Sorry, United fans, but there's more misery in store. United beat City 5-0 once, in 1994, but City hold the other three biggest wins in this fixture: 6-1 in 1926, 5-0 in 1955 and 6-1 in 2011. Remarkably, all three of those have come at Old Trafford.
That 2011 fixture is particularly memorable, given it signalled something of the changing of the guard in Manchester, with the noisy neighbours making their case and ultimately going on to win their first Premier League title by pipping United to the post in the final seconds of the final day that season.
City won the league on goal difference, making the margin of this result ever so costly for Alex Ferguson and Co.
Another 11-1 scoreline features on this list, with Bayern Munich smashing Borussia Dortmund in Der Klassiker in November 1971.
Bayern-Dortmund was not, at that stage, the biggest game in German football and would not become so until the 1990s. But this still stands as Bayern's biggest Bundesliga win.
Gerd Muller, Uli Hoeness and Franz Beckenbauer were all on target in this storming win in Munich, with Muller netting four.
Neither Paris Saint-Germain nor Marseille have ever beat the other by more than four goals.
Such a margin of victory has occurred on four occasions – three for PSG (5-1 in January 1978, 5-1 in February 2017, 4-0 in October 2019) and one for Marseille (4-0 in November 1986).
The most recent such success for PSG just over three years ago saw Mauro Icardi and Kylian Mbappe put Thomas Tuchel's star-studded side 4-0 up by the break.
Tags