Hamilton rapped for 'fundamentally unsafe' move after Sao Paulo GP triumph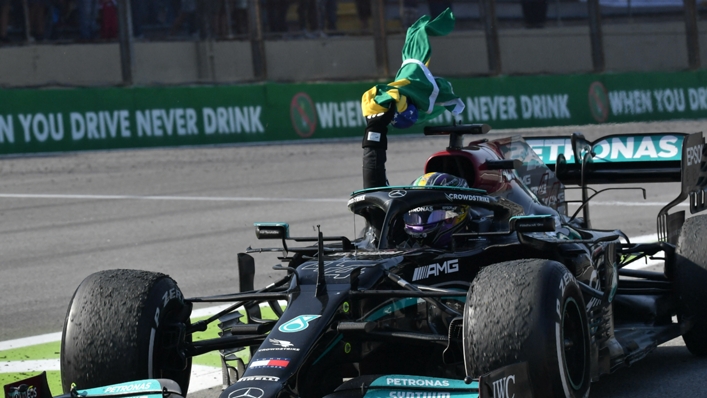 Lewis Hamilton was punished as Sao Paulo Grand Prix stewards criticised the seven-time world champion for undoing his seatbelt to grab a flag after his stunning victory.
Mercedes sporting director Ron Meadows was asked by race chiefs to explain the incident that saw Hamilton stop to collect a Brazilian flag from a marshal at the end of a remarkable race win.
In reaching for the flag, stewards noticed Hamilton had loosened his seatbelt, which goes against the rules that stipulate drivers must always be "properly restrained in their seat by safety belts... at all times during a competition when it is mobile on a circuit, pit lane, special stage or competition course".
Hamilton was hit with an immediate €5,000 fine, with a further €20,000 punishment suspended until the end of next year. His race result was unaffected.
The stewards said in their ruling: "The driver of car 44, Lewis Hamilton, undid his seat belts on the in-lap at the end of the race.
"While the stewards are sympathetic to the desire to celebrate, it is fundamentally unsafe to undo the seatbelts while the car is in motion. Slow speeds in these cars are very fast for an unrestrained occupant.
"Further, Formula One drivers set the example for junior categories. It is critical that junior category drivers learn the importance of using all the safety devices of the car at all times."
The British driver scored a superb victory for Mercedes to close the gap on championship leader Max Verstappen to 14 points with three races remaining in the season.
Hamilton started from 10th on the grid, after two pre-race penalties hampered his preparation, but he gained eight places in the early stages before overtaking Verstappen with 12 laps left to run.