Allardyce says Leeds squad not good enough to stay in Premier League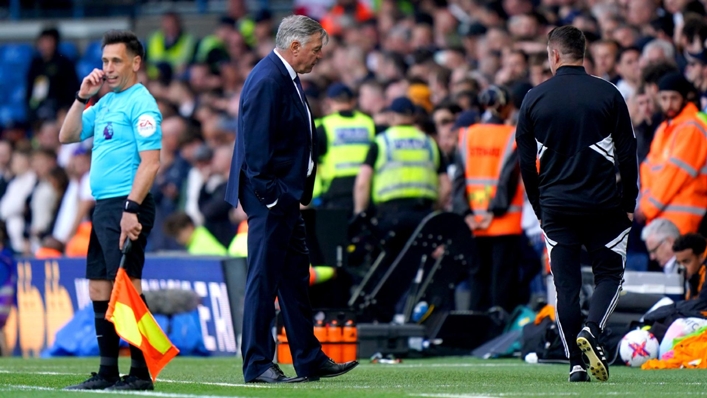 Leeds manager Sam Allardyce said the club's players had not been good enough after Sunday's 4-1 home defeat to Tottenham sealed Premier League relegation.
Allardyce had been Leeds' last throw of the dice with four games remaining, but after three defeats and a draw the 68-year-old was unable to mask the club's systemic failings and save them.
He said: "Most of it comes down to how good are your players? These players have tried very hard while I've been here and I can't fault their effort.
"But as a squad, they haven't been good enough by the fact that they're in the bottom three in the Premier League.
"I would have hoped I could have got a little bit more out of them, so I take responsibility for that.
"But it's a tough old world when things start failing and when they start failing and confidence starts going then it's very difficult to claw it back and we've been unable to do that."
Leeds' three-year stay in the top flight is over and Allardyce made it clear poor player recruitment had been the biggest factor in their demise.
"General recruitment is the number one factor for any manager or any coach or any head coach or any club to be successful," he said.
"Without top-level recruitment, a manager and a coach and the staff are only as good as the players they have available and their ability.
"Actual quality is all about recruitment because better players and more intelligent players make you a better coach, make everybody at the club better, make it a happy club going forward."
Leeds' ultra-slim hopes of avoiding the drop on the final day appeared dashed in the only the second minute against Tottenham when Harry Kane fired the visitors into an early lead.
The Elland Road faithful responded with raucous defiance and that quickly turned to anger as they vented their fury at the Leeds board.
Leeds wasted several first-half chances and were duly punished – as they have been all season – when Pedro Porro put Tottenham 2-0 up with a brilliant angled finish two minutes into the second half.
Jack Harrison reduced the deficit, only for Kane to curl home his 30th league goal of the season two minutes later.
Tottenham substitute Lucas Moura then compounded Leeds' misery when he waltzed through to add a fourth in stoppage time.
Leeds fans chanted 'sack the board' and called on chairman Andrea Radrizzani to sell his majority stake in the club to American co-owners 49ers Enterprises.
The financial arm of NFL franchise the San Francisco 49ers holds a 44 per cent stake with a deal in place to buy the remaining shares before January 2024.
But that was contingent on Leeds being in the top flight and relegation has muddied the waters.
Allardyce urged the club to quickly resolve their ownership issue, but it remains to be seen who will be in control as they bid to bounce straight back from the Sky Bet Championship.
"I haven't said I'm staying yet so there's a lot of discussion that needs (to be had) both ways on what's going to happen," Allardyce added.
"Whether that's me or whoever that might be if it's not me. I'm not committing myself to say I am or not staying just yet."
Tags