LaLiga chiefs accuse Premier League of 'cheating' transfer market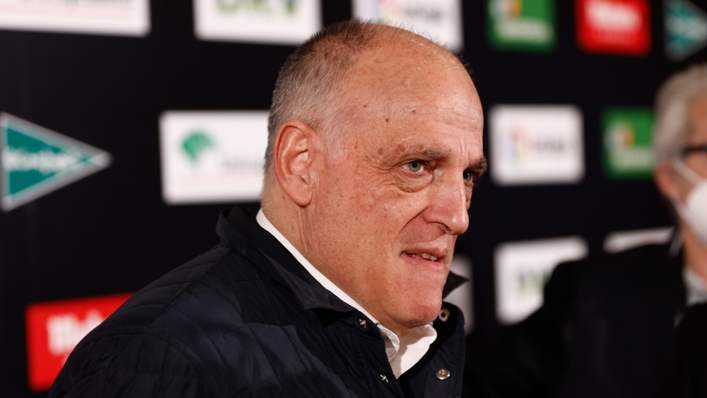 LaLiga has accused the Premier League of "cheating" the transfer market after the division's record-breaking £815million January window.
The English top-flight spent more than the rest of Europe's top five leagues combined in a bumper month of purchases, with Chelsea leading the way at £291.7m.
Those eye-watering numbers have been met with raised eyebrows across Europe, with Real Madrid boss Carlo Ancelotti acknowledging LaLiga trails the Premier League in the markets.
But now the Spanish league's corporate general director Javier Gomez, endorsed by president Javier Tebas, claim the English top-flight is cheating the transfer system.
"We are aware there is a lot of talk about how LaLiga's economic control means Spanish clubs sign less than Premier League clubs," the former said in a video posted by the latter on Twitter.
"The reality is that at LaLiga we want clubs to spend what they can afford and generate themselves, that is to say their own revenues.
"It is true that shareholders are also allowed to support the club and put money in to spend more than the club itself can generate, but within certain limits.
"Essentially, [in England] they are 'doping' the club. They are injecting money not generated by the club for it to spend, which puts the viability of the club at risk if the shareholder leaves.
"In our opinion, that is cheating, because it drags down the rest of the leagues.
"That is our fight, demanding that UEFA implements a new economic regulation that prevents the shareholder of a club from putting in more than a certain amount and that it enforces this rule and sanctions non-compliant clubs."
Chelsea's flagship move for Argentina's World Cup winner Enzo Fernandez saw them pay £105m to Benfica, shattering the British transfer record.
The club also bought Mykhailo Mudryk for £62m and Benoit Badiashile for £33m, among others.
Tags