LaLiga accused of 'inadequate' handling of racist abuse towards Vinicius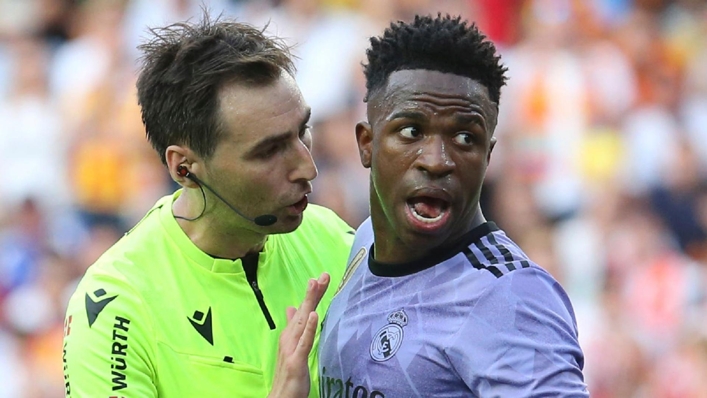 LaLiga's handling of the "absolutely disgraceful" instances of racist abuse towards Vinicius Jr has been "completely inadequate".
That was the message from Kick It Out chair Sanjay Bhandari after Vinicius was subjected to more abuse by sections of the crowd at Valencia's win over Real Madrid last Sunday.
Valencia's punishments for the incident were reduced on appeal, with the partial closure of Mestalla Stadium cut from five matches to three and their financial penalty also sliced.
Bhandari, chair of the organisation aiming to eradicate racism from football, says the Spanish Football Federation and LaLiga president Javier Tebas have failed to support Vinicius.
"I think the treatment we've seen of Vinicius has been absolutely disgraceful," Bhandari told Stats Perform at the Football Business Awards.
"It's 10 or 11 games, it's not just this last weekend, it's been happening over the course of the last two seasons.
"The response of the Spanish authorities has been completely inadequate and it's actually been worse than inadequate because it's made the matter worse.
"The way Javier Tebas, who runs LaLiga, responded trying to blame Vinicius and treating him as if he's a problem when actually he's the victim… it's really sort of going back 30 or 40 years."
Tebas was a vocal critic after Vinicius labelled LaLiga racist, the league's president criticising the 22-year-old for "not informing himself properly" before subsequently apologising for those comments.
The incident – and Tebas' reaction to it – sparked widespread condemnation of LaLiga and Spanish football's relationship with race, with Bhandari calling for further action on the issues.
He added: "They need to get on with taking more concrete steps to kick discrimination out of Spanish football, it's not acceptable to have whole stands of fans doing monkey chants.
"Making monkey noises and shouting monkey to Vinicius, that's totally unacceptable and there shouldn't be any deflection and making excuses for that kind of behaviour, which is what we have seen.
"They need to get on it and if that means closing the stand, that's a good step. We welcome that and fines are a move in the right direction.
"But if it doesn't stop that should move to points deductions and further sanctions."
Tags