Kyrgios avoids criminal conviction after admitting to assaulting ex-girlfriend
Patric Ridge
Stats Perform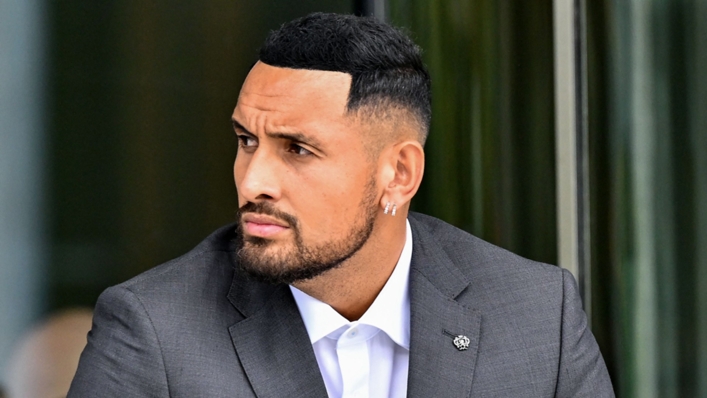 Nick Kyrgios has avoided a criminal conviction after pleading guilty to a charge of assaulting an ex-girlfriend.
Kyrgios, the ATP world number 20, was sentenced at a magistrates' court in Canberra on Friday.
The 27-year-old admitted to pushing his ex, Chiara Passari, to the ground during an altercation in January 2021.
However, magistrate Beth Campbell spared Kyrgios a criminal conviction, noting he had been: "A young man trying to extricate himself from a heightened emotional situation".
Ms Campbell said Kyrgios "acted in the heat of the moment" and chose to deal with him "in the same way I would deal with any young man in this court", adding he is a "young man who happens to hit a tennis ball particularly well".
In a post on his Instagram story after the ruling, Kyrgios said: "I respect today's ruling and I'm grateful to the court for dismissing the charges without conviction. I was not in a good place when this happened and I reacted to a difficult situation in a way I deeply regret.
"I know it wasn't OK and I'm sincerely sorry for the hurt I caused.
"Mental health is tough. Life can seem overwhelming. But I've found that getting help and working on myself has allowed me to feel better and to be better.
"I can never thank Costeen [Hatzi, his girlfriend], my family and friends enough for supporting me through this process. I now plan to focus on recovering from injury and moving forward in the best way possible."
The court heard Kyrgios pushed Ms Passari to the ground after she had prevented him from driving away during an argument on January 10, 2021.
Kyrgios' lawyer Michael Kukulies-Smith explained last year's Wimbledon finalist had been attempting to de-escalate the situation by calling a taxi and had sworn at Ms Passari and told her to leave, before moving her away from the car.
It was agreed that Kyrgios said "I'm serious, I'm going to..." as he then pushed Ms Passari in the shoulder. Ms Passari said she felt some pain and also grazed her knee.
Kyrgios subsequently apologised.
Mr Kukulies-Smith told the court that there was "a relationship between the mental health and the offending", though noted Kyrgios no longer suffers to the same extent.
Psychologist Sam Borenstein told the court that Kyrgios, who missed this year's Australian Open due to injury, had "recurrent" mental health issues, including depression, suicidal ideation and insomnia, that were nevertheless improving.
Tags