Klopp suggests Salah wants to end his career at Liverpool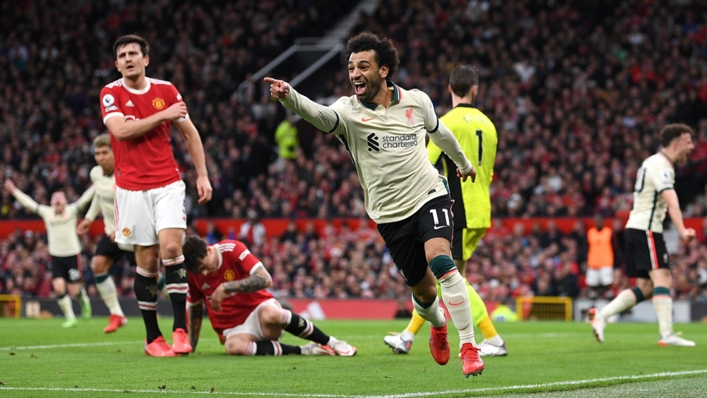 Jurgen Klopp has suggested star forward Mohamed Salah wants to end his career at Liverpool following the Reds' 5-0 thrashing of rivals Manchester United at Old Trafford.
Liverpool romped to a big win in Manchester with Salah hitting a hat-trick and grabbing an assist for Naby Keita, with Diogo Jota also getting on the scoresheet.
Liverpool head coach Klopp was full of praise for Salah, who became the first away player to score a hat-trick at Old Trafford since Ronaldo did so for Real Madrid in the Champions League in April 2003, while he is only the second player to do so while playing for Liverpool after Fred Howe in November 1936.
"The fifth goal, Mo was there to get the goals and he deals with the fuss that everyone makes around him," Klopp said to Sky Sports. "He enjoys his football and long, long, long, may it continue. I knew already (he wants to end his career here), I know the situation."
Klopp was also stunned by the manner of his side's win and hailed their clinical performance after the Reds recorded their largest margin of victory against United since October 1895, winning 7-1 at Anfield. It was also Liverpool's greatest margin of victory in the fixture away from home.
The German also explained that the Reds intentionally eased off at 5-0 to lower the risk of further injuries after James Milner was forced off early and Keita was carried off on a stretcher after a two-footed tackle from Paul Pogba that saw the Frenchman sent off.
"What can I say? Did I expect that? No," Klopp continued. "What we did in the last third was insane. Pressing high, winning balls, scoring wonderful goals. I told them at half-time to play better.
"We started incredibly well and stopped playing football. We controlled the game after the fifth, it was not about scoring more, just trying to get out without more injuries.
"The result is insane, I asked if there was one like this in history and if there isn't then it will take a while. The players put a nice piece in the book. It is special but we don't celebrate like crazy, we have respect for the opponents. We were lucky in some moments, United are not in their best moment.
"Three points against a real opponent but you have to understand these games right. We got lost against Aston Villa and you have to learn off it. We smashed Crystal Palace once and the results are not interesting. I analyse the games, we can play better football and have to concentrate more.
"I couldn't be happier, it is exceptional. Absolutely outstanding. I have a few defeats in my mind which was not necessary but we won today so we drink beer on the way home.
"James Milner has a hamstring, he showed me something was not right. Naby Keita we have to see, a full-throttle [tackle] on the shin."
Salah spoke of the Reds' title ambitions after becoming the top-scoring African player in Premier League history, his 107 goals taking him clear of Didier Drogba's 104, while also becoming the first-ever Liverpool player to score in three consecutive away games against United in all competitions.
"I think it is great to win 5-0 here, we knew before the game it would be tough if we did not play our game," Salah said to Sky Sports. "We knew they will come and try to give everything so we had to give 100 per cent.
"As long as the team keep winning I am happy and to give my best to the team to win. We know what it takes to win the Premier League, we did it two years ago. A big win here but still only three points.
"We try to win each game and try to win the title. We need to play to win everything. From our heads from pre-season, we need to win the Premier League and hopefully, we go for that."
Tags