Klopp made Liverpool commitment to lead 'necessary' rebuild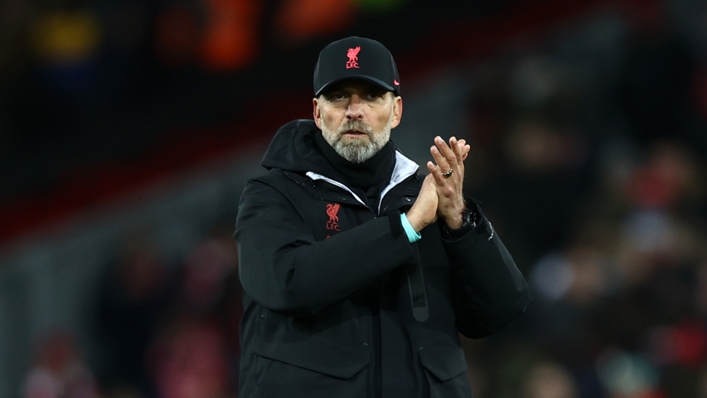 Jurgen Klopp says the chance to lead a "necessary" rebuild at Liverpool was a key motivation behind his decision to sign a new contract last year.
Klopp committed his future to the Reds – with whom he has won seven trophies including the Premier League and Champions League – until 2026 when he penned a new deal last April.
Having gone close to winning an unprecedented quadruple last season, Liverpool have disappointed this term, sitting 10 points adrift of the Premier League's top four in ninth place.
With Liverpool stalwarts such as Jordan Henderson and Fabinho struggling this season, many onlookers have suggested the Reds' side must be refreshed, and Klopp concurs.
"I'm not saying it's the biggest challenge, but it's a challenge, and it was one of the main reasons why I signed a new contract, because I knew it was necessary [to rebuild]," Klopp said during an appearance on BT Sport's Football People podcast.
"It will not go overnight, and imagine the situation now with another coach in the chair. I would be somewhere on holiday and everybody would shout my name, 'with him it would not have happened!'
"I'm obviously not a miracle worker. That's why it's good how it is, because of all the problems you have in a transitional period – we have an awful lot of injuries and that makes life really complicated.
"I have no problem with that because obviously I know the majority of the outside world are just interested in the short term, but we have to be long-term focused as well."
Liverpool are not the only giant marooned in mid-table this season, with Chelsea below them on goal difference after the sides played out a dismal goalless draw on Saturday.
While Chelsea have spent big to attract Mykhaylo Mudryk and Benoit Badiashile in the current transfer window, Klopp insists Liverpool cannot afford to conduct business in the same way.
"There are obviously plenty of different ways you can do it, but it's all based on the situation you are in," he said.
"Chelsea with the new ownership obviously… nobody knows exactly how they do it, how they can spend this much money.
"Nobody likes me talking about other teams, but transition needs time if you don't have endless money, otherwise you can change it overnight pretty much, by bringing in 10 players."
While Klopp will have spent 11 years at Anfield if he sees out the remainder of his contract, he does not believe he will stay in the game as long as some other coaches have.
"I know I dream of football, so that's not cool… the job is incredibly demanding, it is, but it's great as well," Klopp added.
"When Roy Hodgson came back again [to Watford last season], I saw him and asked him, 'do you have a wet flat? You go again?' He says, 'no, I love it'.
"I cannot see myself beyond 70 and still standing in the dugout in every weather, and especially each weather for training, two hours standing there in the wind. I can't see that.
"I hope other things are that interesting to me that I am really fine with not being involved anymore."
Tags