Klopp confident he can halt Liverpool downturn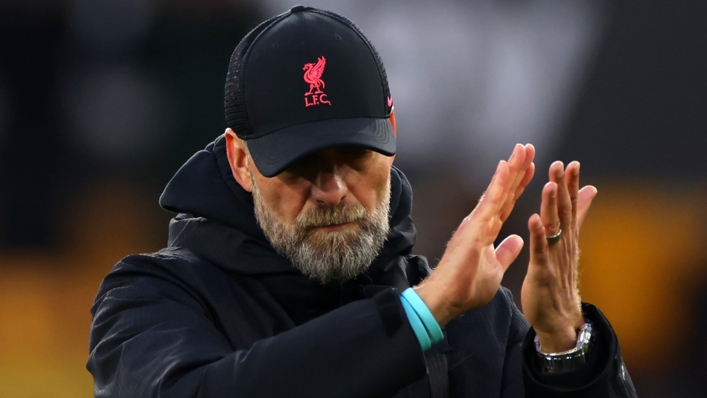 Jurgen Klopp remains confident he is the right man to turn Liverpool's form around after seeing their underwhelming season continue with Saturday's 3-0 loss at Wolves.
Liverpool suffered their third defeat in as many away league games this calendar year at Molineux, falling to another dire reverse as Craig Dawson and Ruben Neves followed up Joel Matip's early own goal.
The Reds are now 11 points adrift of a top-four place in 10th, having lost more away league games this term (six) than in the last two seasons combined (five).
Klopp has previously professed his desire to oversee a rebuild at Anfield, and the German remains certain he is the right man for the job despite Liverpool's downturn.
Asked whether he was confident he could help Liverpool bounce back, Klopp said: "Yeah, yeah, absolutely.
"I know my job, you know my job, it's not to explain here how I can build up my team. I will be judged by you, which is fine. But today was not good enough, what I did."
Questioned on whether Liverpool's four-game winless run in the Premier League worried him, he added: "How can I not be concerned? I cannot sit here and say it's all okay. I was asked outside if it's because of last season, playing 63 games.
"Yes, of course, it's clear that it has influenced the first part of the season, but how long do we want to suffer from that? It's February now. We had a full week to prepare.
"We are fit, we are now there, that might have been a problem earlier in the season, of course, when we had injuries – all are clear now.
"But for today the first 12 minutes is not allowed, I have to say that, but we did it anyway. That's true and that's the outcome."
Asked whether he had lost faith in the players who almost delivered a historic quadruple last season, Klopp said: "No. I don't think they are at their best at the moment and do I like that? No. But I still know how good they are and how good they can be.
"But football, and life, is not like this. We work every day and it's not because of him, him or him. So, these things happen because we cannot help ourselves in these moments.
"These are the situations we have to go through. I don't lose confidence in the boys or whatever, but I see where we have to improve."
Liverpool have conceded more goals in the opening five minutes of Premier League matches than any other side this season (five), and goalkeeper Alisson struggled to explain the Reds' failure to start quickly.
"In a game of 90 minutes, you have to do it consistently for the whole game," he told Premier League productions. "We showed today you can get punished for 15 minutes and that's what happened.
"We have the same players who achieved so many great things at this club and we are not performing well. It's difficult to say why.
"I'm not saying I don't trust we can't bounce back. I'm just so disappointed about tonight's game. We have to keep working."
Tags