Kipchoge smashes own marathon world record in Berlin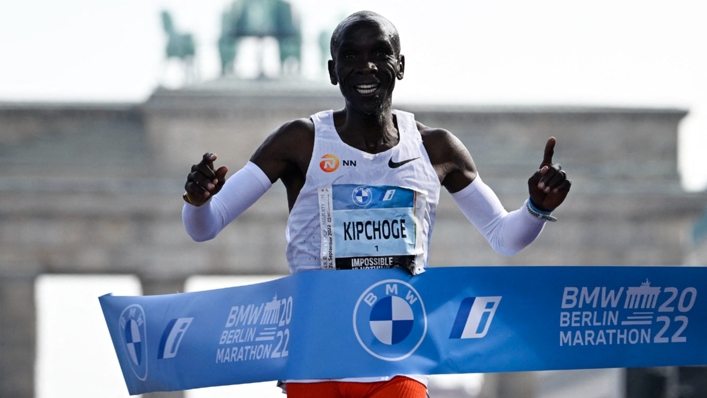 Eliud Kipchoge smashed his own marathon world record as he completed the Berlin race in 2:01:09 on Sunday.
The Kenyan's previous best was also set in Berlin back in 2018 – he managed to shave 30 seconds off that time in setting the new record on Sunday.
Kipchoge last raced in March when he fell short of the record by a little over a minute in Tokyo, but he emphatically got the job done as he ran through Berlin's Brandenburg Gate and jubilantly crossed the line.
"I am happy with my preparation and I think I was so fast because of the teamwork. Everything is down to teamwork," he said shortly after his momentous victory.
"What motivates is my family I and I want to inspire young people. Sport unites people and that is what motivates me."
Kipchoge is the only man to complete a marathon in under two hours, achieving the feat in Vienna three years ago on a specialist track.
It is not deemed an official record as the time was not set in official competition, but it is seemingly felt Kipchoge could potentially achieve such a time in a legitimate race given he took 30 seconds off the record, and that is where questioning soon went.
Asked if he will try a sub-two hour marathon in Berlin in 2023, Kipchoge replied: "Let us plan for another day.
"I will celebrate this record and have to realise what happens. Just roll and see what happens."
In the women's race, Tigist Assefa was victorious with a time of 2:15:37, which is the third-quickest women's marathon in history.
Tags