Kimmich wants Bayern to 'send a message' against Inter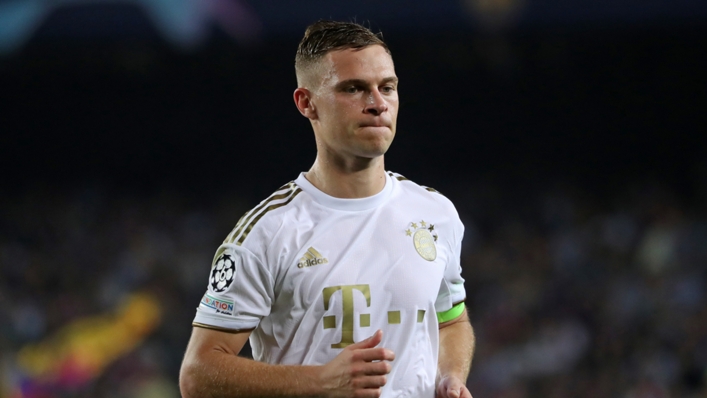 Joshua Kimmich insists Bayern Munich will want to "send a message" in their final Champions League group game against Inter Milan, despite it being a dead rubber.
Bayern secured top spot in Group C last week with a 3-0 win at Barcelona, while Inter confirmed second place prior to that with a 4-0 victory at home to Viktoria Plzen.
Speaking at a press conference ahead of the clash at the Allianz Arena, Kimmich emphasised the importance for the Bundesliga side to maintain their recent high standards, even with nothing riding on the outcome of the game.
"The coach has addressed it already," he said. "We need to send a message to ourselves and our opponents. We want to play freely and have fun out on the pitch, like we have [been doing] lately. We want to win the game in order to send a message."
Bayern are unbeaten in nine games in all competitions (W8 D1) but despite being on course to win all six of their games in a tough Champions League group, Kimmich believes they cannot be considered favourites to go all the way until the competition resumes next year.
"In February, March and April, it will be decided who the favourites are," he said. "We are proud that we won our group, a very difficult group. It's remarkable that we topped it before the final matchday."
Head coach Julian Nagelsmann admitted he will look to partially rotate his team against Inter, with this one of four games they still have to play before breaking for the World Cup in less than two weeks.
"We will rotate," he said. "How many changes we make depends on how things go today and tomorrow. We won't take any risks, after all, the last few weeks have been very intense."
The former RB Leipzig boss added the game will come too soon for the likes of Leroy Sane, Lucas Hernandez, Thomas Muller, Matthijs de Ligt and Manuel Neuer, though did add the goalkeeper - who has not played since the 2-2 draw with Borussia Dortmund on October 8 - could be back for the weekend, putting to rest concerns Neuer might not make the World Cup.
"We're hoping Manu will return this weekend," he said. "He had no issues during and after training today. We will need to wait and see."
Tags