Maris Jr: Judge should be true single-season home run champ if he reaches 62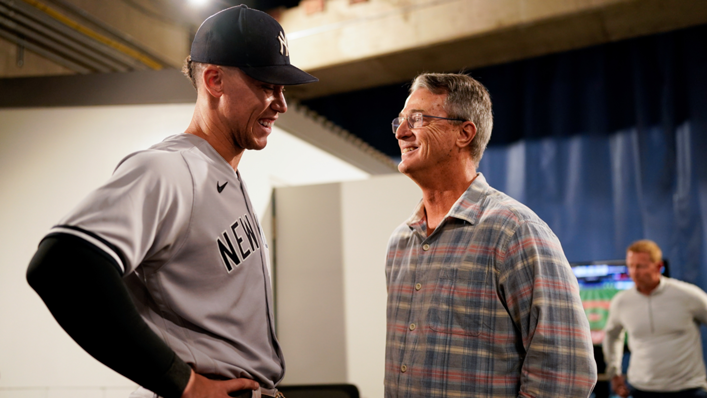 New York Yankees history-maker Aaron Judge should be revered as the single-season home run champion if he can crush a 62nd blast this season, according to Roger Maris Jr.
Judge matched Maris Sr's Yankees and American League single-season record of 61 home runs from 1961 with a seventh-inning two-run shot in Wednesday's 8-3 win over the Toronto Blue Jays, ending a run of seven games without a homer.
That moved Judge beyond Yankees great Babe Ruth (60 in 1927), with only three players having hit more homers in one season: Barry Bonds (73 in 2001), Mark McGwire (70 in 1998 and 65 in 1999) and Sammy Sosa (66 in 1998, 64 in 2001, 63 in 1999).
All three of those players set their marks during baseball's so-called 'steroid era', making Judge's achievement appear all the more remarkable. Bonds and Sosa have denied knowingly using steroids.
Maris Jr, who sat in the crowd next to Judge's mother Patty for Wednesday's historic moment, said the Yankees outfielder's feat stood out.
"He's clean. He's a Yankee," Maris Jr told reporters. "He plays the game the right way. And he gives people a chance to look at somebody who should be revered."
The Yankees have seven regular-season games remaining, so Judge is unlikely to get near Bonds' all-time record of 73 despite being on track for that at one point earlier this season.
Instead, Judge will next set his sights when they resume at Yankee Stadium against the Baltimore Orioles on Friday on breaking Maris Sr's mark, which Maris Jr said would set him apart.
"He should be revered for being the actual single-season home run champ," Maris Jr said. "That's really who he is, if he hits 62."
Yankees manager Aaron Boone praised Judge for being a great teammate and making the whole group feel part of his achievement.
"He's as beloved as they come," Boone said. "Everyone is just so excited for him but also, I think it's partly because of how Aaron is, everyone feels a part of it.
"That's who he is as a teammate. That's part of the reason guys are so excited. That's a tribute to him."
Yankees pitcher Gerrit Cole, who also achieved franchise history on Wednesday by tying Ron Guidry's record of 248 strikeouts in a single season, was glowing towards Judge.
"I think it's more special because of what Aaron did tonight, to be honest," Cole said. "It's obviously a really special number. Guidry was so good for us, so magical and his record held for so long."
On Judge's 61st home run, Cole added: "It kind of felt like we were the only ones there. It was just a really special moment of togetherness, and we're all so proud of him and know how hard he works.
"I know he wants to keep it low-key, but boy does he deserve it."
Tags