Joshua trains with Tyson's former coach Shields after Usyk defeat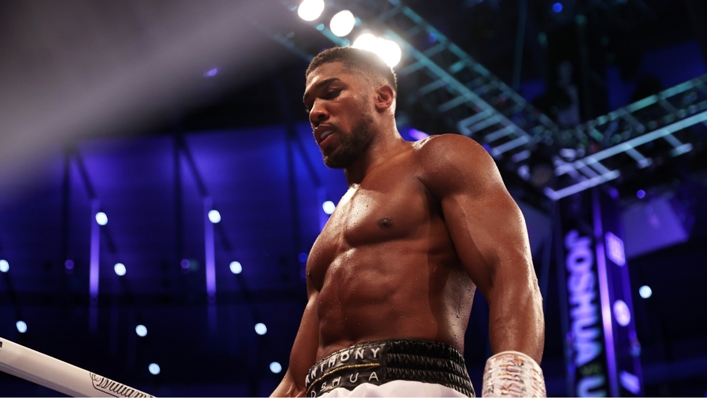 Anthony Joshua is visiting various trainers across the United States as he looks to potentially alter his coaching set-up ahead of his rematch with Oleksandr Uysk.
Joshua's tactics were scrutinised after he lost his IBF, WBA and WBO belts to the undefeated Uysk, who collected a unanimous decision at Tottenham Hotspur Stadium on September 25.
The two-time former unified world heavyweight champion must now triumph in his rematch, likely in March 2022, to reclaim his belts after the second defeat of his professional career.
Trainer Robert McCracken, who was criticised for allowing Joshua to attempt to outbox Usyk, has worked with the 2012 Olympic champion for the entirety of his professional career but the 32-year-old has been pictured working in gyms across the USA as he scouts for a potential new trainer.
Virgil Hunter, Eddy Reynoso and most recently Ronnie Shields - who worked with both Mike Tyson and Evander Holyfield – have all been seen with Joshua and the latter trainer confirmed the rumours the Briton was in the market for a new appointment.
"They reached out to me and they asked if I would be interested in taking a look at AJ and that he wanted to come down to Texas and see if things would work out between him and I," Shields told ThaBoxingVoice.
"I said, 'No problem, I would love to see if we had a connection together'.
"He said, 'European boxing is different from boxing in the US'. He realised he had to come to the US to get something different.
"He told me, 'Listen, I know people don't think I'm a dog. I've got to be a dog in this next fight'.
"And that's his words. He told me, 'I just need you to show me how to be the best dog you can teach me to be.'"
American boxer Jermall Charlo trains with Shields and posted several videos on Instagram of Joshua speaking with Tyson's former coach after undertaking a light training session.
Joshua has provided no official confirmation on his coaching staff yet, with assistant trainers Angel Hernandez and Joby Clayton also part of his set-up.
After losing to Andy Ruiz Jr, Joshua added Hernandez to his team but it remains unseen as to whether he will continue with McCracken as his trainer for the Usyk rematch.