Donaldson banned and fined by MLB after 'Jackie' comment to Anderson
John Skilbeck
Stats Perform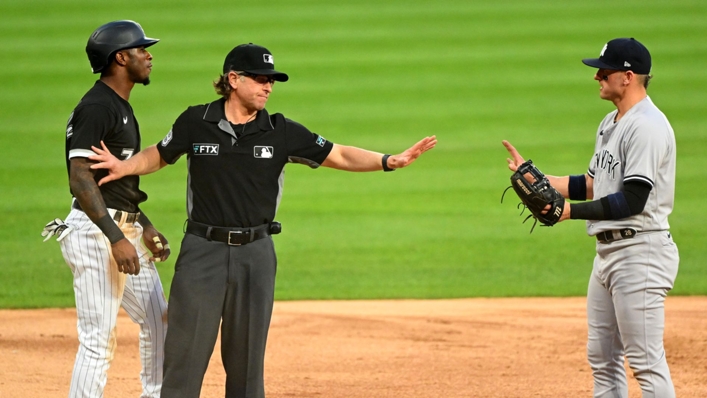 Labelling Tim Anderson as "Jackie" has landed the New York Yankees' Josh Donaldson with a one-game suspension and a fine from Major League Baseball disciplinary chiefs.
Donaldson admitted making the remark to Anderson in Saturday's game between the Yankees and the Chicago White Sox, referencing Jackie Robinson, baseball's black breakthrough star of the 1940s and 1950s.
Shortstop Anderson, who is black, had previously compared himself to Robinson in a 2019 Sports Illustrated interview where he said he hoped to break down baseball's "have-fun barrier".
White Sox manager Tony La Russa said he considered Donaldson had made "a racist comment", and Anderson was angry at the 36-year-old Yankees player's attitude.
"[Donaldson] basically tried to call me Jackie Robinson, like, 'What's up, Jackie?'," said Anderson on Saturday. "I don't play like that. I don't need to play at all. I wasn't really bothering [anybody] today, but he made the comment, and it was disrespectful."
The league said the comments had been "inappropriate", with a one-game suspension accompanied by an undisclosed fine, both of which Donaldson intends to challenge.
MLB's Michael Hill said: "MLB has completed the process of speaking to the individuals involved in this incident. There is no dispute over what was said on the field.
"Regardless of Mr Donaldson's intent, the comment he directed toward Mr Anderson was disrespectful and in poor judgement, particularly when viewed in the context of their prior interactions. In addition, Mr Donaldson's remark was a contributing factor in a bench-clearing incident between the teams, and warrants discipline."
Donaldson admitted he had made the "Jackie" comment to Anderson previously in 2019, while an Atlanta Braves player.
Anderson and Donaldson clashed on the field in a May 13 game this year, setting off tensions between the pair. Donaldson said he had tried to defuse the broiling rivalry with the "Jackie" remark eight days later, but it served only to inflame the situation.
The Yankees put Donaldson on a COVID-19 absentee list before Monday's 6-4 loss to the Baltimore Orioles. His suspension is on hold while he mounts an appeal.