Mourinho at 60: The Special One's classic moments
Patric Ridge
Stats Perform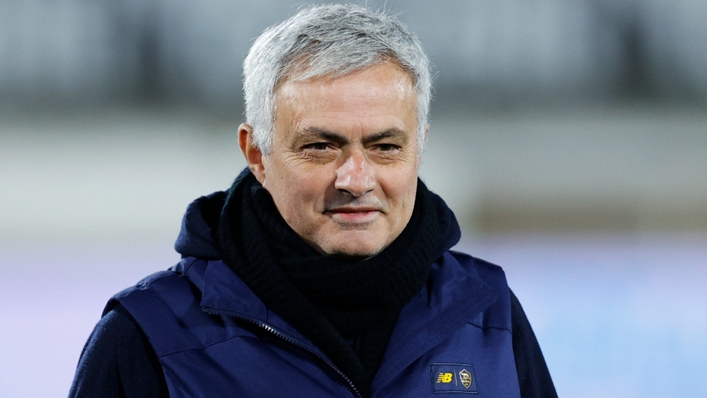 In 2004, Jose Mourinho set out his stall early at Chelsea.
"We have top players and, sorry if I'm arrogant, we have a top manager," said the Portuguese in his first press conference at the Premier League club, not long after he had led Porto to Champions League glory.
"Please don't call me arrogant, but I'm European champion and I think I'm a special one."
Devilishly handsome, with a wicked charm and natural bravado. Men wanted to be him. Women wanted to well... you get the gist. Not only did Mourinho talk the talk, but he walked the walk, winning the EFL Cup and the Premier League in his first season.
That was Chelsea's first domestic title in 50 years, and at the time they broke the record for the most points in a Premier League season (95) and fewest goals conceded (15).
Mourinho was, indeed 'The Special One' and it's undoubtedly his most famous quote.
But there are plenty of others. To celebrate his 60th birthday, here are some classic Mourinho moments.
Announcing himself in England
With seconds left on the clock in a 2003-04 Champions League last-16 tie, Mourinho's Porto needed a goal at Old Trafford. "If we don't score we are out, if we score we are in, these are the details of the knock-out," Mourinho told UEFA in 2015, when reflecting on that night in March 2004.
Benni McCarthy saw a long-range free-kick parried out by Tim Howard, and Costinha was on hand to hammer home and silence the crowd. As his players charged towards one of the corners to celebrate, Mourinho leaped off the bench and cantered down the touchline, arms aloft. By full-time, he was already heading down the tunnel.
"We were in the dressing room, and it didn't look like it was the last 16, it was like it was the quarter-finals," Mourinho recalled. "Then someone knocks on the door, and it was Sir Alex [Ferguson] and Gary Neville, the captain, and they told us congratulations, you deserved it, enjoy it and good luck.
"It was something that in Portuguese culture we are not used to, but it's something I kept and during my career I did it a few times, when some opponent did something magnificent against my team. I kept something from big people, that can make others feel special.
Mourinho enjoyed a fierce rivalry with Arsene Wenger during his first stint in the Premier League, and even went as far to suggest the Arsenal boss was something of a voyeur.
"There are some guys who have this big telescope to see what happens in other families. He must be one of them," Mourinho said.
You would be forgiven for thinking the term "parking the bus" had been common footballing parlance in Britain for many, many years. However, it was Mourinho who first introduced it, after his Chelsea team were held to a goalless draw by Tottenham.
None too happy with Spurs' defensive approach, Mourinho said: "They brought the bus and left the bus in front of the goal as we say in my country."
In October of last year, the phrase "park the bus" was added to the Oxford English Dictionary.
It must be nice when you've won so much you can throw medals away. That's just what Mourinho did after he had guided Chelsea to a second straight league title in 2006.
The success marked Mourinho's fourth straight domestic title, and after being presented with his winners' medal, he threw that and his suit blazer into the stands. He was quickly presented with another medal; that, too, ended up in the crowd.
During Mourinho's second season at Real Madrid, a late Cristiano Ronaldo goal saw off Manchester City in the Champions League group stages, and Mourinho celebrated like only he can, jumping from the bench and sliding to his knees.
It was a match that also saw former Oasis frontman Liam Gallagher reprimanded by police in the crowds. Rock 'N' Roll on and off the pitch.
Mourinho's time at Madrid unravelled the following campaign when he fell out with key players, including Ronaldo. "Maybe he thinks that he knows everything and that the coach cannot improve him anymore," Mourinho said of his compatriot.
Mourinho's second stint at Chelsea bore a league title in the 2014-15 season, but also proffered a quote that has lived on as an online meme and a viral clip ever since.
Chelsea lost 1-0 to Aston Villa in March 2014, with his team having Willian and Ramires sent off, and seeing a goal disallowed. Mourinho, too, was sent to the stands.
"I prefer not to speak," he told Sky Sports. "If I speak I am in trouble, big trouble, and I prefer not to be in big trouble. If I speak, I am accused of bringing the game into disrepute."
Mourinho went on to speak about the referees for a few more minutes.
Mourinho famously 'shushed' Liverpool fans in an encounter with the Reds during his first spell at Chelsea, and it was his team that dealt a severe blow to Liverpool's title hopes in the 2013-14 season.
In April 2014, Liverpool had just three games left and held a three-point lead over Manchester City. Yet a slip from club great Steven Gerrard allowed Demba Ba to pounce and put Chelsea ahead.
Chelsea netted a second late on, leading Mourinho to charge down the touchline and celebrate in front of the Kop. City went on to win the title.
Respect, respect, respect
Mourinho's time as Manchester United manager ended in typically volatile fashion, and the signs were there from the start of the 2018-19 season.
Following a 3-0 home defeat to Tottenham, Mourinho delivered a scathing response to his doubters as he stormed out of a press conference.
"Just to finish, do you know what was the result – 3-0," Mourinho said while holding up three fingers. "It means 3-0. But it also means three Premierships, more Premierships alone than the other 19 managers together. Three for me, two for them. Respect, respect, respect."
Mourinho's words of advice to Dele Alli were featured prominently in the Tottenham-focused All Or Nothing documentary series, aired in 2020.
"I am 56 now and yesterday I was 20. Time flies. One day I think you will regret it if you don't reach what you can reach," Mourinho, then at Spurs, told Alli.
"I am not expecting you to be the man of the match every game. I am not expecting you to score goals every game. I want just to tell you that you will regret it. You should demand more from yourself."
Less than 18 months after the documentary aired, Alli's Tottenham spell was over, moving to Everton on what was initially a free transfer at the age of 25. Six months after that, he was in Turkey with Besiktas, where he has been heavily criticised for his performances.
As Mourinho celebrates his 60th, one thing cannot be denied – he will go down as one of the best managers to ever grace the game.
He joined Roma in 2021 and does what he does best. He won.
Last year, Roma won the Europa Conference League, making Mourinho the first coach to complete the UEFA treble by winning the Champions League, UEFA Cup/Europa League, and Europa Conference League (in place of the defunct UEFA Cup Winners' Cup).
He was the fifth manager to reach the final of all three current major European competitions and the first to reach a major European final with four different clubs.
Mourinho's record speaks for itself. Of his 1,076 games as a coach, he has won 677 (62.9 per cent), with his teams scoring 2,082 goals.
He is, after all, The Special One.
Tags