Jets QB Wilson undergoes successful knee surgery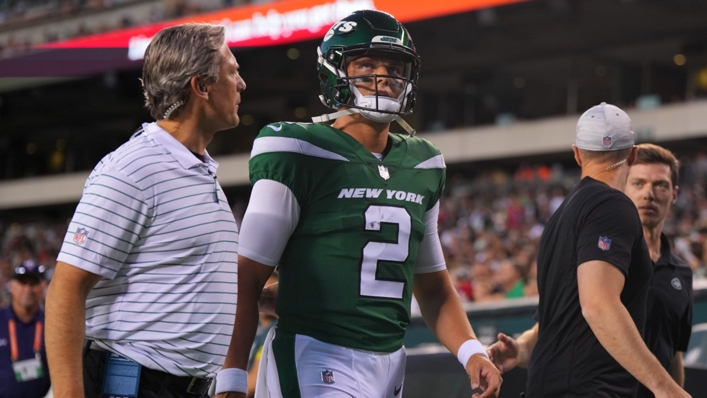 New York Jets quarterback Zach Wilson had successful arthroscopic surgery on Tuesday to repair the meniscus in his right knee, according to multiple reports.
Surgeons found no further damage in Wilson's knee, ESPN reported, keeping intact the initial timeline of a two to four-week recovery.
The second-year quarterback suffered the injury while scrambling in the Jets' preseason opener last week against the Philadelphia Eagles.
Wilson made an awkward cut during the seven-yard rush and fell to the turf. Given the non-contact nature of the injury, Jets fans and pundits initially feared a more serious injury, but Wilson may have a chance to start New York's season-opening game against the Baltimore Ravens on September 11.
If Wilson needs additional time to recover, the Jets will turn to veteran Joe Flacco, who has been with the team since 2020.
Members of the Jets' offense have voiced their comfort with Flacco filling in when needed. Wide receiver Garrett Wilson, the 10th overall pick in April's draft, said that Flacco throws a "receiver-friendly" ball on Monday.
"There's definitely a difference," the rookie receiver told reporters. "It's a lot of experience right there with Flacco. I feel like everything with him, he takes some pace off, puts some pace on the ball. He does a good job of making the passes receiver-friendly. That's the best way I can put it into words.
"They're pretty easy to catch. Takes some off the ball when you're running a slant route versus an out route, put some zip on it because it's gotta be. Things like that."
Even if Flacco fills in admirably, the franchise knows that Wilson is the quarterback of the future. He will miss valuable repetitions in practice, with the Jets set to hold joint sessions with the Atlanta Falcons and New York Giants this preseason.
"It's a setback in that he's missing an unbelievable opportunity to get these reps in and to play other defenses, especially the Giants who have such an elaborate pressure package system, a pressure system," first-year coach Robert Saleh said. "But he's got to stay dialled in just like he was last year when he was hurt, learn from his team-mates and try to be involved as much mentally as he can possibly be.
"The timing of it all is terrible and it sucks, but I think Zach can still have an opportunity to grow from it if he attacks it mentally."
Tags