Tatum accepts blame for Celtics' third-quarter collapse in Heat loss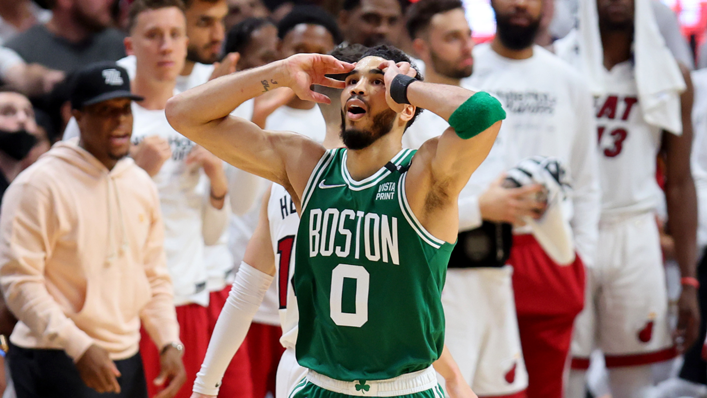 Boston Celtics forward Jayson Tatum has taken the blame for his turnovers in the Miami Heat's game-changing 22-2 third-quarter run in Tuesday's Conference Finals Game 1 defeat.
The Celtics led 62-54 at half-time but were blown away by the Heat in a staggering 39-14 third quarter where Boston gave up eight turnovers, including six from Tatum. The Heat won 118-107.
Boston were not helped by poor shooting offensively, with their two-of-15 (13 per cent) from the field in the third being their worst in any quarter over the last four seasons.
"They were down at half-time and came out and played hard in the third quarter," Tatum told reporters after the game.
"It's on me, I had six turnovers. I've got to take care of the ball better, especially in those situations when they're going on runs like that."
Celtics head coach Ime Udoka said his side lost their composure during the third quarter, with Jimmy Butler starring for the Heat at both ends.
Butler finished the game with 41 points, including 27 in the second half, while he also had four steals and three blocks.
"They looked like they came out in the second half and wanted to up their physicality and aggression at both ends," Udoka said.
"I don't think we obviously responded well on either end of the floor. We had eight of our 16 turnovers in that quarter.
"It flipped very quickly. We lost our composure."
The win gives the Heat a 1-0 series lead but Udoka was eager to point out that the Celtics won three of the four quarters, offering hope moving forward.
"We won three quarters other than that but obviously that one is going to stand out, 39-14 on two-of-15 is tough to overcome," he said.
"We won the transition battle, won the second-chance points battle we won the points in the paint, really had one poor quarter that hurt us.
"It was strictly from a physically standpoint. It wasn't anything different that they did. At least we bounced back in the fourth."