Kane seeks perspective on England after Hungary thrashing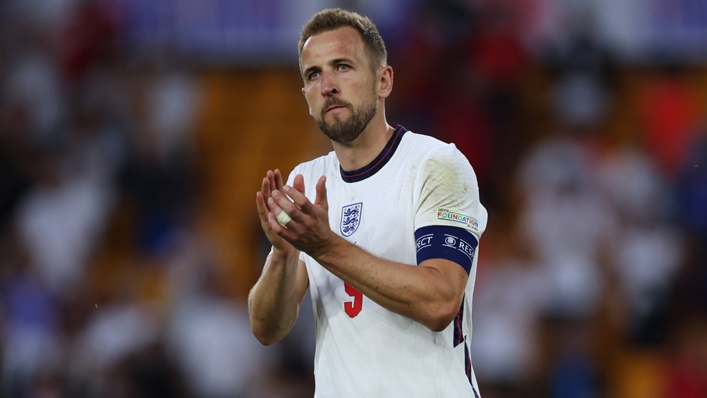 England captain Harry Kane believes it is not time to panic for his side after Tuesday's 4-0 loss at home to Hungary in the Nations League.
The Three Lions were ripped apart as boos wrung out at the Molineux Stadium, with Roland Sallai's brace added to late by Zsolt Nagy and Daniel Gazdag, along with a red card for John Stones.
The loss keeps England bottom of Group A3, the only side in the group without a win after four games, with Kane's penalty against Germany the only goal they have scored in that time frame.
After the loss, the 28-year-old took exception to questions over Gareth Southgate's ability to move the team forward, coming into this year's World Cup.
"It's a really disappointing question to be asked. Let's not forget where we have come from," he told BBC Radio.
"Gareth has been a key part of transforming this England team to one of the most successful sides we have had in the past 50 years.
"I know it's disappointing for the fans. It has been a disappointing camp, every now and then football throws up a surprise, we have to look at the big picture. We've had two fantastic tournaments in a row. It's not the time to panic. It's a loss we're disappointed with but we need to stay calm and we know we have stuff to work on."
Southgate went with a third formation in four games as he tries to work an optimal composition for Qatar, with Jude Bellingham and Conor Gallagher joining Kalvin Phillips in midfield.
England's two best chances in open play came from headers despite 68.6 per cent of possession - Kane hitting the bar with his flicked effort - but Sallai's goal in transition was the effective sealer.
Stones' dismissal and another two goals for Hungary in transition punctuated a disappointing international window for England, who have struggled to translate possession into substance in front of goal.
Kane insisted England did create chances post-game but realisation in front of goal has been the main issue of this camp, and the cause of these results.
"First half I thought we created enough chances to score but that's kind of been the story of our Nations League so far in this camp," he told Channel 4.
"We haven't quite had the cutting edge and then second half, it's unacceptable, once we went 2-0 down to concede in the way we did. Look, we've not had a camp like it for a long, long time. It's no time to panic.
"It's time to keep our heads up, look forward to the break now and come back stronger in September.
"Our defence has been the structure of our success over the last four, five years and it was a night to forget, of course. We've got to take it on the chin and move forward. End of the day we're going to prepare for what's going to be a big World Cup and that's the most important thing."
Tags