Van Dijk defends Liverpool team-mate Alexander-Arnold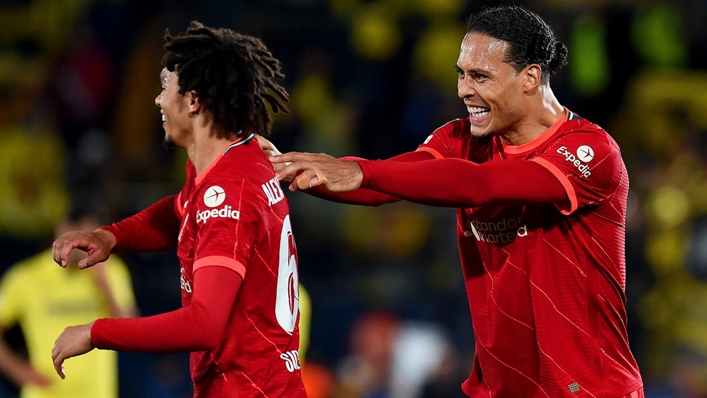 Liverpool centre-back Virgil van Dijk has leapt to the defence of team-mate Trent Alexander-Arnold amid recent criticism of the right-back's performances.
Alexander-Arnold has been the subject of plenty of scrutiny following his poor defensive performances in the Premier League and Champions League.
The defender's mistakes in Liverpool's 3-3 draw with Brighton and Hove Albion on Saturday, in particular, drew heavy criticism from fans and pundits.
The 23-year-old also failed to feature in either of England's two Nations League games last week, with Gareth Southgate making it clear Alexander-Arnold is not his first-choice right-back.
But van Dijk, speaking after Liverpool's 2-0 win against Rangers on Tuesday in which Alexander-Arnold opened the scoring with a stunning free-kick, said: "We know the quality he has and he showed it again today.
"He has been showing it over the last couple of years; he has developed as one of the best right-backs in the country."
Netherlands international Van Dijk also questioned the culture surrounding player welfare and media scrutiny in English football.
He said: "I've been in the UK now for eight, nine years and everyone here is very good to praise a player very high up to the sky and let them fall as hard as they can.
"That's what we, as players, have to deal with. Everyone is talking about how we should accept it.
"For him to just carry on working – not only him but other players as well – deal with it and show reaction today is what we need, all of us. I think it's important that we back him."
Liverpool's victory against Rangers leaves them second in Group A behind Napoli, who beat Jurgen Klopp's men 4-1 in the opening group game.
Tags