Sterling delighted to kick-start England's campaign after City struggles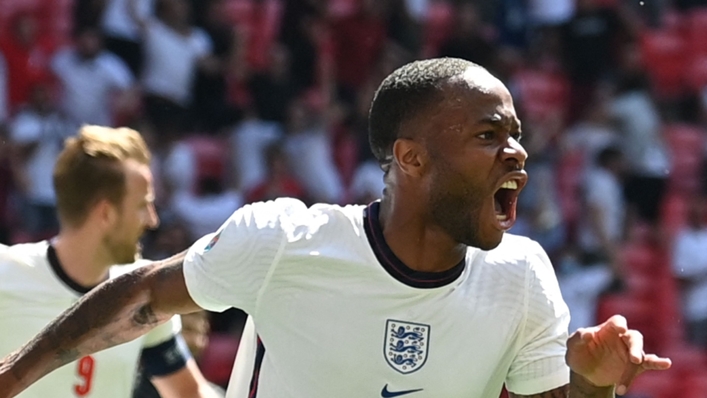 Raheem Sterling is delighted to be playing a major part for England after he bookended a difficult time with Manchester City by scoring the winner against Croatia.
England started their Euro 2020 Group D campaign with a 1-0 victory at Wembley, Sterling netting in the 57th minute.
It was the 26-year-old's 19th direct goal involvement (13 goals, six assists) in his last 17 appearances for England, while it was his first strike in a major tournament.
Sterling endured a difficult end to the season at City, and regularly found himself out of Pep Guardiola's first XI, though he did start in the Champions League final.
Yet the former Liverpool man, who has been rumoured to be unhappy with his playing time at City, is thrilled to be in the England camp.
"It feels good. I've always said, if I play at Wembley in a major tournament, then I'm scoring, it's in my back garden, I have to score! It's great to finally do that," he told BBC Sport.
"There's a lot of different reasons why I haven't scored for my club, that's totally irrelevant now. I'm here with England, enjoying my football and I'm just happy to score.
"It's been a long season for me, I couldn't wait to get here, couldn't wait to get started because I knew it would be a positive one.
"It's great to get off with a win, that's the most important thing, now we've got the other games to look forward to and we go again."
Sterling – who has played 23 games for England at Wembley without losing, more than any other player – was selected ahead of Jack Grealish and Marcus Rashford, but asked if he felt the need to justify Gareth Southgate's choice, he quipped: "Have I justified my selection? I'm trying!"
The winner was teed up by the excellent Kalvin Phillips, who put in a dominant performance in midfield on his major tournament debut.
Phillips completed 95 per cent of his 20 attempted passes in Croatia's half, completing 31 of 33 overall, and dovetailed brilliantly with Declan Rice.
"It was very enjoyable, really warm for a start, it took a toll on us towards the end of the game," Phillips told BBC Sport.
"Obviously a great result, very happy with my performance but there's two more group games left and I need to perform as well as that, if not better.
"I'm just laid back, that's the kind of person I am, regardless of what's been thrown at me I just try to take it in my path and relax as much as possible. If I didn't have the team or coaching staff around me to make me feel like that I don't think it'd be possible.
"I love playing with Declan, I love playing in the role where I can go forward and I know Declan is behind me backing me up in case I get beat. There's a lot of talk about me and Declan fighting for a position but when you look at it we play really well together."
Southgate added: "Kalvin is a player who is so understated, He's had a fantastic start to his international career, he was immense throughout the game, as they all were."
Tags