Evani says Italy are hungry for Nations League 'revenge' after World Cup absence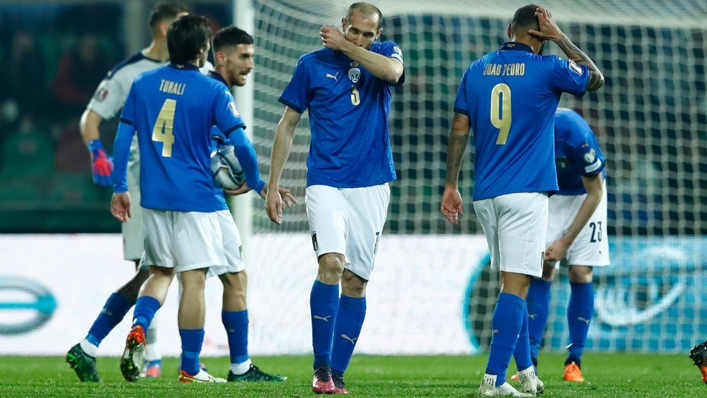 Italy will be "hungry for revenge" following their World Cup absence when they meet Spain at the Nations League Finals in June, according to Roberto Mancini's assistant Alberico Evani.
The European champions missed out on a second consecutive edition of the global tournament last year after falling to a shock qualification play-off defeat against North Macedonia in March.
However, the Azzurri bounced back to top a competitive Nations League group containing Hungary, Germany and England as they qualified for the competition's final four for the second edition in a row.
Italy will face Spain – who beat them in the 2021 semi-finals at San Siro – on June 15 following Wednesday's draw, while hosts Netherlands will meet Croatia.
Evani, who was a World Cup runner-up as a player in 1994 before joining Mancini's backroom team in 2018, knows Spain will be tough opponents but hopes Italy can prove a point.
"We've struggled against them in the past because of their style of play," Evani said of the threat posed by La Roja.
"We would have preferred to avoid them, but it's also nice to have to play against them, as we can see if we have improved.
"We are the only two teams who reached the final four in the last two consecutive editions. Let's see if we can change the result.
"We are hungry for revenge and to take back what we have left in London two years ago [when winning the delayed Euro 2020].
"We have the skills to do it and we are doing all we can to be competitive again, we are working to be in the best possible conditions in June."
Mancini recently called for coaches to be braver in giving top-level experience to young Italian players, something Evani is also keen to see.
"We had a camp right before Christmas and we called up all these young players. There is a lot of quality, they are interesting players with big futures ahead of them," he said.
"We hope their respective clubs will let them play more and more so they can gain the right experience. We have the talents, I think the future is bright."
Evani was speaking less than a week after Serie A giants Juventus were issued with a 15-point deduction following an investigation into the club's past transfer dealings.
Italy won the 2006 World Cup amid investigations that saw several of Serie A's top clubs punished in the aftermath of the Calciopoli scandal, and Evani hopes the Azzurri can again find motivation from a crisis affecting the country's domestic league.
"Our country always find strength in hardships," he said. "We didn't qualify for the World Cup and we now have this issue with the entire Italian football system. Who knows, we might be able to find the right boost to reach new heights."
Tags