Horner questions FIA porpoising ruling in Montreal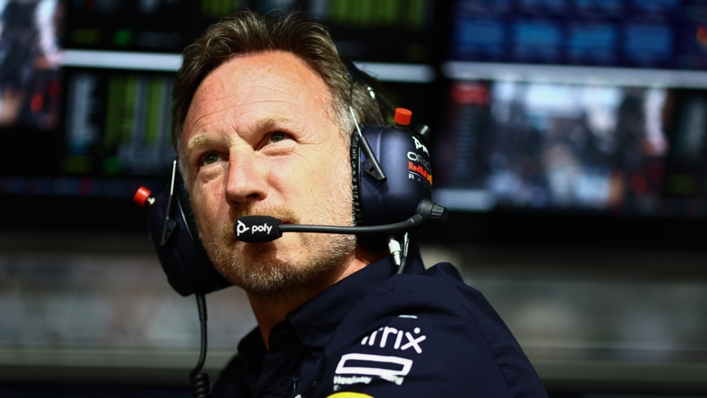 The FIA allowing Formula One constructors to utilise a second floor stay to combat porpoising is "overtly biased" to one team, according to Red Bull boss Christian Horner, who appeared to reference Mercedes.
Mercedes have struggled throughout the season with porpoising – otherwise known as bouncing unevenly – and are third in the constructors' standings, 116 points behind leaders Red Bull.
Lewis Hamilton, the seven-time world champion and Mercedes star, suffered serious discomfort and back injuries with the W13 car at the Azerbaijan Grand Prix.
The Briton was subsequently fit to compete at the Canadian Grand Prix, where he and team-mate George Russell took third and fourth respectively in an improved Mercedes performance.
Hamilton and Mercedes team principal Toto Wolff both suggested after the race in Montreal that improvements were slowly being made to the car.
However, Horner was enraged by the FIA's short-term technical directive to allow the implementation of the second stay in cars to help stiffen their floor, with Mercedes the only team to attempt to do so.
"What was particularly disappointing was the second stay because that has to be discussed in a technical forum," Horner said.
"And that is overtly biased to sorting one team's problems out, which were the only team that turned up here with it even in advance of the technical directive, so work that one out."
Russell has been one of the more vocal in calling for changes to counteract porpoising, while Hamilton's well-documented injury issues in Baku furthered his reason for concern with the W13 model.
But Horner assures Red Bull have had no similar problems, and thus it is an issue that Mercedes must fix themselves, without the FIA offering short-term technical directives.
"The issue with Mercedes is more severe than any other car," Horner added. "That surely is down to the team, that's within their control to deal with that.
"It's not affecting others. I know they've said that other drivers have been complaining, our drivers have never complained ever about porpoising. Certainly, we haven't had an issue with bouncing."
Alpine team principal Otmar Szafnauer declared on Saturday that any team who ran the stay in qualifying and the race could be protested against, with the rules not matching the technical directive.
Horner agreed with Szafnauer as he lamented the FIA for their technical directive change.
"You can't just suddenly change technical regulations halfway through a season," the Red Bull chief continued. "If a car is dangerous, a team shouldn't field it. It has that choice.
"Or the FIA if they feel an individual car is dangerous they always have a black flag at their disposal."
Tags