Irving hails Nets response after 'internet uproar' for loss to short-handed 76ers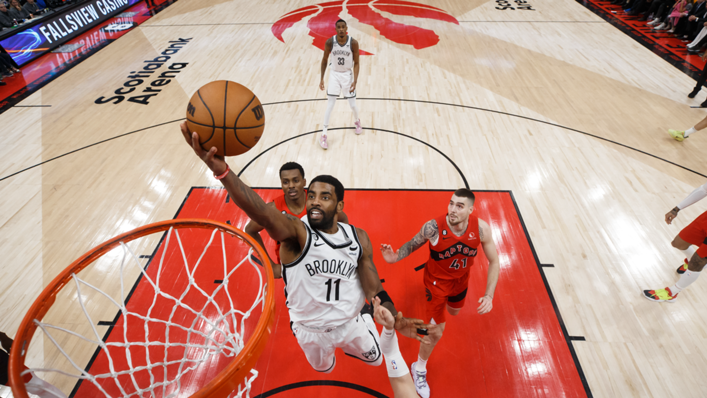 Kyrie Irving was thrilled with the Brooklyn Nets' response to the "internet uproar" from Tuesday's 115-106 loss to the short-handed Philadelphia 76ers in Wednesday's 112-98 road win over the Toronto Raptors.
Irving led the way for the Nets with a team-high 29 points, including 19 in the third quarter, as they bounced back after being "embarrassed" by a 76ers side were missing Joel Embiid, James Harden and Tyrese Maxey.
The win improved the Nets to 9-10, fueled by a 39-25 third quarter where Irving scored three triples.
"We're in the business of winning," Irving told reporters after the game. "We'll take this one, especially after last night's loss, and the whole internet going up in an uproar in terms of how embarrassed we should be, which is true.
"We just wanted to make sure we paid attention to detail tonight. We came out and responded."
Nets teammate Ben Simmons, who had his fifth straight game with 10 points or more, praised Irving in his third game back from an eight-game team-imposed suspension.
"Just being Kyrie, that's what we want him to do, just be himself," Simmons said. "Have that confidence to come out and take those shots and be who he is.
"He's an incredible player, an incredible teammate, I'm glad he had a night like tonight."
Nets head coach Jacque Vaughn said his side had learned and applied valuable lessons from losses to short-handed opponents lately, including their 116-103 defeat to the Los Angeles Lakers minus LeBron James along with the 76ers.
"It really was a standard that we have to have for each other," Vaughn said. "A big piece of that is holding each other in a higher standard.
"I thought from the beginning of the game you saw that, a lot more talk from each other, a lot more communication and demand from each other which was great to see."
Kevin Durant was held to only 12 points for the game, but passed Kevin Garnett to be 18th on the NBA all-time points scorers' list.