Inzaghi warns tie is not over after impressive win against AC Milan
PA Sport staff
Press Association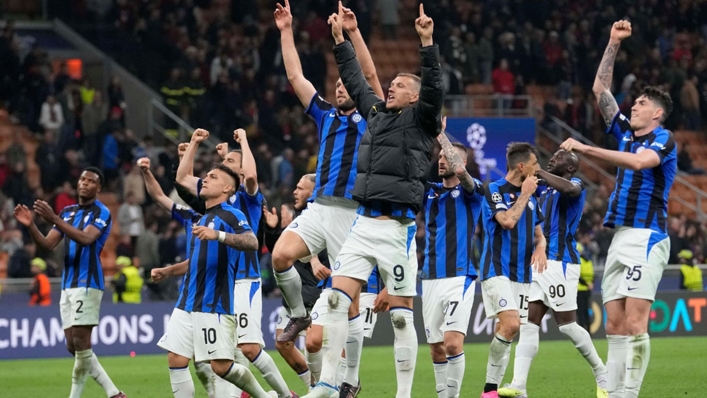 Simone Inzaghi insisted Inter Milan still have work to do to reach the Champions League final despite an impressive 2-0 first-leg victory over AC Milan in the last four.
Inter blitzed their city rivals with two goals in the first 11 minutes through Edin Dzeko and Henrikh Mkhitaryan and could easily have put the tie to bed during a dominant first-half display.
Milan improved after the break but will be grateful to still be in reach of the 2010 champions after a disappointing performance in front of their supporters in the 'home' leg of the tie.
Inzaghi told Amazon Prime Video: "We could have done more than the two goals, but a great match. We've already gone through some rounds, we know we're ahead.
"Now there will be a second leg, we will have our fans with us and clearly we know that we will still have to make a huge effort to make a dream come true.
"I asked for it yesterday, heart and mind. They covered every inch of the pitch and those who came in helped us.
"That's how performances like this are done. Now it's right to be happy, but we know that we are still missing a piece."
Goalscorer Dzeko warned his team-mates not to let up ahead of Tuesday's second-leg.
"Obviously we know we have a good result but let's say even though the next game on paper it is away game, actually it is a home game for them just with our fans," Dzeko told BT Sport.
"We have to be careful because they are a good team but if we play like we did today, we're on a good route."
Milan boss Stefano Piolo was frustrated with the approach of his team.
He told Amazon Prime Video: "We will try to do better in the second leg. I think they got the better of the tackles and second balls. The match went badly from a tactical and mental point of view.
"We have to start from the attitude of the second half. We had the chances to get the game back on track.
"We will have to put in an absolutely different performance from tonight's. For the boys right now there is disappointment but also awareness of overturning the second leg."
Former Chelsea defender Fikayo Tomori insisted not all was lost for Milan.
"Yeah, obviously we're disappointed. Just the way we started the game, conceding two goals early on like that," Tomori told BT Sport.
"It was difficult but it is only the first game. We can't let our heads drop.
"Obviously we're disappointed because this was the home leg in front of our fans and we wanted to take a positive result into the second leg but we know if we play with the right intensity, we can put them in a bit of bother."
Tags