In Focus: Why City No1 is Ed and shoulders above the rest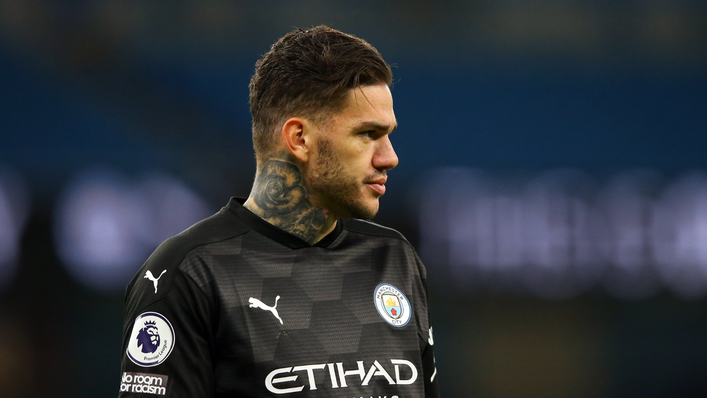 Eyebrows were raised when Manchester City spent a whopping £35million to sign Ederson — yet four years on it has proven smart business.
Even so, the Brazilian's importance often goes under the radar thanks to the strong defensive line in front of him and the plethora of world-class attackers at Pep Guardiola's disposal.
In recognition of his contribution to their trophy haul, Ederson, 27, is set to be offered a new long-term deal with the Citizens.
Ahead of their season opener against Tottenham, just how big a role has the keeper played in City's success?
Instant hit
Guardiola immediately focused on City's goalkeepers after arriving at the Etihad Stadium in 2016, with long-standing No1 Joe Hart ousted in favour of Claudio Bravo.
But Bravo's shaky performances left much to be desired and the Spaniard had already made it clear Hart had no future at the Etihad after a loan spell away from the club.
Ederson was identified as the stopper to fulfil City's needs.
He became the second-most expensive goalkeeper of all time but quickly demonstrated why Guardiola had sanctioned the deal.
Ederson was comfortable with the ball at his feet, to an extent English football had never before seen.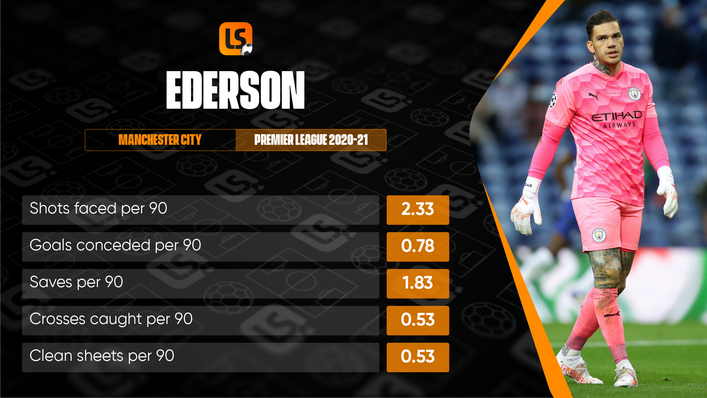 A Premier League title in his debut season silenced any questions around his transfer fee, as he also picked up a League Cup winners' medal despite not featuring.
Since then he has won two more Premier League titles, the FA Cup and three further League Cups.
It is safe to say Ederson's four years in Manchester have been a resounding success.
Coolness personified
Sweeper keepers are nothing new.
Bayern Munich stopper Manuel Neuer virtually made himself the dictionary definition of the role when he burst onto the scene at Schalke.
Before the German, you had the mavericks of the 1980s and 1990s, such as Rene Higuita and Jorge Campos.
What separates the Brazilian from them is how calm he is on the ball.
And with just 0.08 mistakes leading to opposition shots per 90 minutes last season, the defensive unit trust him in possession.
Even in the tightest of margins, there is no onset of panic.
Pass master
City's short and ill-fated experiment with former Barcelona No1 Bravo underlined the difficulty of finding a reliable and durable keeper who can also build from the back.
While the Chilean's range of passing was impressive, regularly sweeping balls out to full-backs stationed high up the field, he was not built for the physicality of the Premier League.
Ederson ticks both boxes with great conviction.
Speaking in February after his assist against Tottenham, Guardiola claimed Ederson was the best distributor he had seen.
He said: "With his feet, he is the best. The quality of the pass, I would say, is the best.
'Manuel [Neuer] and Victor [Valdes] were incredible too but the quality of the pass is the best."
Ederson completed 21.64 passes per 90 minutes in 2020-21, which is in the same bracket as outfield players Allan Saint-Maximin (19.74), Adama Traore (18.19) and Harvey Barnes (21.01).
Redefining the job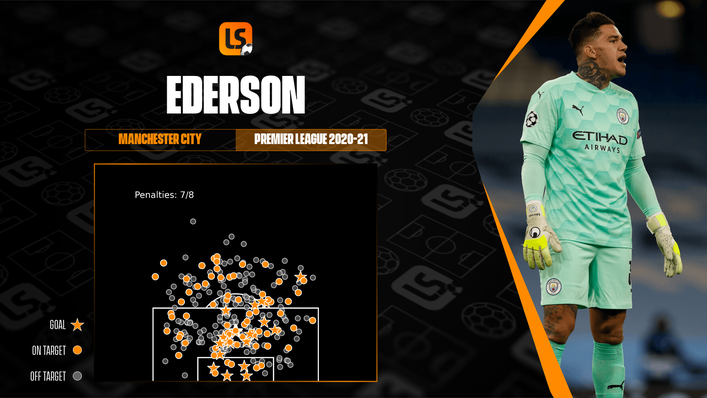 The knock-on effect is that City's defensive line can play higher up the field, squeezing their opponents for space.
In turn, this enables the Citizens to turnover possession in more advanced areas, enabling them to transition quickly — a key feature of Guardiola's tactical blueprint.
It comes as little surprise City made the fewest possession regains in their own defensive third per 90 of any Premier League side (20).
Conversely, they were second in the league for regains in the middle third (25.55) and first for regains in the final third (5.66).
Being a good shot stopper is just part of a keeper's remit. By enabling City to play their swashbuckling brand of football, Ederson has redefined the job.
Stacking up
A natural point of comparison is with countryman Alisson Becker.
Liverpool's goalkeeper, one year Ederson's senior, had a busier season in 2020-21.
He made 2.55 saves per 90, matching the Reds' increased expected goals against figure of 45.3 compared to Manchester City's 31.4.
The Anfield No1 was not at the same level that guided his side to the title in 2019-20, making the second-highest number of mistakes leading to shots at 0.12 per 90.
Ederson was the second quietest goalkeeper in terms of saves, with only Mat Ryan called into action less frequently (1.73 times per 90).
Ahead of his fifth season in English football, and still with his best years ahead of him, City fans can be safe in the knowledge that Ederson will one again be a calming presence at the base of Guardiola's ruthless winning machine.
Tags