In Focus: Midfield maestro Thiago powering Liverpool's Quadruple push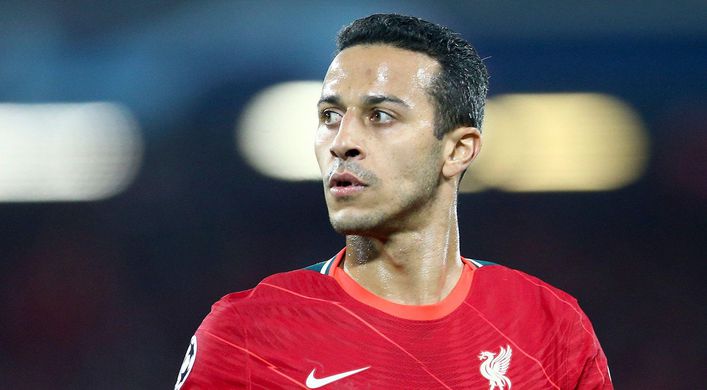 Thiago Alcantara put on a passing clinic for the second time in the space of four days as Liverpool dismantled Manchester United at Anfield.
The Merseysiders coasted to a 4-0 win over their rivals in what was arguably one of the most one-sided games of the season — and the Spanish playmaker was key to that comprehensive triumph.
Jurgen Klopp's relentless Reds are racking up wins. They have won over 75% of their matches across all competitions since the turn of the year, with Thiago pulling the strings in most of them.
Ahead of today's crucial derby clash with Everton, we take a look at how the midfield maestro has transformed this Liverpool team.
Patience
Thiago's debut campaign with the Reds was far from straightforward.
Not long after his arrival from Bayern Munich in September 2020, he tested positive for coronavirus and missed three games. Upon his return the following month, he was on the end of a Richarlison tackle that sidelined him once again.
The Spain international, 31, was then reintroduced to a struggling Liverpool side dealing with a host of injuries and found himself somewhat harshly judged on those outings.
Klopp, however, made the point that it was only a matter of time before his No6 started to have a greater influence.
He said: "We all agree, and Thiago agrees, there were moments when he struggled injury-wise.
"He is a very, very good player, we were never in doubt about that, his skill set is insane but it is all about staying fit."
A new system
Liverpool have remained loyal to the 4-3-3 system Klopp has favoured since moving to England — but there has been a subtle tweak to the positioning of players.
In possession, the Reds morph into more of a 4-2-3-1 shape.
Previously, Thiago was tasked with covering the length of the left flank and it exposed his limitations.
This season, he has been given a smaller area to dominate and it is allowing him to dictate proceedings.
The former Barcelona midfielder is now in what is effectively a double pivot alongside Fabinho — and there is an unnerving balance to the team with those two in that role.
Responsibility
In previous iterations of this Liverpool team, the left-sided midfielder was a cog in the machine. They were a facilitator — enabling others to do what they were good at.
Thiago facilitates but in a totally different way. Instead of filling space, he creates it. Instead of simply moving the ball on, he progresses play.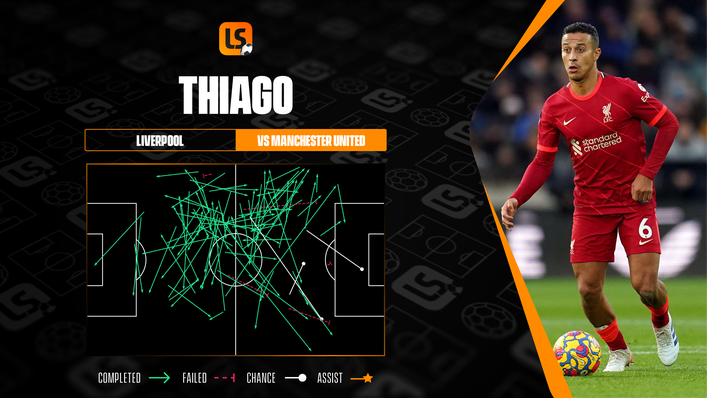 In Tuesday's win over Manchester United, Thiago had the most touches, attempted the second-highest number of passes and no Liverpool player could better his three tackles.
He is the main man in midfield and he plays like it.
The 46-cap international is the primary playmaker on the left, with Trent Alexander-Arnold doing that job on the right. The balance is there and it works spectacularly.
Trump card
Liverpool have always been able to beat Manchester City in a physical match-up.
During their clashes in 2017-18, the Reds had too much power and pace in the middle third and it allowed them to blitz Pep Guardiola's team.
But then the Spanish tactician started to set his side up a little differently. They allowed Liverpool to have the ball — negating their physical advantage and highlighting the Merseysiders' lack of technical ability in midfield.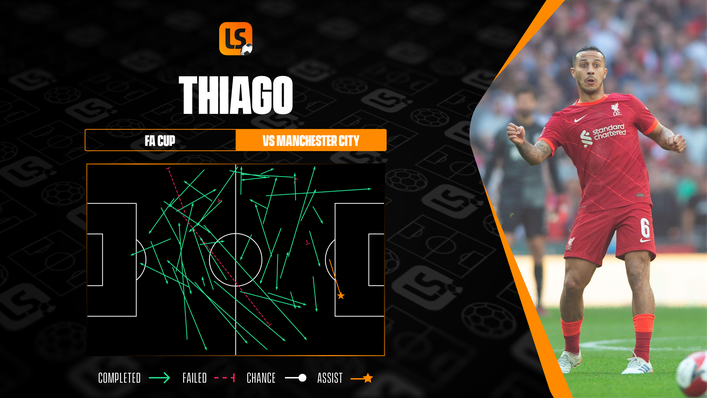 That is no doubt one of the reasons Thiago was signed. He is a player who would not look out of place in City's side.
He showed how devastating he could be in last weekend's FA Cup semi-final victory over the Citizens, notching an assist and pinging incisive passes between the lines all game long.
He has added another dimension to this Liverpool team and given Klopp yet another way to win games.
Pressure
Liverpool are still in with a shot of winning the Quadruple. Every single match is a must-win encounter, so the pressure can understandably be too much for some.
Thiago, however, is enjoying this period.
Speaking last month, he said: "The other day I was talking with some friends about it and I never had, in the years that I have been involved in football, I never had a month so exciting like this with such important and exciting matches every three days.
The midfield metronome has won everything and has nothing to prove but the opportunity to create history is spurring him on. After all, diamonds do not crack under pressure.
Tags