Two reunited team-mates will quickly become opponents again when Brazil face Argentina this evening.
Neymar and Lionel Messi — who played together at Barcelona for four years — are back on the same team after the Argentine joined Paris Saint-Germain earlier this summer.
The pair formed one of football's most iconic front threes with Luis Suarez between 2014-2017 and seeing two thirds of that partnership link up again has fans licking their lips with excitement.
Tonight, Messi and Neymar will be on different teams as they line up for their countries for a World Cup qualifier — in what will be the seventh time they have faced off.
It is also just 64 days since Messi's Argentina were victorious over his old friend's side in the Copa America final.
But what is their overall record against each other and what is in store for the clash?
Head-to-head record
In the six previous meetings between the duo, it is Messi who comes out on top with four wins compared to Neymar's two.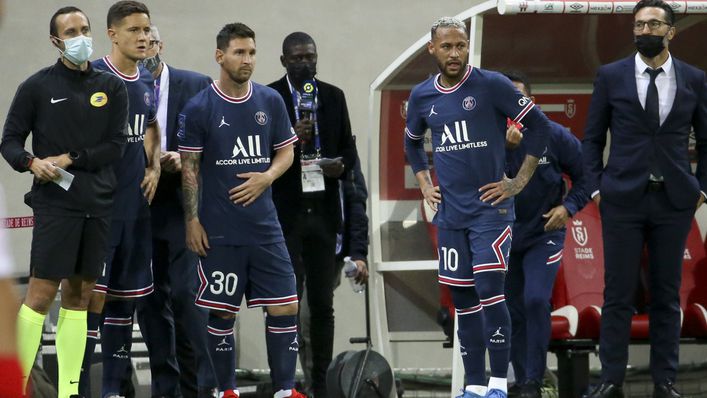 Their first collision came all the way back in 2011 when the Argentines faced a Brazil side containing an 18-year-old Neymar and legend Ronaldinho, with a trademark mazy run from Messi winning it.
A year later, their next clash was seen as Neymar's big audition on the European stage but his Santos side were beaten 4-0 by Barca in the Club World Cup final, with Messi on the scoresheet twice.
It did not deter the Blaugrana, who signed the mercurial Brazilian for £48million the following season.
A thrilling 4-3 for Argentina was up next in 2012 before Neymar finally got his first win over Messi when Brazil ran out 2-0 winners in a friendly in October 2014.
Neymar managed another 3-0 victory in 2016 but their most recent match against each other was arguably the most significant.
Messi finally secured his first international trophy at the age of 34 after Angel Di Maria's winner saw Argentina crowned Copa America champions in July.
Friends reunited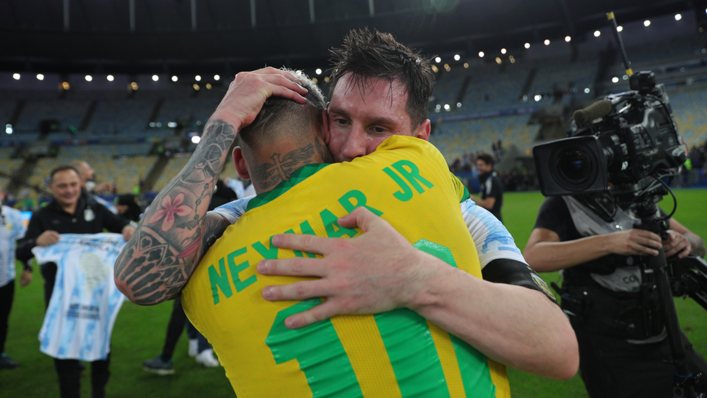 Their embrace after that final in Brazil was a marker of just how good friends they have become.
It is clear their close relationship off the field has contributed to their telepathic one on it, which we will no doubt see again when they both return to the French capital.
So what is it actually like to be in the same team as the two superstars? To answer that question, step forward Di Maria.
The 33-year-old has played alongside Messi for Argentina throughout his career, while he has partnered up with Neymar since the Brazilian arrived in Paris in 2017.
Speaking about Messi, Di Maria said: "He's just like one of the boys really — and that's how he likes it.
"He doesn't like the headlines, that's why he gets on better with those that treat him the same as anyone else.
"Because if you treat him like he is as a footballer — an alien — then you'll be outside his bubble, rather than doing things he likes, like eating together, having fun and laughing."
He added: "Neymar is what you see.
"He's always happy, a typical Brazilian with a big heart. He's just brilliant, a great person."
Favourites to win?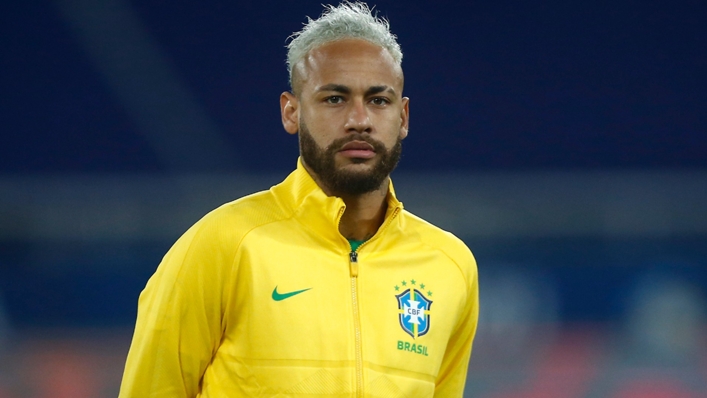 The Brazil side taking the field tonight will be much different to the one that played in July's final.
The Premier League's decision not to release players to travel to coronavirus red-list countries means the likes of Thiago Silva, Fabinho, Gabriel Jesus and Richarlison are missing for the Selecao.
Neymar will likely partner Flamengo star Gabriel Barbosa in attack, while Everton Ribeiro could also come in after scoring the winner against Chile on Friday.
For Argentina, it is a much different story after their Premier League contingent defied the league's decision and met up for the international break.
That will see Aston Villa's Emiliano Martinez and Emiliano Buendia, as well as Tottenham's Giovanni Lo Celso and Christian Romero, in contention to play alongside Di Maria and Messi iun the starting XI.
Meanwhile, Paulo Dybala will be eager to impress following his recall to the international fold.
With Brazil six points clear at the top after winning all seven of their games, this could be the perfect chance for second-placed Argentina to regain some ground while their opponents are not at full strength.
But with Neymar in the side, Brazil will be a match for anyone and the talisman will want to put one over on his friend.