In Focus: Havertz still struggling despite Champions League final heroics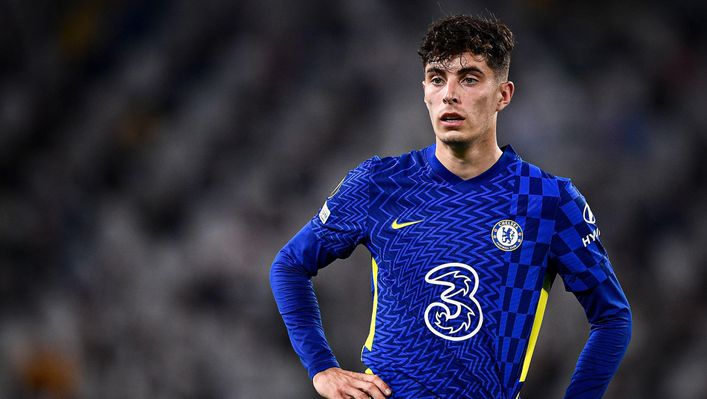 Kai Havertz continues to struggle since his big-money move to Chelsea.
Despite scoring the winning goal in last season's Champions League final against Manchester City, the German is finding difficulty living up to the £72million spent on him in 2020.
But why has the 22-year-old attacker failed to kick on after that glorious night in Porto?
We take a look at his inconsistent form ahead of tonight's encounter with Malmo, where he should get a chance to shine.
Strong pre-season
"I don't give a f*** about that! I just won the Champions League!"
That was Havertz's response when asked about his underwhelming first season in England.
And while that perfectly summed up his feelings at the time, it is clear he came into pre-season with a point to prove.
Boss Thomas Tuchel was full of praise for him and Havertz felt he was going to reap the rewards of the work he did before the campaign started.
Speaking to Chelsea's website, he said: "I agree with him [Tuchel] about pre-season.
"When you have success and you score a very important goal, of course it gives you confidence, but I think it's not only about confidence.
"I just feel very good here now, I know the players, I know the staff, I know the games, the opponents a bit better and sometimes this also helps you a lot.
"But for me confidence is the most important thing in football and when you have this you are very strong.
"So it's been a combination of confidence and feeling more at home."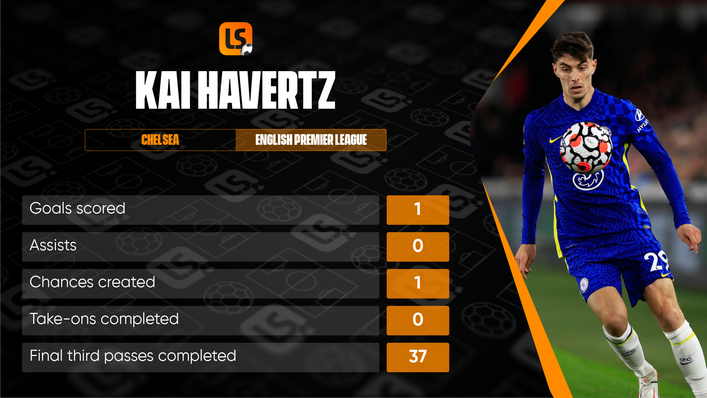 Stats tell the story
But the stats already show it is much of the same for Havertz this term.
He has scored one goal but has yet to notch an assist and has not started in the Premier League in a month.
Havertz is creating less chances, less big chances, having less shots on target, completing less take-ons and tellingly having substantially less touches of the ball than he did last season.
He got on the ball 63.43 times per 90 mins in his first season at Chelsea — but that has dropped to 53.16 so far in 2021-22.
The former Bayer Leverkusen man has plenty of talent but games seem to be passing him by.
Tuchel's warning
Tuchel was asked about Havertz ahead of tonight's encounter with the Swedish champions.
Though he praised his work rate and reiterated his belief in the German international, it was clear the forward has more to do if he is to win a spot back in Chelsea's best side.
The Blues boss said: "We trust in him and we believe in him. The rest has to come from him and he's willing to do so.
"He's in a good shape, he's in a good mental state, he knows what he's fighting for and that's the situation right now.
"He does everything to reach this level again and we do everything to help him. He's an important player for our squad.
"He had many games to start with. He started strong and he was very stong in pre-season.
"The story has not changed but he lacks the statistics of decisive things, of goals and assists.
"And he needs to fight his way back into the team to get minutes — and this can happen any time."
Lukaku link-up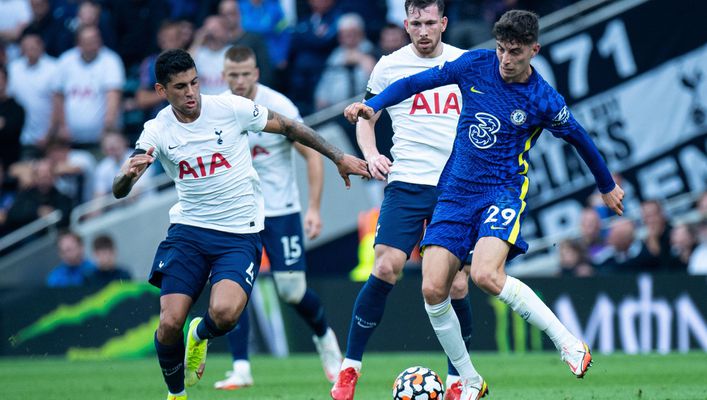 If Havertz was able to conjure up a good understanding with Romelu Lukaku, he would make himself undroppable.
The Belgian is a proven goalscorer but currently looks frustrated having not scored in six appearances in all competitions.
In 299 league minutes on the pitch, Havertz has not completed a single pass to Lukaku.
If you are in the side as a creative spark and fail to find the main source of goals, it is not surprising to find yourself on the bench.
Speaking earlier this month, Tuchel added: "I think that football right now is about connections.
"Romelu, I feel, has a strong connection with Mason Mount and Mateo Kovacic. They look for each other and have an understanding.
"Everybody else maybe lacks it a bit, so they need to learn and understand and adapt to create better."
The message from Tuchel is clear — it is up to his fringe players to prove they deserve a place.
Ticking clock
Against Malmo, Havertz may be able to show his quality and what he brings to the side.
But the more he struggles in the Premier League, the more questions about whether English football is for him will be asked.
He has previously talked about the differences with the Bundesliga and claimed he feels he has adapted now.
Not that he has shown it regularly on the pitch.
Havertz said: "You get used to it when you play some games, when you have some matches, when you are here in England for some months.
"It's a different type of football but I think you get used to it and it was the same for me.
"After six months, it was easier for me and then I settled in very well.
"I feel very good on the pitch and you are more relaxed on the pitch to play.
"Then, of course, it was getting a little bit better and now I'm used to it and I'm feeling very good."
Former team-mate Olivier Giroud recently said Havertz was "different class, different quality". Now the German must show it.
Otherwise he will join a long list of foreign stars who have thrived elsewhere but ultimately failed to live up to the hype in England.
Tags