In Focus: How Tottenham can get the best from inconsistent Ndombele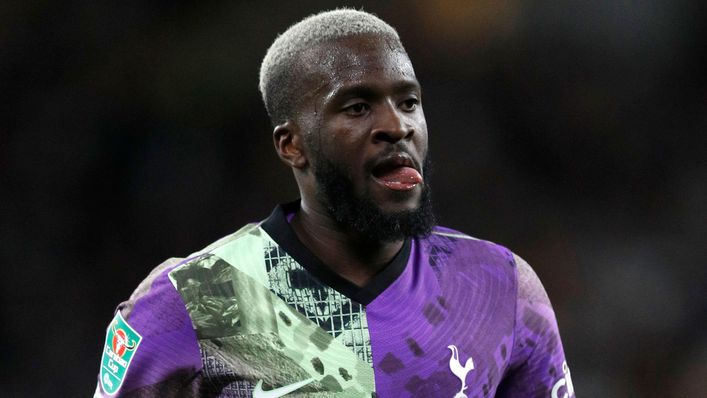 Only a month ago, Tanguy Ndombele did not want to be at Tottenham — the midfielder asked to leave the club and was not included in the squad for Spurs' first three league games of the season.
But fast forward a matter of weeks, and he is back in the side — though unfortunately, his return has coincided with a dismal run of form for Nuno Espirito Santo's men.
Two years on from making the Frenchman their £55million record signing, Tottenham are yet to solve the conundrum of how to regularly get the best out of Ndombele.
So, as Spurs prepare to host NS Mura in the Europa Conference League tonight, how can Nuno unlock the former Lyon star's potential?
A mercurial talent
There is no doubting that Ndombele possesses wonderful ability, as moments of magic like his outside-of-the-boot lob against Sheffield United in January attest, but he has frustrated with a lack of consistency.
The France international has proven himself to be an elite dribbler — of the 23 players to attempt 100 or more dribbles in the Premier League last season, none completed a higher proportion than Ndombele with 69% — but he has tended to fade in and out of games.
That drop-off was evident in Spurs' recent Carabao Cup win over Wolves, which was Ndombele's only full 90 minutes of the season so far — he scored the opening goal and touched the ball 64 times in the first half but managed just 23 touches in the second half.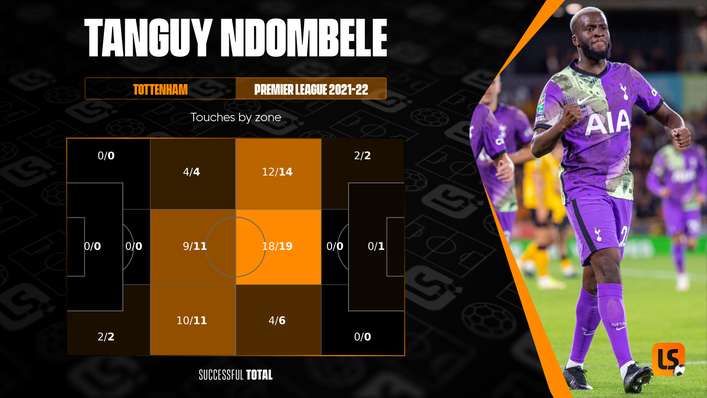 A lack of effort?
Former Spurs head coach Jose Mourinho was critical of Ndombele's application.
Shortly before being sacked in April, he said: "I think from the talent point of view, by the creation in midfield, by the vision, (Ndombele) is second to nobody in this moment in European football.
"But the feeling is that he always has more to give, he never reaches the limit of the effort, the sacrifice, even the ambition."
Finding his best position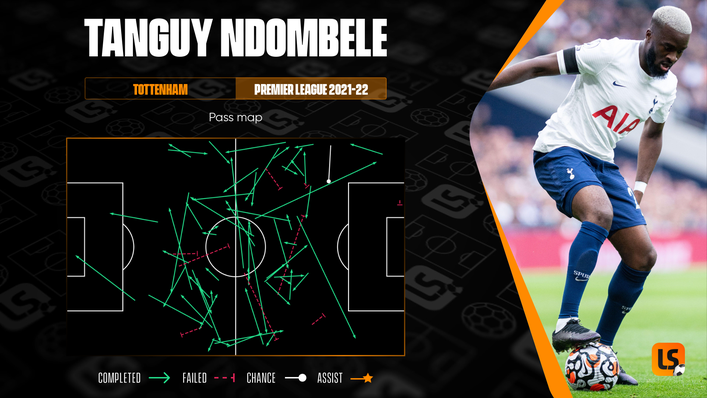 Given his highly desirable combination of skill and physicality, Ndombele seemed like the natural heir to Mousa Dembele — Tottenham's brilliantly complete No8, who peaked during Mauricio Pochettino's successful spell in charge.
Broadly speaking, Ndombele is also a box-to-box midfielder, and that is the role he has largely performed for Spurs.
However, the 2020-21 season saw Mourinho deploy him in a more advanced position akin to a No10, which is said to be the Parisian's preference.
Spurs certainly seemed to benefit from Ndombele's influence higher up the pitch — they did not lose a league game from September through to mid-December, when things began to unravel for Mourinho — but doubts remained.
A challenge for the new boss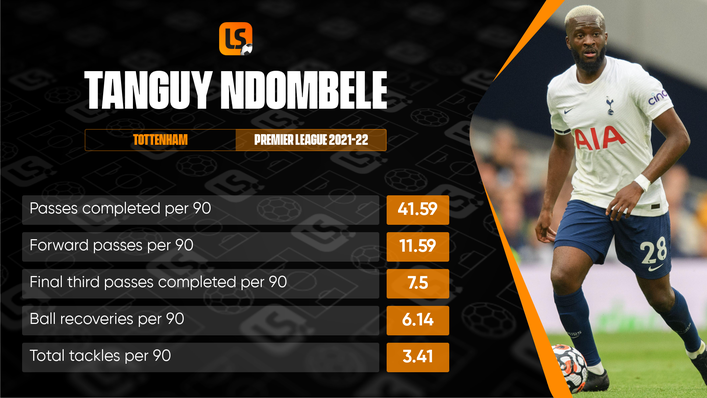 Nuno's short time in charge at the Tottenham Hotspur Stadium has already been somewhat challenging — only 10 games in, pressure is mounting on the Portuguese.
Succeeding where his predecessors have fallen short and getting Ndombele firing could potentially help appease the naysayers, though.
The problem is that Tottenham's midfield is crying out for solidity and structure more than dazzling individuality — as was glaringly obvious in Saturday's 3-1 defeat to Arsenal, summed up by Jamie Carragher's post-match remark that "there's less space on the moon."
Spurs' manager has been giving Ndombele plenty of licence to operate in the final third. But that may be part of the reason why Dele Alli, frozen out by Mourinho, is having to sit deeper — something which does not help the balance of the side.
If all else fails
At 24, Ndombele has not quite entered a footballer's traditional prime years. In theory, he should still improve.
So, if Tottenham simply are not able to get the best out of him, he ought to attract a few suitors — even if recouping that £55m transfer outlay might be a tall order.
That said, he is not out of contract until the summer of 2025 and Spurs may feel inclined to invest a bit more time in the man they invested so much money in.
Tags