Antonio Rudiger's Chelsea career appeared to be over — but now he is one of the club's most reliable players.
Dropped by Frank Lampard following the arrival of Thiago Silva and the impressive form of Andreas Christensen, the Germany international was often not even on the bench during the early stages of last season.
But following the appointment of Thomas Tuchel, the former Roma star found his way back into the starting XI at Stamford Bridge and is now considered by many to be one of the Premier League's best centre-backs.
Ahead of Chelsea's clash with Aston Villa today, we turn the spotlight on why the rugged defender is so invaluable to Tuchel.
Dominate the ball, dominate the game
Under Tuchel, Chelsea have evolved into more of a possession-based side.
On average, the Blues attempted almost 30 fewer passes per 90 minutes under Lampard when compared with their matches since the German tactician took charge.
That might not sound like much in isolation but it adds up to more than 1,000 passes over the course of a 38-game Premier League campaign.
So it was integral to load the team up with competent ball players — and Rudiger is just that.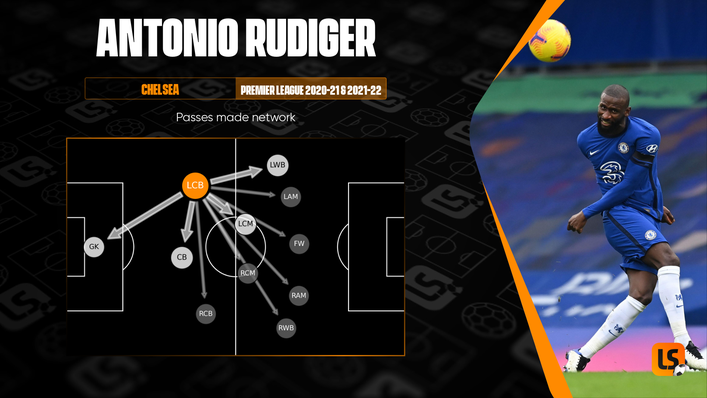 The 28-year-old attempted 80.16 passes per 90 last term and completed 71.68, which saw him rank 11th in the Premier League for both metrics.
He is also expressive on the ball, with his passes made network (above) showcasing a defender not shy about switching play when the opportunity arises.
Unpredictable
The successful teams in England's top fight often focus on repetition and repeatability.
Take Manchester City as an example. Pep Guardiola wants his wide forwards to consistently hit the byline and pull the ball back into the penalty area.
As a result, a lot of their goals are almost identical.
Liverpool focus on quick switches to their full-backs to create time and space in the final third for deliveries into the penalty area.
Chelsea, meanwhile, have a variety of different patterns of play — especially since the arrival of Romelu Lukaku, which has seen them build their attacks centrally.
They are already unpredictable in that sense but Rudiger adds even more of a wildcard factor to their system with his ability to carry the ball.
Teams will look to cut off passing lanes and will work on pressing triggers, only to have the 6ft 3in defender ruin their plans by stepping out and forcing them to react to his progress up the pitch.
Versatility
During his time in Serie A with Roma, Rudiger was sometimes deployed as a full-back.
He has also played there for the German national team but is much more effective when used as a central defender.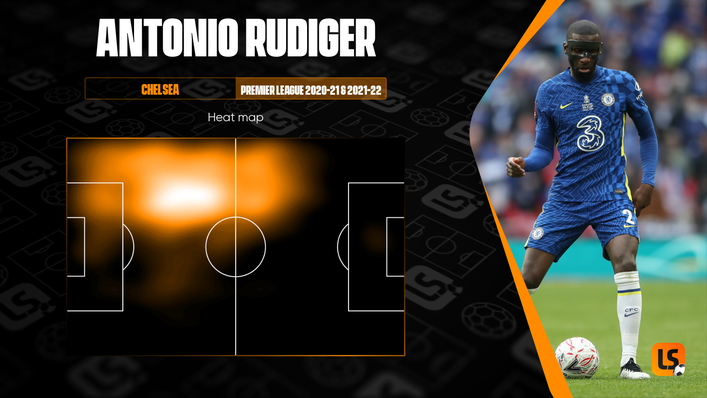 And that experience as full-back helped him develop into more of an all-round player.
Some defenders dread following attackers into the wide areas but Rudiger is comfortable in those parts of the pitch, even when isolated against a variety of different forwards.
In that sense, he is the perfect centre-back for any manager playing three at the back.
Aerially dominant
It is a trait that can sometimes be overlooked — but being able to bully attackers in the Premier League is a necessity if you want to compete at the top.
Rudiger won almost 75.8% of his aerial duels last season, which was more than all but four other players in the division.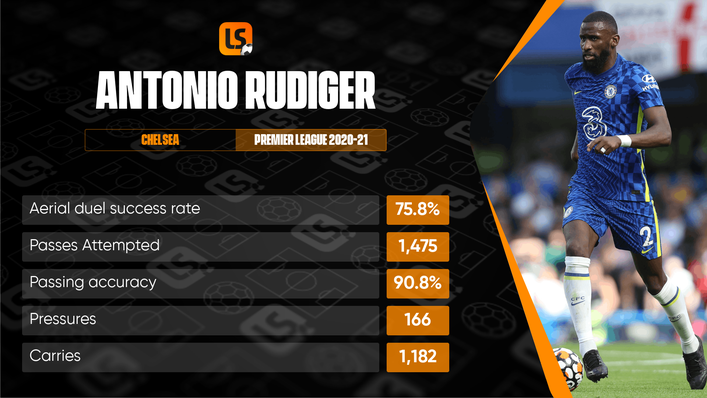 That figure has dropped to 60% in the opening three games this term, though the small sample size means little should be read into that decline just yet.
Even if it remains at that level, it would still represent a commendable success rate and reflect one of the top tier's most imposing defensive figures.
The Tuchel factor
It is no secret that players perform better when backed by their manager — and Rudiger is no different.
Towards the end of last season, Tuchel heaped praise on his compatriot.
He said: "He is speaking with his performances — he has been amazing since day one. We chose him in the first match after just one day of training.
"It was an unfair decision against Kurt [Zouma] but he's German and I had a clearer picture of what he can do, of course, because I've followed him more than Zouma.
"I had a clear picture of what he can deliver to a team and he took the chance. Since then, it's well deserved he is in the team.
"He is an aggressive leader, has this natural aggressivity in him. He hates to lose, is hard to beat in duels, is very brave, and full of energy in his defending."
With such a glowing review from Chelsea's managerial mastermind, it is no surprise Tuchel has put the defender at the heart of his Stamford Bridge revolution.
If the Blues are to win the title this season, Rudiger will play a key part in their success.