In Focus: Haaland can improve on record-breaking first season for City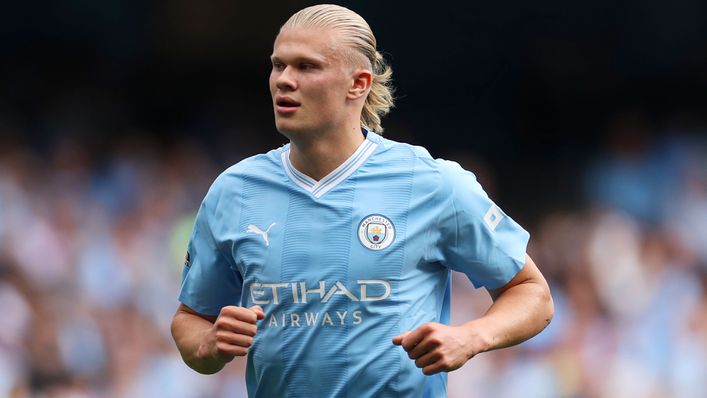 Erling Haaland has started the new campaign in typically relentless form.
The Norwegian was the continent's top scorer last season, picking up the European Golden Shoe with 52 goals in 53 games.
Having already hit the ground running in the Premier League, the striker now turns his attention to the Champions League.
Ahead of Manchester City's opening match in Group G against Crvena zvezda, we take a look at Haaland's remarkable form.
Record breaker
It says much for the impossibly high standards set by Haaland that his prolific start to the new season has not raised many eyebrows.
In five Premier League games, he has scored seven goals, which includes a hat-trick in the 5-1 win over Fulham.
Haaland broke the record for the most goals in a Premier League season in 2022-23, with 36 from 35 games.
There is every reason to think that he could smash that total and perhaps become the first player to score 40 or more goals in the English top flight since Jimmy Greaves in 1960-61.
Haaland was also the top scorer in the Champions League last season, which was a feat that he first managed in 2020-21 at Borussia Dortmund.
With City finally lifting the trophy after their victory against Inter Milan back in June, a period of dominance in Europe could be on the horizon, with the 23-year-old leading the charge.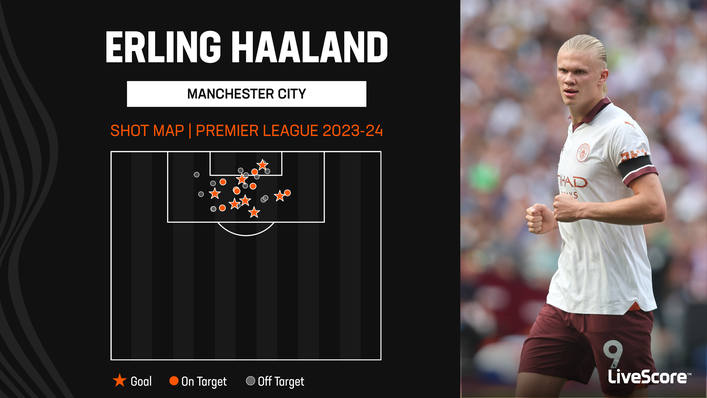 Alvarez partnership
The goals have continued to flow for Haaland, even though Pep Guardiola has made a tactical switch to play with two strikers in his team.
Julian Alvarez began to feature more regularly for City last season, following his World Cup success with Argentina.
Now Haaland and his fellow forward have been paired in all five of the Citizens' Premier League games and Guardiola has spoken about the change.
He said: "It starts because Kevin [De Bruyne] is injured and especially with [Ilkay] Gundogan going to Barcelona we need players closer to Erling who have the sense of goal, not just Erling.
"When our attacking midfielders move away from Erling, we struggled to score goals and create chances.
"Erling has to adapt because Julian moves behind the striker perfectly. Another player who has to improve the simple things and lose fewer balls.
"It is difficult to do that in the position he plays because the gaps are minimal.
"He has an incredible quality and sense to move, his work ethic without the ball, his sense of goal and the assists."
Pep talk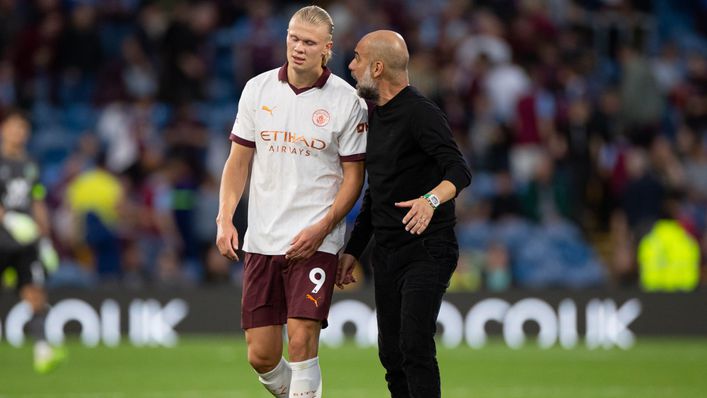 One of the reasons that we can expect Haaland to carry on scoring at such a rate is the continual tactical innovation from Guardiola and the standards the manager expects.
An example of the latter quality was evident on the first game of the season against Burnley, when the Catalan coach was seen lambasting his star striker at half-time.
Speaking about the incident this week, Haaland seemed at ease with the manager's methods.
He said: "Sometimes Pep is a bit scary. But I like it when Pep shouts at me, he tries to get something in my brain that you don't think I have.
"I like it, I'm not complaining, he just wants to make me better."
The thought of Haaland getting any better is an exciting one and with Guardiola always working on ways to make that possible, it could certainly happen.
Tags