In Focus: Glorious start for Jesus has Gunners believing again
Cian Cheesbrough
LiveScore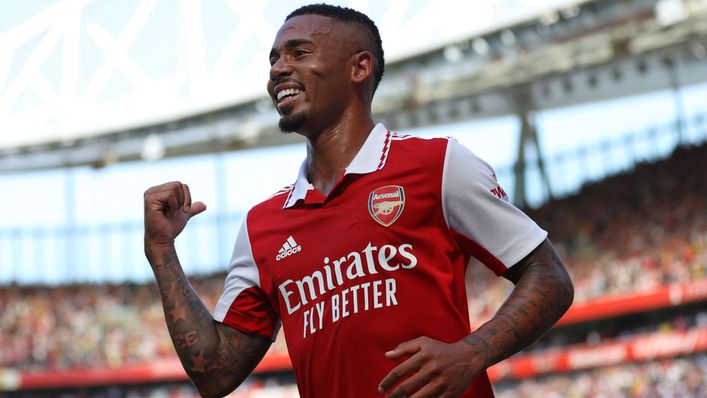 There was plenty of excitement when Gabriel Jesus made a £45million move to Arsenal this summer — and his electric start has done little to stem that.
After an eye-catching debut at Crystal Palace, the Brazilian, 25, netted twice on his first Gunners appearance at the Emirates in a 4-2 win over Leicester last Saturday.
Finally featuring as a regular No9, many have now tipped the former Manchester City ace as a contender for the Golden Boot this season.
As Mikel Arteta's men prepare to travel to Bournemouth on Saturday, we look at whether their new star can fire them to a top-four finish.
Man on a mission
Repeated moments of quality during his six-year stint at City left no doubting Jesus' capabilities.
A record of 95 goals in 235 appearances for the Citizens proved that to be the case.
But having been so often in and out of Pep Guardiola's side, there was always a strong sense that the Premier League was yet to see the best of him.
Now Arsenal's main man up front, the forward has looked keen to make up for lost time.
Including pre-season friendlies, Jesus has scored nine goals and registered two assists in seven Gunners games — averaging a goal involvement every 39.8 minutes.
And as boss Arteta revealed, his No9 was left ruing missed chances rather than celebrating the two he notched against the Foxes.
"He's still disappointed in the dressing room because he said he could have scored four," the Spanish coach said.
"That's the standard, that's the mentality. I think it lifts the standards with the way he's training every day and the way that he's talking and the way that they are connecting."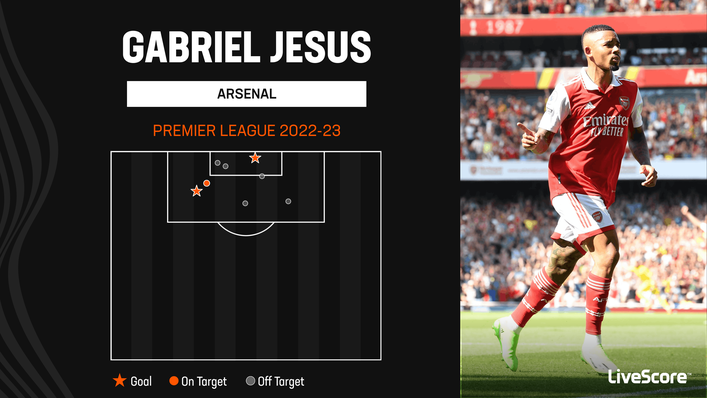 Raising standards
Jesus looks to have brought more than just goals to this Arsenal team, too.
He already has two assists to match his goal tally, while a further dive into the numbers show his influence on multiple fronts.
Drifting across attack, the Selecao star completed more take-ons (nine) than any other player across the first two weeks of action.
Furthermore, no striker in the division has completed more passes than his 42, while his three chances created places him in the top five in that position.
It is perhaps when you take Jesus out of City's star-studded team and into another that you start to appreciate the fine technical ability he possesses.
And on the basis of Arsenal's impressive first two games, his quality certainly seems to be raising the bar of the other players around him.
Oleksandr Zinchenko, who followed the forward to the Emirates from City this summer, certainly thinks so.
The Ukrainian said: "You can see it in how he works along with his attitude every day in training. He's an example.
"He was good during all the years I've spent with him. He's an incredible player, always hungry for goals which is the best quality as a striker. He doesn't stop at all and I'm so happy for him."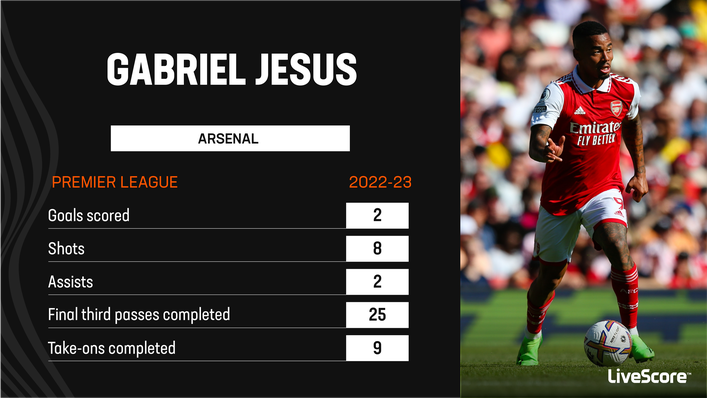 Believing in himself
Jesus has revealed that perceived doubts over his capability as an out-and-out No9 were worries he had begun to feel himself.
But the show of faith from Arteta — who worked with the Sao Paulo native while assistant at City — by making him his talisman has made the player believe again.
Speaking to ESPN Brazil following last Saturday's victory, Jesus said: "After the [2018] World Cup, I thought that I couldn't play as a No9. I started playing much more on the wing at [Manchester] City and for Brazil.
"For a while I thought that. But I've changed my mentality, I believe much more in myself now. I'm smiling again playing football.
"I'm very blessed as I can play across all front three but I am a No9. I am there to finish our chances. Not only that but to help the team as a whole."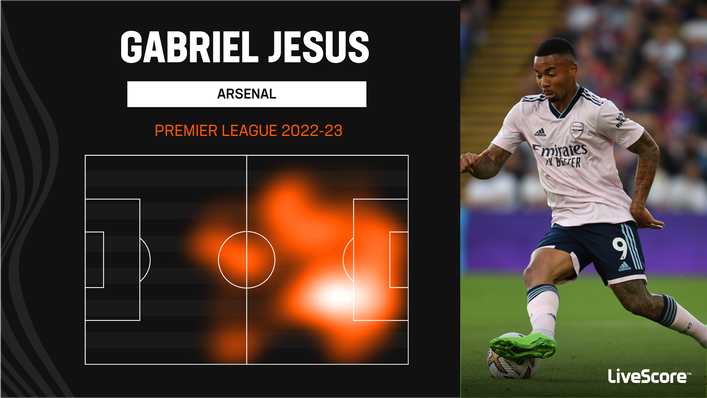 Top four priority
Some are tipping Jesus to challenge the likes of Mohamed Salah, Heung-Min Son and Erling Haaland for the Golden Boot this season.
But even if he does finish as the division's top goalscorer, there will be a tinge of disappointment if Arsenal still do not make the top four.
And with Jesus, the objectives of the club as a whole will take priority over any individual accolades.
Zinchenko added on his team-mate: "He's the guy who is always happy for the team. The team is always first and the club always in front of any individual thing."
The early signs are that Arsenal finally seem to have that final piece in attack that they have often lacked, though continuing this form consistently will be key.
If he does that, Gunners fans may just feel Champions League football is within their grasp.
Tags