In Focus: Norrie's remarkable rise after reaching Wimbledon quarter-finals
Cian Cheesbrough
LiveScore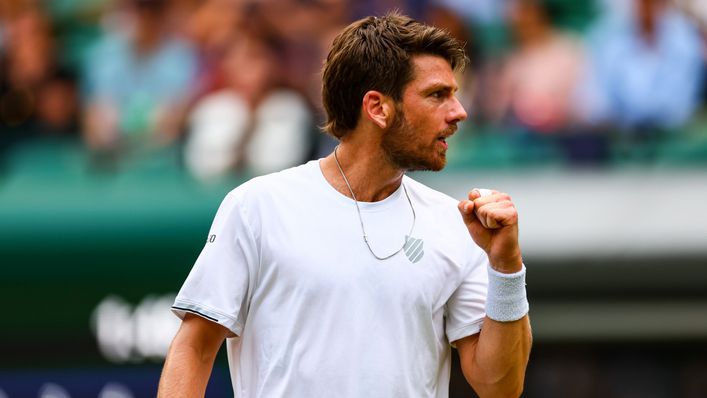 A week into Wimbledon 2022 and Great Britain's 17-player list of singles hopefuls is now down to just one — men's star Cameron Norrie.
Ninth-seed Norrie, 26, reached his first ever Grand Slam quarter-final by defeating American Tommy Paul 6-4, 7-5, 6-4 on Sunday.
With household names such as Andy Murray and Emma Radacanu eliminated, hopes of a home champion in SW19 are now firmly resting on Norrie as he continues his impressive rise in the last 18 months.
Ahead of his last-eight tie with Belgian David Goffin, LiveScore brings you all you need to know about the British No1.
International upbringing
Born in Johannesburg to a Scottish father and Welsh mother, Norrie spent much of his childhood residing in Auckland.
Representing New Zealand at junior level, Norrie switched allegiances to the country of his parents when he turned professional in 2013.
Having also gone to university in Texas, he has described himself as being from "all over the place" but there is no doubt as to where Norrie's allegiance lies.
He told BBC Newsbeat in 2018: "I consider myself British. Both my parents are British. My mum is Welsh and my dad is Scottish, with a filthy Scottish accent."
Unlikely rise
Not many predicted Norrie would rise to become Great Britain's best men's hope in recent years — particularly given most of his career has overlapped with three-time Grand Slam winner Murray.
But while injuries have seen Murray slip from being the UK's leading light in recent years, that should take nothing away from Norrie's impressive rise.
Ranked 74th in the world as late as a the start of 2021, a superb 18 months saw the counter-puncher break into the top 10 for the first time in April 2022.
It is a period that has seen him pick up his first significant finals win, taking the Indian Wells Masters trophy in 2021 to overtake Dan Evans as British No1.
Following a period of reflection during the coronavirus pandemic, Norrie appears to have taken his game to a whole new level.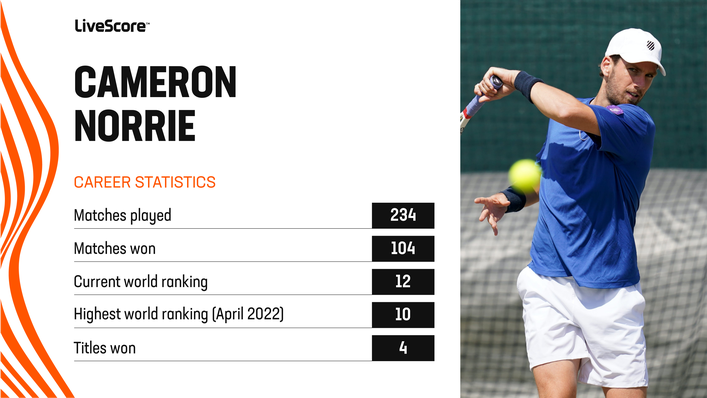 Former coach James Trotman told the i newspaper last year: "He was looking to play more aggressively. He was working on his returns, he wanted to take the initiative in the point more and more.
"And I think for him [lockdown] worked as a period of time to almost try to ground himself and say, 'Okay, I've done well so far, I've got one shot at this, I'm 24, 25, what am I gonna do from here?' I think Cam has matured a lot.
"He seems to have said, 'This is my career and I'm going to really grab it with both hands'. I think there's been a kind of a maturity step-up for him for sure in the last 18 months."
The best of the Brits
Despite the likes of Heather Watson, Katie Boulter and Liam Broady thrilling SW19 with some fine runs late into the first week, Norrie now stands as the last remaining Brit.
Already the best showing of his five Wimbledon appearances, the left-hander showed no nerves as he saw off American opponent Paul in dominant style in the fourth round.
And with others' hopes now dashed, Norrie is hoping the British crowd come together to get behind him over the coming week.
After his win, he said: "I'll take it. At the beginning of the tournament, you guys were saying, 'You're British No1, you've got a lot of pressure, a lot of expectations on your shoulders.'
"For me to play the way that I did in all my matches so far means a lot. Unfortunately, I'm the last one standing. But I think it's even more reason for everyone to get behind me."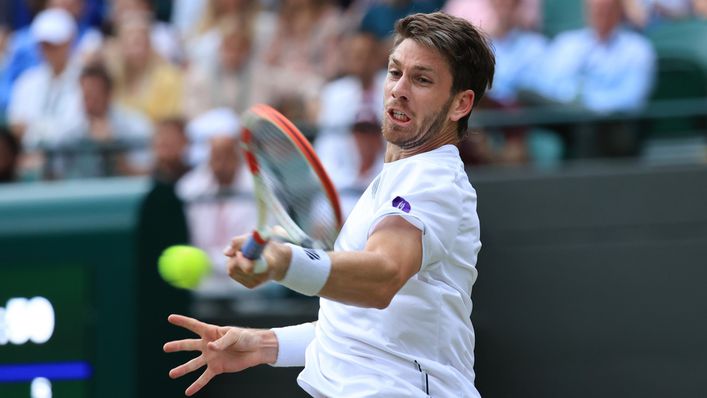 No quarter given
Norrie has become only the fifth British male to reach a singles quarter-final during the Open era after Roger Taylor, Greg Rusedski, Tim Henman and Murray.
And given he goes into the last eight as favourite against unseeded Belgian Goffin, there is every chance Norrie could send more records tumbling over the coming week.
Come through that and he is set to be tested against one of the greats with six-time winner Novak Djokovic likely awaiting him in the semi-finals.
But Norrie is not getting ahead of himself, adding: "It's great to be through to the quarters, but no reason to be satisfied. I want to keep pushing and I'm looking forward to the next match.
"I think if you look at a lot of the top players, they get better as the tournament progresses. I feel like that with myself, for sure. I'm improving and my level is getting better.
"[Goffin's] a very experienced player. He really likes the grass, he's played a lot of big matches — it's going to be tough.
"One thing's for sure, I know that I'm going to get into a lot of rallies with him. He's not going to come and serve me off the court, which is good. It's going to be another physical match, which is great for me."