In Focus: Are United safest in the hands of De Gea or Henderson?
Ole Gunnar Solskjaer will need to decide on a clear No1 if Manchester United are to challenge for the Premier League title.
The United boss rotated between long-serving keeper David de Gea and academy product Dean Henderson last season.
Competition for places may keep standards high but having a regular stopper between the sticks helps build relationships at the back while maintaining a sense of stability.
With two first-class custodians to choose from, the Red Devils manager has a tough call to make.
Ahead of the new season, we turn the spotlight on United's two keepers to work out which one will prove to be the safest pair of hands for Solskjaer's men.
De Gea on the decline
There is no denying De Gea's pedigree as a top-quality goalkeeper over the past decade — but all the evidence points to a player in decline.
At 30, the Spain international should be at his peak, though the statistics from last season paint a very different picture.
Save percentage (shots on target against, minus goals against, divided by shots on target against) is widely regarded as the best measure of a goalkeeper's shot-stopping ability and De Gea has previously excelled when it comes to this metric.
He was in the Premier League's top 10 for eight of nine seasons until 2019-20, finishing top of the pile on three occasions.
But he dropped out of the division's upper echelon last season, with a save percentage of just 67.1%. That was significantly below Henderson's 76% and neither player bothered the top 10 keepers.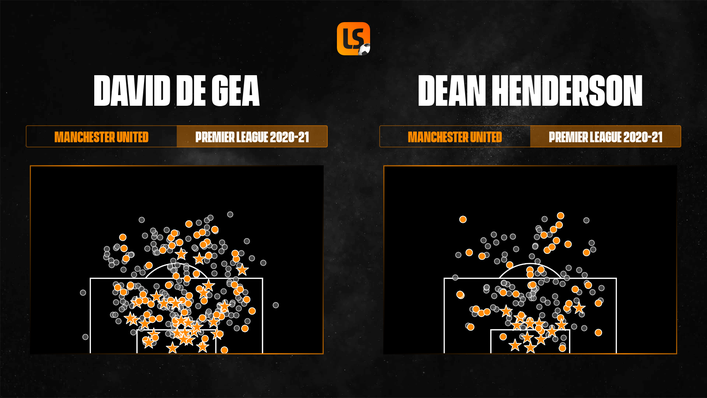 All-round game
A dip in De Gea's shot-stopping ability would be more palatable if he made up for it with his all-round goalkeeping.
But the former Atletico Madrid man has often struggled to command his area in recent years.
That was no different in 2020-21 and provided a stark contrast with Henderson's form when he came into the team.
While the 45-cap Spain international claimed a paltry 0.08 crosses per 90 minutes of action, Henderson managed 0.64 per 90 — the eighth highest in the top flight.
It is a similar story if we look at keeper sweeper regains — when a goalkeeper comes off his line to win the ball and possession for his team — per 90.
Henderson, 24, was some way ahead of his rival with 0.8, compared with 0.39 for De Gea.
In fact, only Burnley's Nick Pope (0.84) placed higher than the former Sheffield United loanee.
Distribution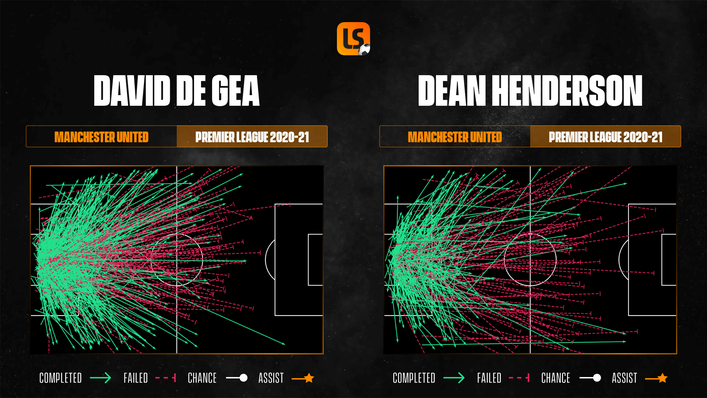 One area where De Gea still outranks his team-mate is with the ball at his feet.
The Madrid-born star's passing accuracy of 75.45% is some way ahead of Henderson's 67.44% and that is not simply because he is more conservative with his distribution.
For context, Henderson attempts a greater number of ambitious balls forward, while De Gea completed significantly more long passes last season (3.22 vs 2.24 per 90).
Time to decide
Former Manchester United defender Paul Parker has echoed the calls for Solskjaer to make a decision on his starting stopper and has thrown his weight behind De Gea.
Speaking to LiveScore last month, he said: "United need stability and they need Ole to make a decision, to come out and be brave, say who his No1 is.
"Don't just put someone in goal, he needs to come out and say who his No1 is so everybody knows.
"I still believe that De Gea, in a settled Manchester United team with a decent pairing in front of him that he believes in, is the ideal goalkeeper."
But the two keepers appear to be inseparable in their manager's mind, if the latter stages of last season are anything to go by.
The duo featured in exactly five games apiece in all competitions during the final 10 matches of the campaign.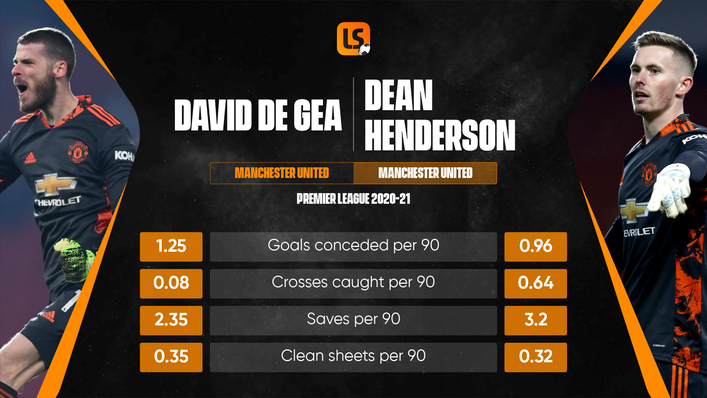 Money matters
With ex-Aston Villa stopper Tom Heaton, 35, signing for United this summer, it feels more likely than ever that one of their other two goalkeepers will need to move on to pastures new.
But De Gea's wages make a sale challenging — there are not many clubs who can match his reported £375,000-a-week wages.
While Henderson may come out on top according to the data, there would be a queue of willing buyers ready to sign or take the England international on loan.
That might be enough to swing Solskjaer's decision in the Spaniard's favour — even if Henderson would be the wiser long-term choice for United.
Tags