In Focus: Martial set for starring role against old club Sevilla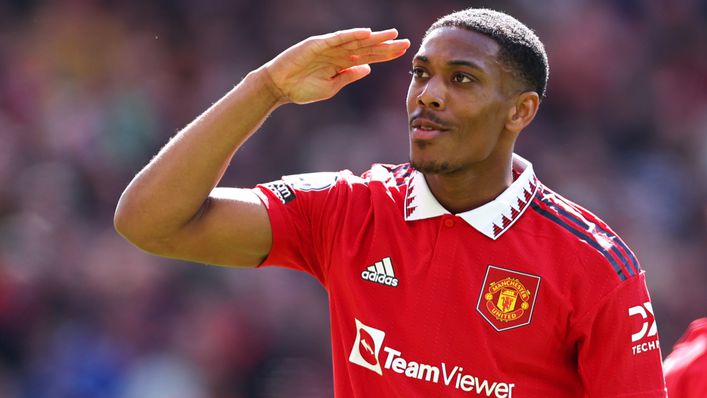 Anthony Martial has the opportunity to belatedly make a major contribution to Manchester United's season.
The French international striker has been largely unavailable to his manager Erik ten Hag having suffered a string of injuries but is now on the goal trail.
He came off the bench last Saturday to score in the 2-0 win against Everton and could soon return to the starting line-up, should he stay fit.
Ahead of the first leg of United's Europa League quarter-final tie against Sevilla, we look at Martial's chances of rebuilding his career at Old Trafford.
Persistent injuries
It has been a frustrating season for Martial, who has had a succession of injuries to contend with.
Over the course of the campaign, he has had problems with his hamstring, Achilles, back and most recently his hip.
Martial has returned to action for the Red Devils' last three league games, coming off the bench for the defeat at Newcastle and then the home wins over Brentford and Everton.
The latter saw the forward score his first goal since making his comeback. Marcus Rashford played a ball across the Toffees' box that presented a relatively easy chance and he nonchalantly converted.
Despite missing so much football, Martial has been impressively productive when he has played.
He has scored seven goals and made two assists from 17 appearances, even though he has yet to complete a full 90 minutes this season.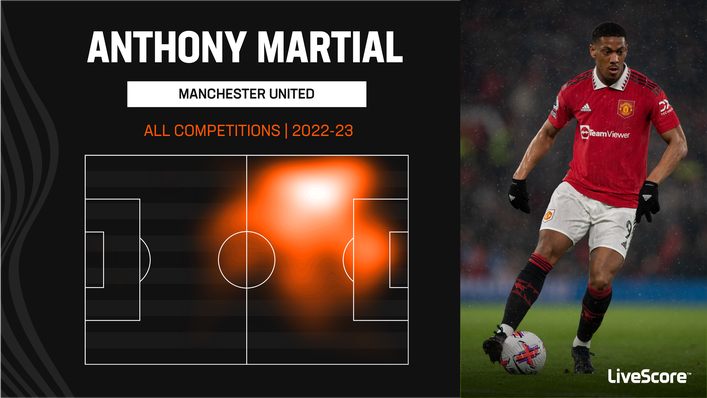 Ten Hag verdict
Before the home clash with Sevilla, Ten Hag praised Martial's contribution.
The Dutch coach said: "I just point to the stats, the stats tell you the moment he's on the pitch, the time he needs for a goal is really less.
"When he is in the team, I refer to games against Manchester City and Liverpool, we play our best football and have the best results as a team. I see how he contributes to this team."
Ten Hag went on to claim that he believes that Martial is already fit enough to start games.
He said: "We don't have to force things, we're careful. The frontline against Brentford and Everton worked really well. Continually we were a threat, difficult to defend for the opponent.
"He is ready to start games but as I said the frontline against Brentford did really well and we decided to continue that against Everton and they did very well again.
"The advantage was also that we can bring Martial back slowly, in the team, give him minutes, getting used to games at the highest level, higher intensity, but already against Everton he was ready to start the game."
Time to shine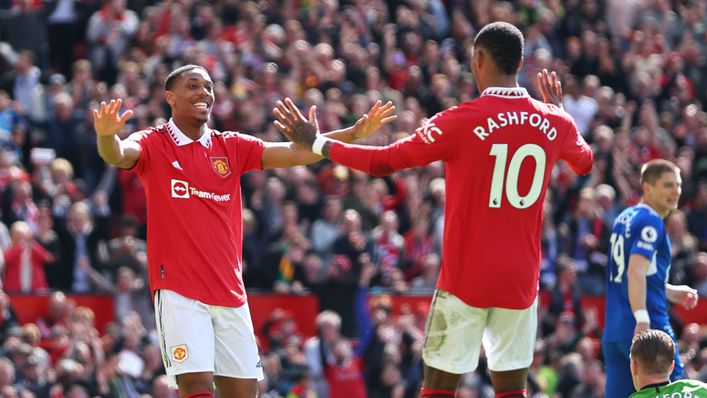 Rashford picked up a muscle injury in the victory against Everton and will miss the next few games.
With Wout Weghorst also struggling for goals, it would seem that Martial is likely to get a chance to start sooner rather than later.
He will no doubt be keen to face Sevilla, after an unsuccessful loan spell in Andalusia last season, in which he only scored one goal in 12 appearances.
The LaLiga club turned down the chance to sign the striker on a permanent basis, citing his injury problems as a reason.
Now 27, Martial's contract expires in the summer of 2024. Given his fitness troubles, it would seem unlikely that any other move will materialise before then.
United and their No9 are seemingly committed together for the foreseeable future. With a manager that clearly believes in his forward, who tends to produce when given the chance, that is an agreeable scenario for both parties.
Tags