In Focus: Martial ready to spearhead new era at Old Trafford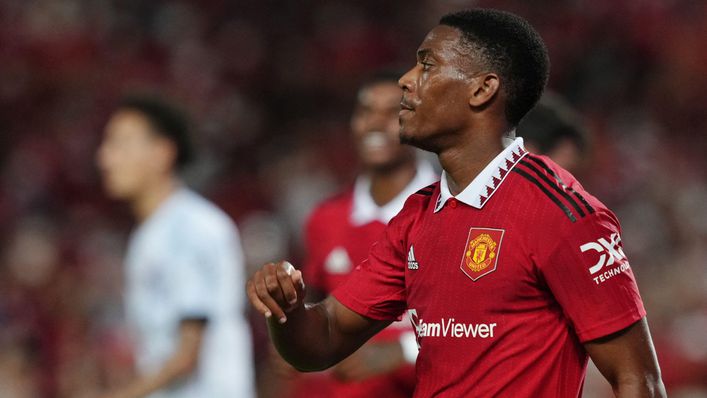 Anthony Martial's Manchester United career has been given a dramatic revival this pre-season.
The striker looked set for the Old Trafford exit door little over a month ago — but not any more.
Martial, 26, has been one of United's most impressive performers in Erik ten Hag's first few weeks and will not be going anywhere.
But is this another false dawn for the Frenchman, or will he finally live up to his billing?
Pre-season form
Manchester United have travelled to Thailand and Australia for their summer tour.
And Martial has been in top form, netting in the victories over Liverpool, Melbourne Victory and Crystal Palace, as well as notching one assist.
His record is a goal every 74 minutes on the pitch, while he has also been involved in plenty of United's best moves.
Those Down Under watching Ten Hag's first steps as boss report that he has not been scared of dishing out sharp rebukes to players, Martial has been on the end of none.
Last year
It is a far cry from last season, when Martial was anonymous in the first half of the season before heading out to Sevilla in January.
That came after a 2-2 draw with Aston Villa when interim boss Ralf Rangnick said he had refused to play.
Martial refuted that and took a reported £50,000 per week pay cut to move to Spain temporarily.
But he flopped there, only scoring once in the Europa League and failing to have any real impact for the Andalucians.
Ten Hag admiration
The goals Martial has scored already speak for themselves, yet it is other aspects of his play that Ten Hag has enjoyed more.
The Dutchman wants his team to press high and be aggressive on the pitch — Martial has quickly adapted to the off the ball work
And his link play was evident when he held the ball up for Bruno Fernandes in the build-up to Jadon Sancho's strike as United drew 2-2 with Aston Villa in Perth.
Last week, Ten Hag said: "I think when he has the right focus and the right motivation and he works hard, he will have production because he is a good player.
"I say when he has the right focus and every day delivers much, then he will have production and it's up to him."
Competition for places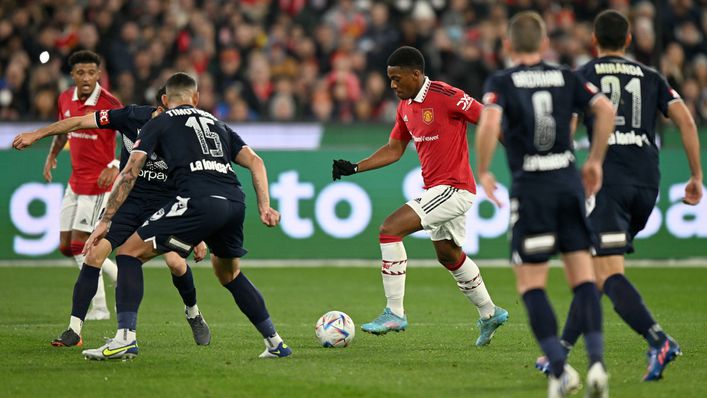 Martial is not the only attacking player enjoying a new lease of life under Ten Hag.
The likes of Marcus Rashford and Jadon Sancho have also looked sharp and the former has spoken about the positivity the new boss has brought.
Rashford said: "He wants us to do everything in a positive manner, so for us it means a lot of forward runs, a lot of interchanging positions, trying to link with each other on the ball.
"It's fun to play in, we're enjoying it, so hopefully we can kick on and perform these type of performances come the season."
And there is little doubt that Cristiano Ronaldo missing the tour due to personal reasons had a big impact on Martial's playing time.
Ten Hag does not have the same options as some other clubs, yet there are still different routes he can go down.
Verdict
The past month or so could not have gone better for Martial — but that is not a cast-iron guarantee that he will fire on all cylinders this season.
It is not the first time that the 26-year-old has shone on a pre-season tour. He did so in 2017, only to endure a difficult season and score just 11 times.
Martial looks set to head into United's opener with Brighton on August 7 as the club's first-choice striker.
His talent has never been in doubt, it is his ability to display it week-in, week-out during a busy season that has held him back.
Everything is in place to put those doubts to bed, it is up to Martial to do so now.
But we will not truly know if he is capable of doing that until the long slog of a Premier League season begins.
Tags