In Focus: Akinfenwa eyeing a beastly end to his storied career at Wembley
Larger-than-life striker Adebayo Akinfenwa will call time on his career after Wycombe's clash with Sunderland in today's League play-off final.
The 40-year-old, nicknamed The Beast, has already experienced joy in the EFL's end-of-season lottery, scoring the decisive goal in Wimbledon's 2-1 victory over Plymouth six years ago.
Now he is hoping to help the Chairboys complete another shock as they come up against the North East giants.
We look back on a storied career and assess whether or not Akinfenwa will provide one final moment of magic at Wembley.
The Beast's career
Akinfenwa has made more than 700 appearances in English football, first shining when he joined Torquay after a time in Lithuania and short spells at Boston, Leyton Orient and Doncaster.
Periods at Wimbledon and Swansea have seen him loved by fans, while he has spent two separate, very successful stretches at both Northampton and Gillingham.
Wycombe has been his home since 2016 but the forward conceded it is time to go.
He said: "My knee has been gone for the last 18 months so I'm OK with it being the end.
"I'm saying this now because at this point of the season, May time, my body and my mind are just ready to relax anyway. I'm literally done and I'm looking forward to a new challenge."
Swansong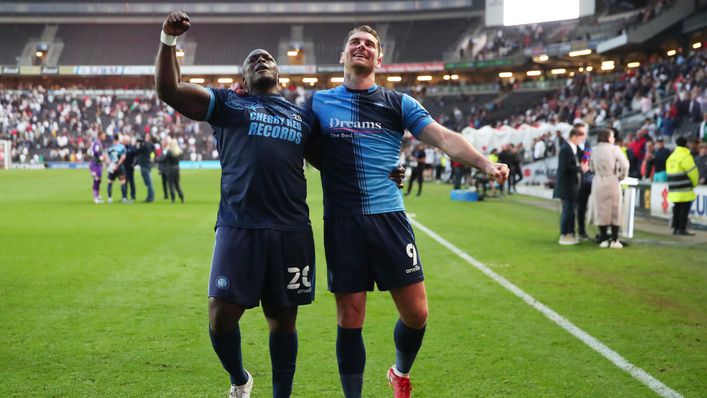 Akinfenwa gave a famous interview after the League Two play-off final in 2016 asking managers to "hit me up on WhatsApp".
And Chairboys boss Gareth Ainsworth has discussed his striker's impact over recent seasons, as well as the initial reaction to the move.
He said: "When we signed him it was billed as a publicity stunt: 'What are Wycombe doing, surely that guy's finished?' But he's gone on to become our greatest ever EFL goalscorer and he deserves that."
Since then, Akinfenwa's main impact was an 80th minute equaliser against former club Wimbledon.
That was a huge goal in the race for the play-offs but not quite the swansong he would have been dreaming about.
Wembley chance?
There is not even a guarantee that Akinfenwa will get on the hallowed turf later, though.
He has only made three starts, with the last of them coming way back in January.
Though he has come off the bench in 13 of their 18 league games since then, it would not be shocking if Gareth Ainsworth looked elsewhere.
As long as Wycombe end the season with a second promotion to the Championship in just three seasons, Akinfenwa is not bothered.
He said: "If it's 10 minutes, two minutes, to be able to get out on the hallowed turf for my last kick in the professional game, it's a beautiful ending to my story — as long as we get the win."
Plenty to come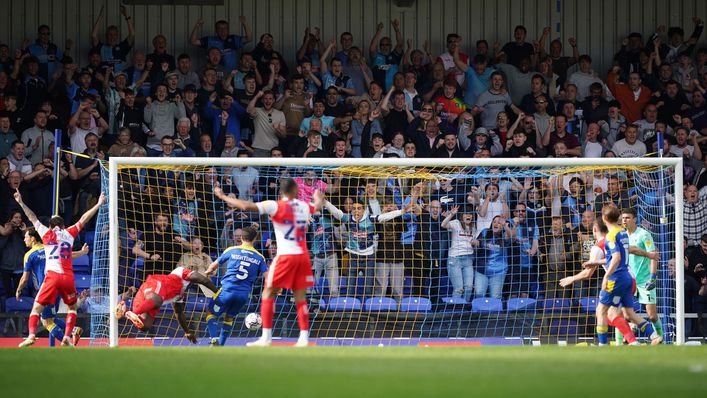 Whatever happens next, this will not be the last we see of the popular striker.
Akinfenwa will remain a presence on social media, on TV and, he hopes, in football.
On what is next, he said: "I'd love to do a Beast shoulder charge — I'm a massive WWE fan and so are my kids, so when they came over to the UK I reached out and we had some conversations, and we're just going to see what happens.
"I've been a professional for 22 years and so I don't want another specific profession. I want to try my hand at a lot of things.
"There's wrestling, there's mentoring, presenting, but I'll stay in the media because football has been a massive aspect of my life.
"For me, I'm not saying the world is my oyster but I'm going to try as many different things as possible, and what I land with is what I land with."
Tags