Nagelsmann has not discussed Germany's World Cup woe with Bayern stars
Patric Ridge
Stats Perform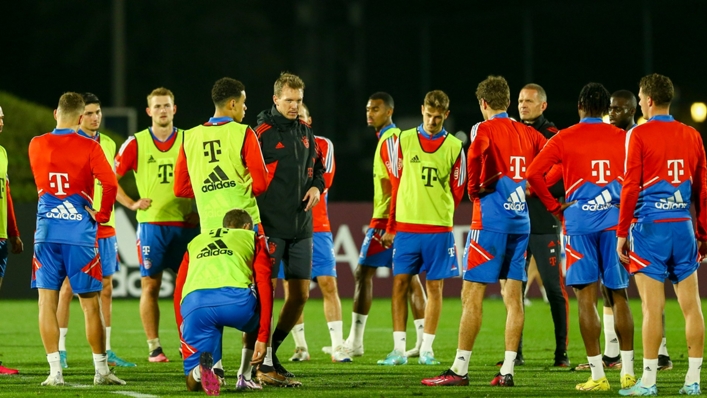 Julian Nagelsmann has elected against discussing Germany's poor World Cup with his Bayern Munich players.
Seven Bayern players featured in Germany's World Cup squad, as Hansi Flick's side failed to progress from the group stage in Qatar.
A defeat to Japan in their Group E opener was followed by a 1-1 draw with Spain, and a 4-2 victory over Costa Rica was not enough to send Germany through.
It is the second successive World Cup that Germany have failed to make the knockout stage, but Nagelsmann – who succeeded Flick at Bayern and has taken his squad to Doha for a training camp – does not believe it is his job to discuss the tournament with his players.
""I thought a lot about how we would address it during the break. I decided on very little," he told reporters.
"The players have the opportunity to come to me. I deliberately left them alone.
"I'm not much of a comforter. It's always a matter of choice. I can talk for half an hour about the bad, sad World Cup. Or I just leave it out.
"Focus on what they can influence – in the present and in the future. I tried to limit myself to that."
Indeed, Nagelsmann hopes the Bayern players instead turn their disappointment into motivation for the rest of the season.
"I can imagine what it means when you are eliminated from a World Cup," he said.
"But sometimes it's night, then it's usually day again. It's day now and there's a lot of light.
"You have it in your own hands to be more successful than you were at the World Cup.
"We, as the coaching staff, need to create the foundation for the players to perform at their best.
"Frustration and disappointment can also be the biggest motivating factor. I sense they are in a good place, they're training well and are fit."
While Thomas Muller, Joshua Kimmich and the rest of Bayern's Germany players endured a difficult World Cup, Dayot Upamecano established himself as a key part of France's defence.
Upamecano made a spectacular block as France drew 3-3 with Argentina in a thrilling final, only for Les Bleus to lose on penalties, but Nagelsmann has been impressed with the 24-year-old's development over the course of the campaign.
"Upamecano has been solid, as he was in the first half of the season, when he developed well," Nagelsmann said.
"He was also on top form in training. He had a good World Cup and he was one of the best defenders. We need him in top form."
Tags