Ibrahimovic pledges 'change of tone' at struggling Milan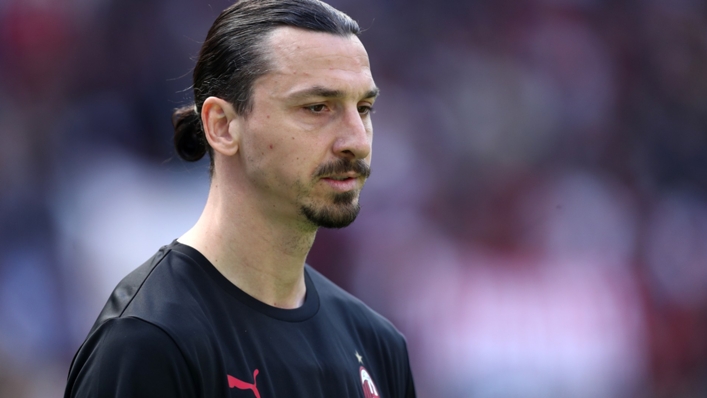 Zlatan Ibrahimovic has promised a "change of tone" at AC Milan as he nears a return to action.
Ibrahimovic has not featured this season, having undergone surgery on an anterior cruciate ligament injury shortly after Milan ended an 11-year wait to win the Serie A title in May.
While Milan started respectfully in his absence, they have slipped to sixth in Serie A – 18 points adrift of leaders Napoli – after going five league games without a win.
Milan failed to record a single shot on target in a meek derby defeat to Inter last time out, and their winless run is their worst in Serie A since April 2018.
However, Ibrahimovic believes Milan have overcome more challenging times since he returned for a second spell at the club in 2020, and foresees a return to form.
"When I arrived three years ago, people spoke of a situation that was worse than now. In reality, it's not as bad as some people say," Ibrahimovic told the club's media channels.
"In one or two years, we did fantastic things, and we're still doing great things.
"I call situations like this moments, because it's a moment where there's been a drop and we're struggling, but we need to return to form as quickly as possible.
"It's not as if anybody's happy with our form. We're all working to change things so we can get back to how we were before the World Cup. This season is a bit different, but this isn't an excuse.
"Is it a coincidence that this club has won 19 league titles and seven Champions Leagues? Great champions have played here. This is Milan, and Milan needs to win. Coincidences don't exist."
Ibrahimovic handed Milan a huge boost by returning to team training last week, and though it remains to be seen how soon he can return to competitive action, the 41-year-old striker is raring to go.
"I'm one of many in this team. I haven't been available for a long time and this has been disappointing because when you're a player, you always want to help both on and off the pitch," he said.
"Unfortunately, in these first six or seven months, I wasn't able to play. In good times and during difficult moments, you always want to be there because you are one of them.
"For me, football is everything. It's where I feel at my peak, where the best of me comes out, and I transform into a different person. When I return, there will be a change in tone."
Tags